If the pandemic hasn't woken you up on how technology has fascinatingly ruled over the world, then I suggest you'd wake up. Entertainment, communication, or ordering food has never been more accessible and easier. Businesses have gone their fair share of advantages as well. Gone are the days when big or small businesses had to put on their drawers huge chunks of checks in plastic covers and even authentic checkbooks. I mean, who needs that?
Throw those away, save the trees, and make the change. Get yourself the right software and just print out your checks on whatever paper you have at your disposal. These check-writing software handle the rest of the job for you––writing your phrases and numbers. Yes, there are cloud-based programs at your disposal but even then you're not sure of their feasibility.
If you value your business' financial information, then maybe guaranteeing yourself a fully automated check writer is the move to make. Here are 5 of the best out there!
Online Check Writer
Looking for an all-around check-writing beast? Maybe a program that can work alongside your business, work on both Windows and Mac devices? Alas, Online Check Writer is the move for you. With the ability to create and send both digital and physical checks, this program ticks all the boxes––or should I say 'check' them? Kidding aside, the program has its reasons why it's entrusted by over 100,000 customers and over $2 billion in payments. Aside from that, the company offers free individual plans for small businesses and big enterprises––ranging from individuals to companies.
Created in 2008, the Bank of America financially supports Online Check Writer and has catered to both local and federal government agencies, big corporations, and small businesses. The program has issued more than four million checks that have totaled $2 billion. The program is partnered alongside 1,800 banks and QuickBooks accounting software.
If you're still doubtful, you can try out the service for free for 15 days without any credit cards involved or any payment setup. Despite negative connotations on web-based services, the program does a heck of a good job in delivering paperless digital checks and physical checks. Not only that, but customers are also able to access their payments not just through their desktops and laptops but also their phones, faxes, and more.
There are three tiers of program plans: the first one being free to use hence limited access to the benefits. However, you can create five checks per month alongside one bank account integration. The second tier, namely the standard plan, is available for $199.99 per year and allows 10 bank accounts and unlimited checks. The most expensive plan, worth $499.99 a month, includes white label services and physical check mailing. The company also boasts of other services like mailing checks for its customers for $0.75 per check.
Checksoft Home & Business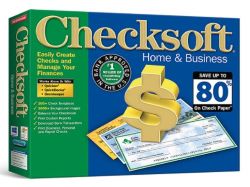 Checksoft deserves a place on this list as it belongs to one of, if not, the top-selling check-writing software out there. The most versatile, however, is the Home & Business version as it works with Microsoft Money, Quickbooks, Quicken, or just use it as it is––you don't really have to use it with other software. If you're on the creative side of the business (or just a creative person yourself), the program allows you to choose from over a thousand background images alongside more than a hundred templates to customize your checks to your likings.
Checksoft Home & Business doesn't hesitate to give you 175 free checks with only a hundred of them in business-standard size. Either way, that's more than enough for you to start your journey in technology-powered check-writing software.
Checkeeper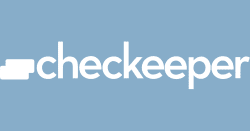 Now that you're familiar with the more pricey options in the industry, let me introduce to you a valiant choice for smaller businesses––ones that don't have the time and/or resources to actually invest in an elaborate check writing mechanism. Checkeeper is a wonderful software that lightens the load for your check printing. From buying special printer paper and ink to learning about the systematic ways of the software itself, this option takes that weight off your shoulders.
Quite fittingly, the program was founded by a small business owner who used Photoshop to create checks for his company and grew tired of the routine. Checkeeper is a web-based check-writing program that offers unlimited access to its features for a not-so-hefty price tag of $14.99 per month. For that price, consumers of the product can print as many checks as they want.
As you can see, this program boasts itself to small businesses who are busy enough to perfect their products instead of working the knowledge around complicated systems. Integrated with FreshBooks, QuickBooks Online, Xero, and other accounting programs, Checkeeper offers a 14-day trial without ever requiring you of credit cards and a 30-day guarantee for customers who try out the program and get a full refund if it doesn't suit them well.
Check Writer III+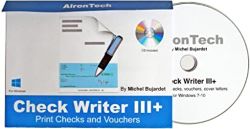 How is this a program you'd ignore? It literally says Check Writer. With a straightforward name comes straightforward options. Check Writer III+ enables you to print both the letter and the check on the same page to make your life a little bit easier in the long run. The software allows you to print one or more business-standard or personal wallet size checks on a page. To make it even more fun, checks are totally customizable!
Despite the fact that the software is perfect for personal, small-ranged checks, Check Writer III+ also boasts itself of features that cater to big businesses––able to handle multiple accounts while saving all the copies of the checks you've written. The software is available on Mac or Windows, so you don't have to worry about its availability. Either way, you can choose to buy it on CD or download it online.
Print Checks Pro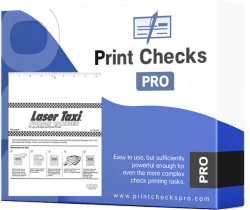 If you're a loyal Windows user, then look no further for software. It offers a mobile app, but not just a simple mobile app if I do say so myself. The app caters to customers who are always on-the-go and need to manage their printing needs from their Windows-compatible phones. What's even more convincing is it doesn't need any special printer ink and can be used alongside your standard printers.
Print Checks Pro proves to be one of the very few companies that actually offer both mobile and desktop-compatible software. The software can be used on devices including Android and iOS, but specially made for Windows. For a one-time purchase of $19.95, the program can print your checks on your bank's personal checks, blank check stock paper, or pre-printed check paper. With such a user-friendly interface, Print Checks Pro is perfect for those who are using Windows-powered computers.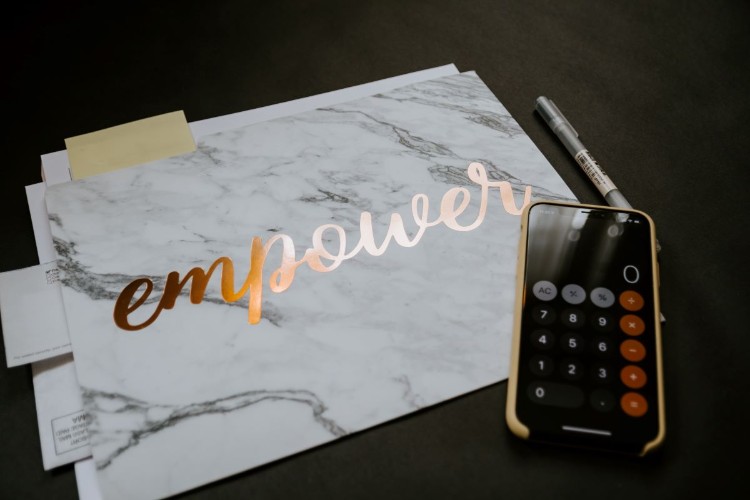 Just like the others, the program can also customize the checks with business logos, bank logos, and signatures with unlimited accounts. Second copies of checks are also available for you to print for personal and/or business record needs. The program allows you to print one or three checks per page, whatever you need it to be.
Compatible with your printer's standard ink, the software doesn't require you to avail of the special ink and its availability across all printers sets it apart from the others. If there are any issues, Print Checks Pro is available to be contacted through email or mobile.