Domain registration is not a lifetime contract; you always have the liberty to switch to a better domain registrar if you're not satisfied with your current one. There are several reasons why domain owners transfer to a new registrar: customer service quality, the convenience of having both the domain and hosting in one company and lastly, the most common reason of all: pricing. We don't want to pay a lot of money when we can pay less for the same or better service right? So if you're planning on transferring your domain name to another registrar, here's what you're going to do:
1. Ensure that you are able to do a transfer.
Your previous domain registration must be more than 60 days for you to be able to do a transfer. You have to wait some time if you recently did a domain transfer to a new registrar less than 60 days ago. Also, your domain must not be expired because there may be new and/or additional steps in transferring your domain name depending on your new registrar.
2. Back up your files.
Before you start your transfer, you need to back up all of your web files like your content, theme, database, and even the past versions of your site. This is just a precautionary measure in case something goes wrong with the transfer. There's nothing better than being prepared right!
3. Unlock your domain name.
Your domain must be unlocked for transfer. You can contact your current registrar's customer service support if you are unable to unlock your domain yourself.
4. Purchase your domain name transfer at the new registrar.
You can now purchase a transfer with the new registrar where you want to move your domain name. Some registrars may even allow you to keep the time remaining on your existing registration plus offer you a free transfer. Be sure to check 1&1 and Godaddy coupons to find the best domain name registration and transfer deals on our pages.
5. Request an Authorization Code from your current registrar.
Login to your current registrar account and obtain your Authorization Code. Authorization Code is also called your EPP code or "secret code". It is a combination of numbers, letters and special characters made to prevent domain hijacking. Once requested, you will then receive an email from your current registrar with the authorization code.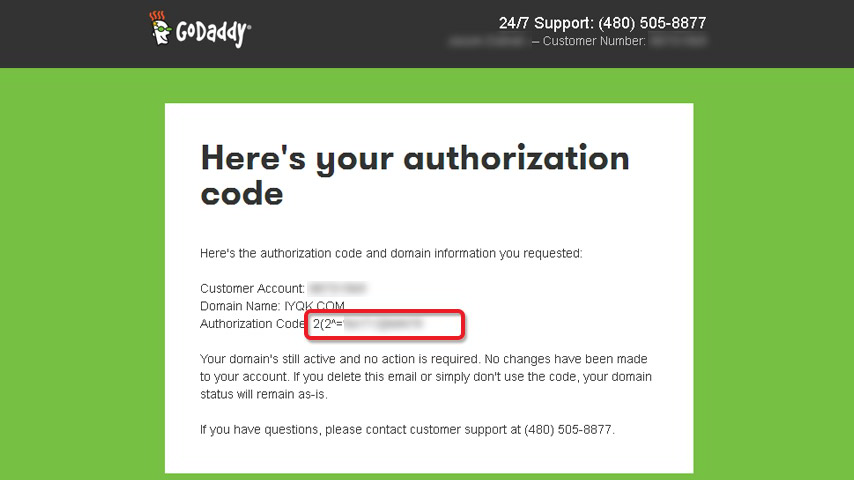 6. Initiate the transfer towards your new registrar using the authorization code.
Login to your new registrar and begin the transfer process. Your status will show as "Authorization Required". You will need to enter the authorization code you have just obtained and begin the transfer process. Once done, your new status will be "Pending Approval".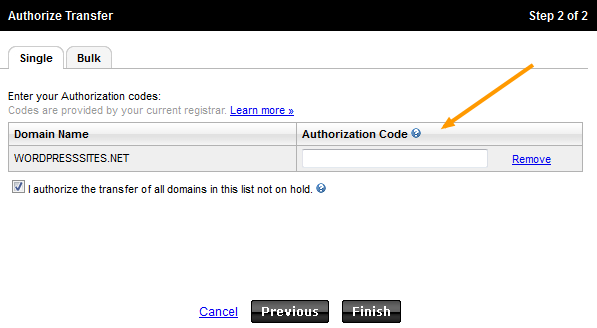 7. Confirm transfer approval.
An email notification will be sent to you to confirm your domain name transfer request. Once confirmed, transfer will take effect within five to seven days.
By the way, if you have an email address with your previous domain registrar, that will stop working once transfer is complete. You can contact your email provider and new registrar to help you reconfigure your email. So there it is! Hope this article helped you a lot!