Kindergarten is an important stepping stone for a child. It helps a child to grow socially and emotionally. Kindergarten education not only develops your child's motor skills, but also improves his/her ability to think, and acknowledge various aspects of life.
Before visiting a Kindergarten, most parents would interact with their websites. And hence, it becomes extremely important that your Kindergarten website is as impeccable as the school. A shoddy website will ruin a parent's first impression of your school; and it's a recipe for disaster. You will lose business and your reputation will be spoilt even before it is made.
WordPress offers a beautiful collection of Kindergarten themes to spunk up your website. These not only enhance the aesthetics of your website; but also have terrific capabilities to make your website come alive. Given below is a collection of some of the best WordPress Kindergarten themes.
1. Kid's Play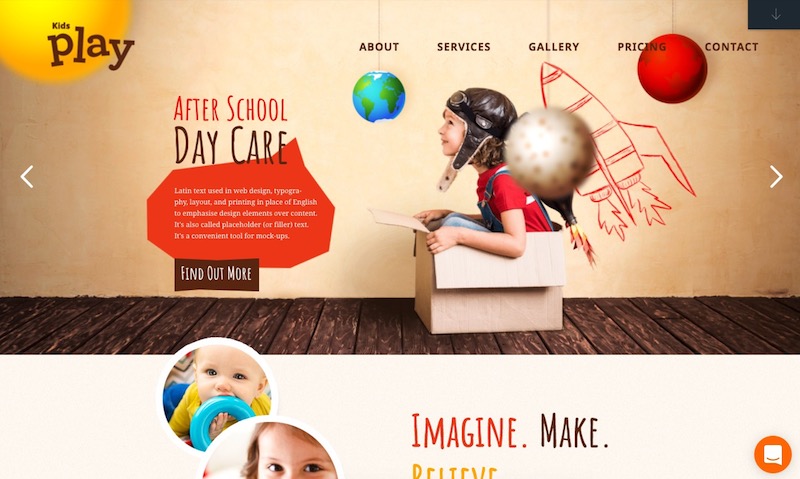 Kids Play is a very lighthearted WordPress theme, showcasing the creative and ever-imaginative minds of children. The joyful animations provided on the theme give an impressive and contemporary look to the website. The Theme can be used for kindergarten, primary or elementary school, child care centers and nurseries.
This WordPress theme is based on the Unyson framework and its visual composer uses drag-and-drop functionality. This is a responsive theme and can be used across devices. It has pre-built layout and has a palette option of 5-colour schemes. The theme also features WooCommerce and WPML. Complete with social media icons, this WordPress theme is a fun-packed Kindergarten theme.
2. Kiddy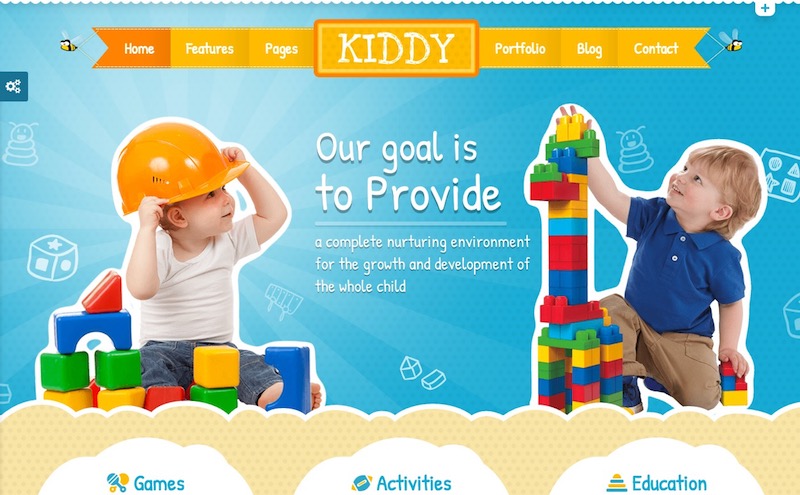 A vibrant and youthful, Kiddy is a fresh and visually stimulating Kindergarten WordPress Theme. With mostly light pastel shades featuring on the interface, this theme offers a hassle-free and user-friendly toolkit which can be built without any knowledge of coding or developing. It features powerful plugins that allows you to customize your website anytime.
It is a fully responsive theme and offers its users loads of header-footer options and choices of sidebars with an endless series of backgrounds, fonts and colors. It features a drag-and -drop content editor and it's also WPML and WooCommerce – ready. This WordPress theme also comes packed with contact forms and widgets.
4. Child Dooris
Child Dooris is an incredible and highly professional WordPress Kindergarten theme – ideal for preschools and junior school websites. With a seamless and adaptable design, Child Dooris will immediately attract parents towards your website. It has a modern design with happy faces of children, which immediately lightens up your mood.
When we talk about features, this WordPress theme looks perfect on every device; and has quite a few premium plugins integrated into it. The sliders are all mobile-ready and you have the option of showcasing your finest works and images. The theme also features a Visual Composer Tool with a drag-and-drop functionality. There is also an option of changing fonts and images, which makes customization a cakewalk.
5. Kiddie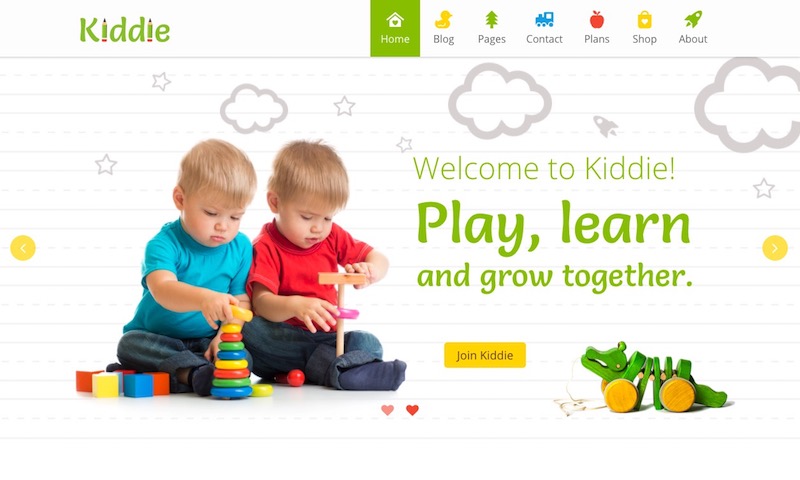 With a very playful and energetic visual design, it's a fully responsive WordPress theme and retina optimized. The theme is ideal for kindergartens, preschools and child care centers. This clean and friendly design is accompanied by a collection of tools and features which allow webmasters to design amazing websites for kindergartens.
This WordPress theme is packed with commercially useful features including pricing boxes, several customizable demo web pages – and much more. It is also integrated with a strong framework for time-based activities that parents are sure to love.
6. Newkiddo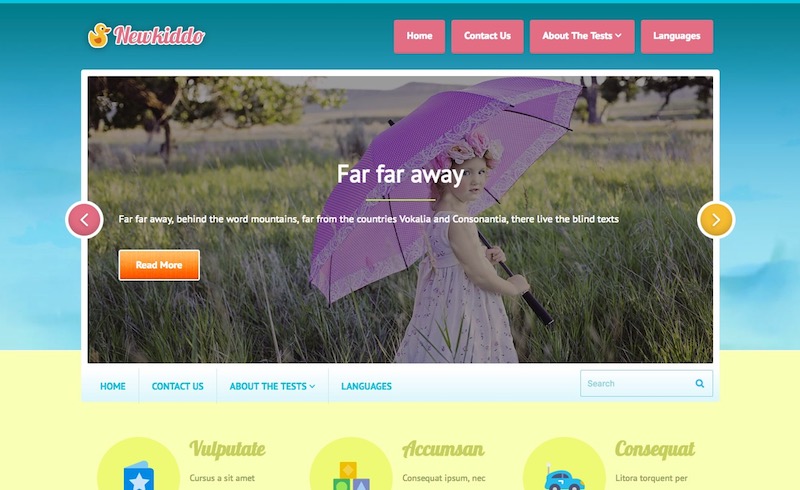 Newkiddo is a free WordPress Kindergarten theme which can be used for kindergartens, preschools, infants and other websites related to kids. The background is a soft yellow color with blue under-tones. Both these colors attract the attention of parents and children. It can easily be downloaded and used.
The theme has custom sidebars and is short code-ready. Newkiddo also has a social share bar and a dynamic content loader. It is WooCommerce compatible and can be integrated with all the latest WordPress versions. The theme is built with SEO in mind and ensures that the contents are index-able.
7. Preschool and Kindergarten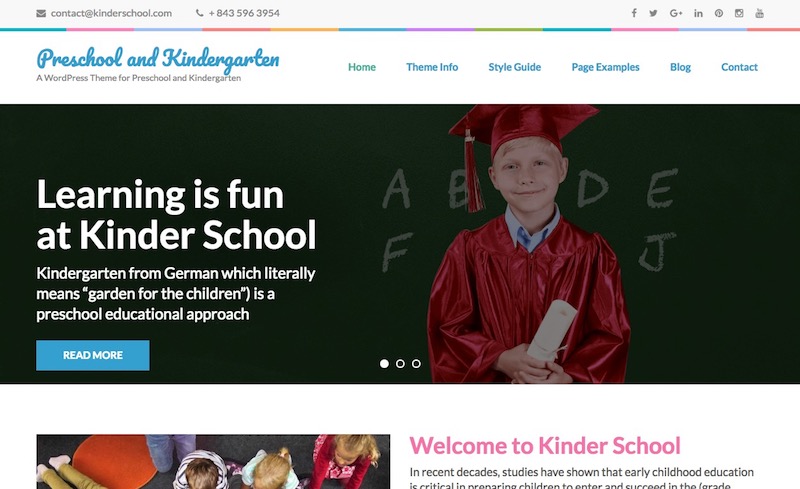 The Preschool and Kindergarten WordPress theme is an elegant and neat design, ideal for kindergarten websites. This theme is definitely going to grab a lot of attention towards your website from young parents. It's a fully responsive design, ideal for all devices and is free for anyone who wants to download and use it.
The theme is search engine optimized and will enable your site to get ranked and indexed on different search engines. The advanced slider feature beautifully showcases your images and can be used to display everything you desire. The theme also has an extensive theme documentation feature, which guides you through the set-up process. Social media integration and widget-readiness are some of its other important aspects.
8. Kids Life
Responsive and retina-ready, the Kids Life WordPress kindergarten theme is compatible with all smartphones and devices. The vibrant and youthful interface has lively colors integrated with multiple layout options and an attractive gallery to feature images and memories.
The theme is WooCommerce- friendly and WPML compatible. The site is also translation-ready, to allow use by multilingual websites. It can be easily customizable with 20 gorgeous color options. It features a drag-and-drop functionality, with tons of short codes and an all-in-one theme options panel. The Kids Life theme is also backed by best in class support.
9. Fable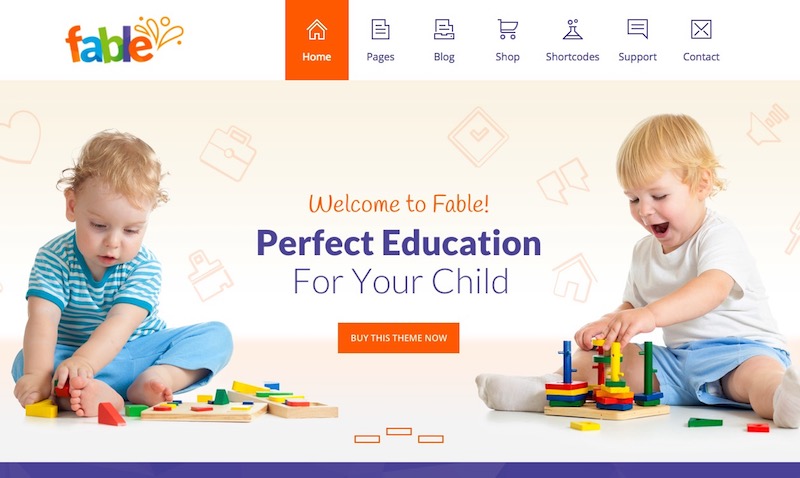 This is a wonderful WordPress Theme for kindergarten websites. It can also be used for elementary, primary and playschool websites. The design is simple and user-friendly with a contemporary feel to it. At the same time, it also speaks oodles of pleasantness and flexibility.
Fable is a responsive design, and comes with a Theme Demo Data Installer in a single click. This allows you to import widgets, posts, Theme Demo Pages – all seamlessly. Fable's inbuilt Drag and Drop Page Builder coupled with a huge collection of components enables you to build your website in a matter of minutes. There is also a short code generator integrated, for those who like to work with a native WordPress editor.
10. Kids Planet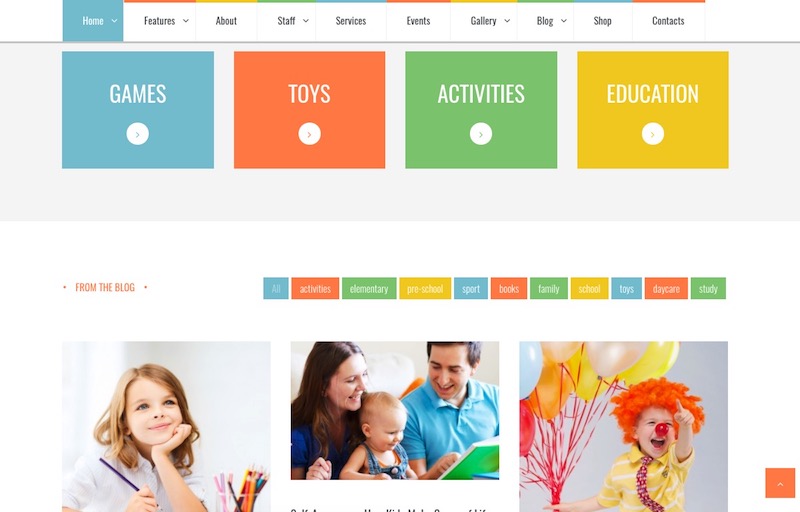 Kids Planet is a visually impressive and a ravishing WordPress kindergarten theme. It is well-structured, colorful and highly intuitive. It is both user and webmaster friendly, which is known for its feature rich interface and functional versatility. It is a responsive theme and comes packed with three exclusive homepage layouts.
The visual composer allows you to customize the layouts and with the help of the Revolution Slider, you can you can deploy widgets and short codes conveniently. The theme also features several different blog styles to keep parents updated on the progress of the school. It is WooCommerce compatible and you can set up an entire website without having to write a single code.
11. Alphabet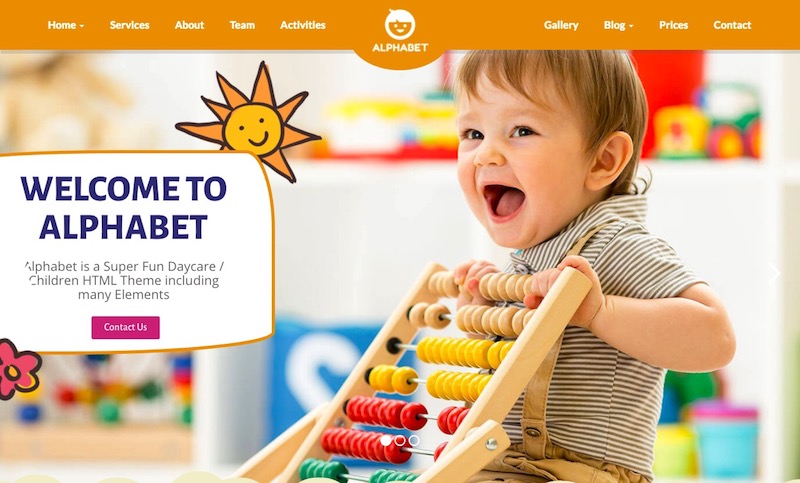 Alphabet is a fun and colorful WordPress theme for kindergarten. The design is elegant and attractive at the same time. It is carefully designed to respond to various devices, including smartphones and tablets. It includes many fun elements that are easy to edit.
It has a drag-and-drop Page Builder and some very powerful options – including 3 ready-to-use color skins to enable webmasters to make your own scheme. It has a built-in slider extension to help you create different kind of sliders like carousel, video slider and hero scene.
12. Little People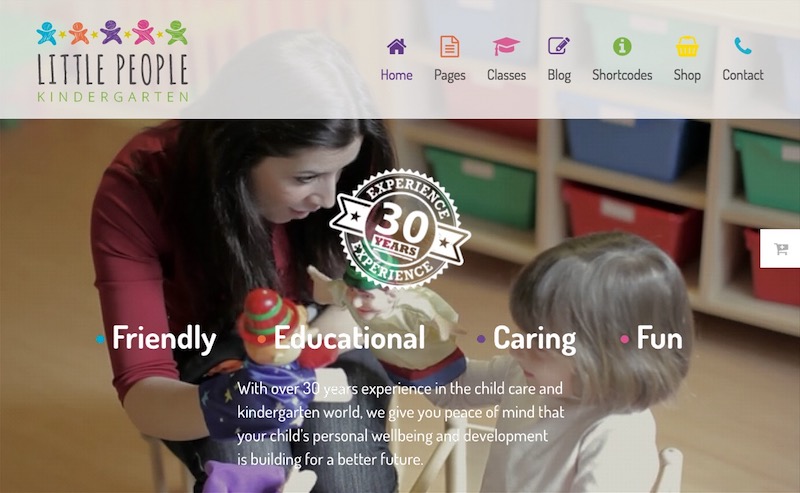 Little People is a kindergarten purpose built WordPress theme that is ideal for kindergarten, child care or nursery websites. The theme is packed with premium WordPress plugins and pre-built pages that are optimized for kindergarten websites. The design is minimalistic, but vibrant at the same time.
The theme is supported with video tutorials and premium forum support and detailed documentation – that will let you install this theme seamlessly. Elegant typography, full screen images and parallax video backgrounds gives users an immersive experience. The Visual Composer comes with a drag-and-drop functionality and a frontend and backend page-builder plugin.
13. Toddlers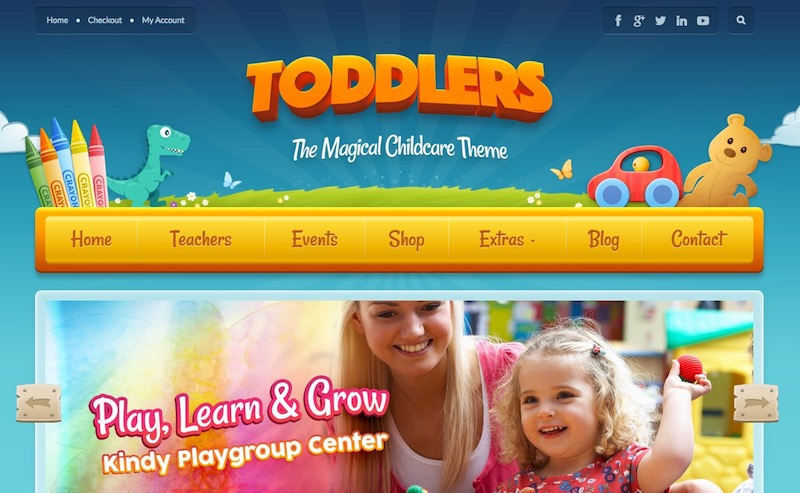 Toddlers WordPress Kindergarten is a high-resolution retina display theme. The colorful display will make your website come alive. The theme can accommodate any screen size, and will work on laptops, tablets, smartphones and desktop PCs. This theme also supports WooCommerce and an event calendar feature is also available with the design.
The site's typography can be personalized with customized fonts which enhances your site's visual appeal. The images can be easily changed by using the Theme Options Panel. Several post format variations like gallery, image, links, standard and quote. The code is well written and search engine optimized.
14. Cupid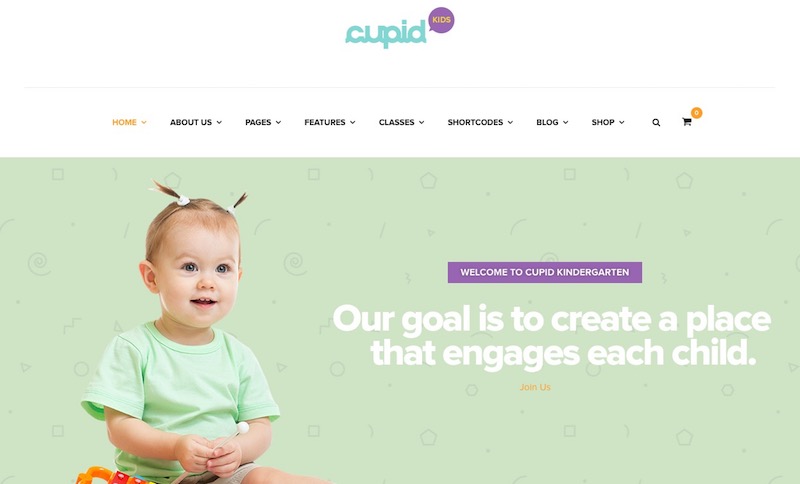 Cupid is a very charming kindergarten website theme. With plenty of header and home page variations, and personalized images and sliders, Cupid can be set up in a matter of minutes. It has a drag-and -drop page building tool. The Revolution Slider plugin enables the creation of some fantastic slides.
Cupid WordPress theme is a responsive website theme and guarantees the site's compatibility across devices. It also features a powerful theme Administration Panel, which ensures that every aspect of your kindergarten website can be easily customized.
15. Kids Care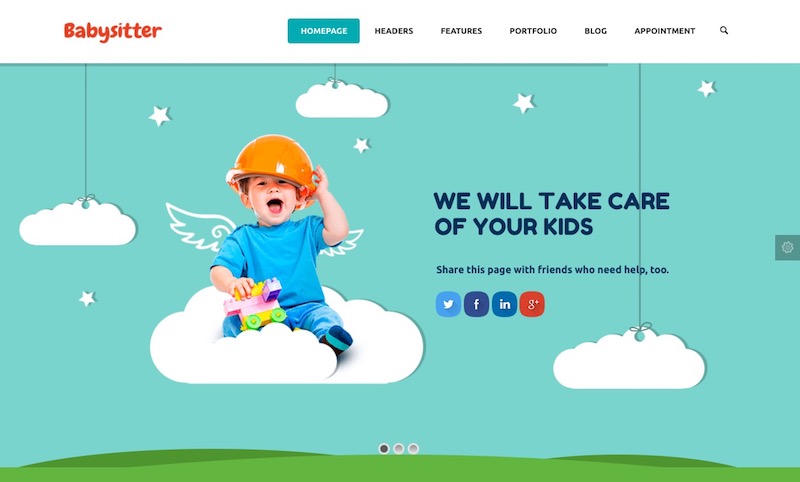 Kids Care WordPress kindergarten theme is a beautiful but elegant designed theme, which will appeal to all parents. There are endless choices for header customization in this theme. An optional personalized user panel and variable settings for logos are additional features of this theme.
Visual Composer and the Short Code Builder can be used to design and customize the different pages of the website. And all this can be done without any knowledge of programming or coding. There are more than 9 amazing blog styles available with this theme along with video and Parallax backgrounds.