About Vipre Antivirus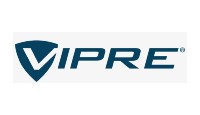 With over twenty years in the industry, VIPRE which is an abbreviation for Virus Intrusion Protection and Remediation Engine, has constantly provided premium internet security and protection from malware to all of their customers. An Advanced Technology Partner of Amazon Web services, VIPRE's main goal initially was to protect people's data from viruses, and then clean the virus. However, as the organization grew, this shifted into preventing people from all forms of threats before they became dangerous. VIPRE did that consistently with its Advanced Active Protection, and has now further grown into a whole security ecosystem.
VIPRE provides endpoint security for businesses and email security for individuals, real-time malware analysis with one of the world's largest threat intelligence clouds, and an easy to use mobile interface that allows for fast threat response.
Products and Services
Business Protection: With VIPRE's Endpoint Security Cloud protection, your business is ultimately protected from all endpoints without unnecessary complexities. While being efficiently timesaving, the endpoint security also combines multiple layers of security protection with advanced machine learning, real-time behavioural analysis, and a threat intelligence network. What's more? The interface is so easy to use.
Home Protection: For VIPRE's home protection, they have a range of next generation security solutions:
VIPRE Antivirus Plus: For security and performance speed, you can count on this. It gives you a lot of active advanced protection that will prevent all malware threats, plus it will not slow down your computer.
VIPRE Advanced Security: This software gives you some of the highest rated antivirus protection. It safeguards all of your private information with award-winning antivirus protection that protects your PC or Mac from all of the most common threats we have today.
VIPRE Ultimate Security: With this, you get the best of VIPRE's security. This comes with the VIPRE internet and privacy shield, and while you get all the protection from the other two with this, this also prevents any form of snooping on your microphone or webcam, and give you total freedom on the internet.
Site Manager: With VIPRE site manager, Managed Service Providers can increase efficiencies without expending more resources by making more use of automated processes and determinations. While also delivering multi-layered advanced endpoint security, the site manager makes it possible to respond to all managed clients at almost the same time. It is also incredibly easy to set up.
Email Security Cloud: With cybercriminals constantly targeting emails, VIPRE's Email Security Cloud prevents data leakage, has six layers of scanning to protect from new and existing email threats, self-learning anti-spam filters updated every minute, and cloud architecture that cleanses the mail before it even touches your network.
VIPRE has some pretty amazing products to ensure all of your devices are kept safe from antivirus. However, you could get some of their products at cheaper prices. So if you would like to know about their promotions, discounts, and what coupon codes to use for what, we have all of that information on our website.
;