About Western Digital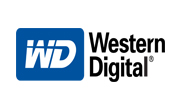 Western Digital Corporation or WD, as it is commonly known, is one of the largest computer hard disk drive manufacturers in the world, and a major computer data storage company, based in America. The company was founded by Alvin B. Phillips in 1970, as General Digital and has a long history as an integrated circuit maker and a storage products company. Throughout the 1970s, WD made its money by selling calculator chips.
Western Digital today distributes Data Lifeguard Tools, which is a software utility suite for setting up hard disks. It runs on both Microsoft Windows and DOS. The company also deals with the distribution of Data Lifeguard Diagnostics, which is again a software utility used typically for determining the physical condition of older models of WD hard drives. Apart from these, WD sells various consumer storage products under its brand – with product names such as My Cloud, My Passport and My Book. The company also manufactures networking products, such as the My Net 750, My Net 900, My Net 600 and the My Net 900 Central for their wireless routers.
;