Atlanta is what I dub as the home of the next generation considering Trae Young, John Collins, and a handful of young players comprise the roster of their NBA team, the Atlanta Hawks.
Quavo's Rise to Fame

We're not here for basketball, though. We're here for the next generation of artists. With the likes of Young Thug, Rich Homie Quan, and Migos starting their careers in Atlanta, they've been dubbed as "The New Atlanta". Migos, arguably the biggest of the three, consists of Takeoff, Offset, and Quavo--the latter of which has always been considered as the group's frontman/leader.
Born in Athens but was raised in Atlanta, Georgia with his cousin (Offset) and nephew (Takeoff), Quavo attended Berkmar High School and even played for his high-school football team in 2009 as their starting quarterback. Despite his talent in sports, he quit a few months just before he graduated to pursue his dreams of music.
In 2008, they formed "Polo Club" but decided to change it to "Migos" after debating whether or not the former was too generic of a name.
Quavo rose to the limelight thanks to Migos. Their first mixtape, "Juug Season," was released in August of 2011 and was followed quickly by "No Label" in June 2021. However, their breakthrough came in the form of Justin Bieber when he posted a video of him rapping to the Migos' 2013 song, Versace. After tons of traction, another big star recognized them--Drake.
At that point, Drake wanted to create a remix of the song and just a few weeks later, their collaboration took social media by storm--placing in the Billboard Hot 100 chart. After years of success with 2013's "Champions" featuring some of the biggest names in music, they released "Culture" in January 2017 that topped the Billboard 200. In just six months, it was deemed certified platinum by the RIAA and was nominated for Best Rap Album whereas Quavo was nominated for Best Rap Performance.
Quavo's Net Worth

In just a few budding years, Quavo and Migos became the fastest-rising trap/hip-hop trios in the world.
| | |
| --- | --- |
| Name | Quavious Keyate Marshall |
| Net Worth | ~$30 million |
| Date of Birth | April 2, 1991 |
| Origin | Athens, Georgia, United States |
| Income Source | Professional Rapper |
Rappers, nowadays, are so over their heads with money, drugs, women, and everything else in between. However, Quavo has had his fair share of truth-speaking once he has the mic in his face. Though he does speak a lot about expensive clothes and his wild life, Quavo has been as real as it gets. As young as he is, his experience living a life without the spotlight brings him down humbly to earth.
Throughout what seems to still be a successful career, here are some of his best quotes!
Top 5 Quavo Quotes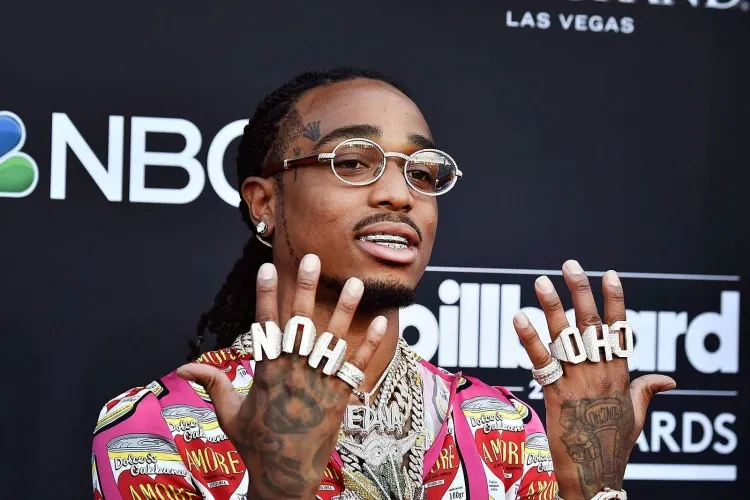 "The culture means the younger generation respecting the OGs, but at the same time, bringing it all to the older generation to where they can relate." - Quavo
"We need the world to respect us. They consume a lot of hits and just act like it wasn't... I ain't never seen nobody make these many hits and not get notified for it. And change the game like we did and bring the flow to the game the way we did and not get noticed for it, like the big way - the real system way." - Quavo
"On my first day in office as President Quavo, I'd move my whole family into the White House. Second, I'd pull all the troops back. Third, I'd raise the minimum wage to a good, nice amount so people get paid." - Quavo
"We just feel like history repeats itself. You ain't never going to see nothing brand new; you're only going to see when records are broken. And we're here to just set records and set trends and follow the footsteps that have been shown to us." - Quavo
"If you real from the heart, you real from the heart. That ain't got nothing to do with no sex or gender." - Quavo
As wacky as President Quavo sounds, it doesn't hurt knowing that some of the most famous artists in the world recognize the struggle of their normal fans. They recognize the people they work for and in turn, he just asks for them to recognize how much they changed the game of rap.