About 1and1 IONOS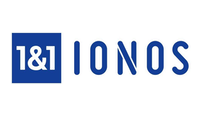 Undoubtedly one of the oldest still remaining web companies around, 1&1 was formed in 1988 — before many even knew the word "Internet". The Germany-based company got their big break when they landed a marketing contract with T-Mobile. Years later, the company exists as one of the biggest and most-trusted names in web hosting and domain registration services.

1&1 is pretty much a two-trick pony. Their bread and butter is their web hosting and domain registration services. Combined, these make up for nearly all of 1&1's sales. Web hosting is an essential service to those who wish to have their own website online. While some sites offer hosting and design services combined, 1&1 offers more high-grade hosting tools for greater long-term growth and flexibility for the webmaster.

On the domain registration side, they assist individuals and companies who wish to reserve their own .com, .net, .org or any of other popular extensions you can think of. 1&1 makes it easy and affordable to get your own domain name, thanks to the coupon codes and offers above, get a place to start uploading website files and then a way to manage other essential tools like email and marketing.
;