About NameCheap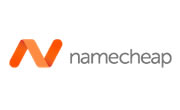 Namecheap is a web hosting company that was founded in 2000 by Richard Kirkendall. Namecheap is based in Los Angeles, California, and they serve over 3 million domains. They don't just offer domain names, though. The site's mission is to sell complete web hosting packages that are safe and secure for affordable prices. They offer dedicated servers, email hosting, VPS hosting and transfer services, among others. They have an extensive support staff available for their clients, and their packages include SSL certificates and security programs. WordPress and other apps can be uploaded for free as part of their service program.
Namecheap has a range of hosting programs and prices that start at $10 a year for the first year, with their renewal fees being slightly more. They always back their services with a pioneering hosting guarantee that ensures that they treat each service separately, and that you can cancel or modify a service at any time without penalty.
The Namecheap website offers many deals and coupons. They have deals that they offer for one-month intervals. These generally give a certain % or set dollar amount off of one or 2 services. They also have deals that last for longer, which are listed under the services that the deals apply to. Those deals credit set dollar amounts, offer free trials, or give a % off for specific services. The site changes the Namecheap promo codes on the featured deals once a month, but the other codes they change less regularly. If you are interested in using Namecheap, their coupons can make an affordable web hosting package even cheaper.


;