About 4inkjets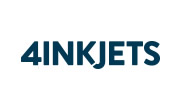 Established in 1999, 4inkjets is an award winning online provider of alternative printer supplies.Through the website, customers can directly order both remanufactured and new compatible print cartridges that are backed with a satisfaction guarantee. With a focus on customer service, 4inkjets maintains a full staff of call center representatives to process orders and respond to customer inquiries. Over 100,000 verified customers have given their online shopping experience at 4inkjets the highest possible review, verified by an independent source. 4inkjets is a Google Trusted Store and accredited by the Better Business Bureau.

With options on their website to search by brand, finding what is needed is direct and simple. Everything needed to order can be easily accessed from the landing page, starting with the brand of printer, the site will help guide a customer to the specific model they are shopping for. Using the easy to navigate sidebar, customers can also order supplies for 3D printing, device connection, paper needs ,and an extensive online printer store. There are recycled ink cartridges available directly via the opposite sidebar. Once a shopper is ready, they simply click on the checkout button at the upper right to complete the transaction. In the contiguous United States, free shipping for printer supplies is offered. Alternative payment methods are available through Amazon and Paypal. There is also a newsletter available for customers to receive exclusive offers for subscribers.

4inkjets routinely offers discounts to their existing and new customers. If one has a coupon code to save money on an order, it is simple to redeem. At checkout will be a box below the order window instructing the customer to enter their coupon code before paying. The customer simply enters the code and then they may checkout as normal.
;