About Canva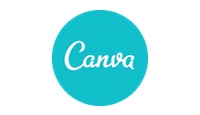 Canva is an online graphics design tool offering a simple drag and drop interface for developing professional graphics, along with a library of designs, photographs, graphic elements and fonts.
Based in Sydney, Australia, it was founded in 2012 by couple Cliff Obrecht and Melanie Perkins with former Google executive Cameron Adams. Their mission was to simplify the graphic design process for photographers, illustrators and designers. The company now serves over 15 million users a month in 190 countries, making it one of Australia's most successful startup unicorns ever.
Canva's comprehensive online design platform comes with a 30-day free trial, and then offers a variety of different plans offering different levels of features and user access. The Pro package allows for up to 20 users and allows you to set your brand colours and fonts and create your own image library with unlimited storage. Enterprise plans are also available for larger companies, and clients include The Huffington Post, Skyscanner, Netflix and Amazon.
Canva also offers an app available for iOS and Android for quick design work on the go, ideal for social media professionals.
;