About Network Solutions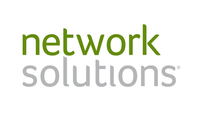 Originally starting out in Washington, D.C. as a technology consulting firm, Network Solutions was given a government grant in 1993 to develop what we now know as the Internet's first domain name registration service. Nothing like that had existed until that time. The ownership of Network Solutions has changed hands a few times since it was founded back in 1979. It is currently owned by Web.com and headquartered out of Herndon, Va. As a part of Web.com, Network Solutions helps serve over three million customers. The services it offers has also continued to expand.
Network Solutions may be best known for domain name registration, but it offers a wide array of Web-related services. In addition to hosting millions of domain names, it also provides website and email hosting, website creation and design, e-commerce support and design, SSL certificates, blog hosting, and a range of online marketing services such as Facebook Boost, search engine optimization and pay per click advertising. Network Solutions also provides mobile website hosting and mobile email services.
With such a large range of service offerings, there are also a lot of deals to be found at Network Solutions. Use coupon codes to get discounts on new domain registration, domain name renewal, web hosting, search engine optimization and much more. With these promo codes, you will never have to pay full price.
;