About Quill.com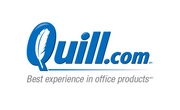 Quill.com is an online office supply store that has been in business for over 50 years. Jack Miller started Quill as a mail-order business in Chicago in 1956, and his primary marketing strategy was to offer heavily discounted items with free shipping on large orders. The company mostly operated with catalogs up until the 1990s. They launched their online store in 1996, but the office supply chain Staples acquired the company in 1998. The headquarters of Quill Corporation is in Lincolnshire, Illinois.
While the company still takes phone orders for items listed in their catalog, customers purchase most products on the company's website. Quill primarily sells office supplies such as paper, ink, and shipping products. However, customers can also find everything from office furniture to cleaning supplies on their website. The company offers its own generic brand of common office products, and they sell a large assortment of green products. Their ink recycling program gives customers rewards they can use on future purchases when they return their used ink or toner cartridges with a prepaid shipping label. After Quill's parent company Staples acquired Medical Arts Press in 2002, Quill began selling medical supplies as well.
Quill offers all sorts of coupons on their website. Some offer percentage discounts. Others offer a dollar amount discount, and many coupons offer free items when customers buy other items.
;