About 101 Inks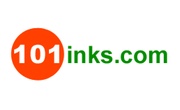 101 inks is an online provider of printer ink and toner products based out of Burbank, California. The family-owned company was founded in 2000 by twin brothers with a passion for delivering printer ink to all their customers. Whether individual consumers or whole companies, the team at 101inks (who collectively possess over 30 years of experience) pride themselves on their ability to deliver their products at affordable prices to all of their customers. This has allowed them to provide ink to countless organizations — from schools to hospitals and beyond — around the country for over 15 years.
101inks promises a unique customer experience from their competition, promising high quality ink and toner from a variety of different printer manufacturers. This includes printers from the likes of Sony, HP, Epson, Kodak, Sharp, and Panasonic among others. Their emphasis is on saving the customer money through multiple methods. They provide a 100% money-back guarantee on all products, 1-year warranty, free shipping, and a full-time customer care service to help customers receive the products they need as they need them. This is all on top of their promise of discounted, cheaper products just like the OEM.
Through select coupon codes, clients new and old are now able to save even more on their orders with 101inks. Try a voucher code today to see how much you'll be able to save on high quality ink products.
;