Godaddy Coupon Codes
Godaddy – $1/mo. hosting + free domain with promo code
Activate this exclusive Godaddy promotion and get $1/month web hosting along with a free domain name. This Godaddy hosting and domain promotion is valid through November 7, 2016.
GoDaddy – .ORG domains for only $4.99 with coupon
Register new .ORG domain names at Godaddy with this promo code and pay only $4.99 for a very limited time.
Godaddy – $.99 domain registration with coupon
This Godaddy domain coupon is valid for new customers only. Use this exclusive coupon code at Godaddy payment page and get your domain name for only $0.99 for a limited time.
GoDaddy – $1/mo. website builder, domain and email
Godaddy offers website builder package which includes 20 personal themes, a free domain and email account for only $1/month with coupon code.
Godaddy – 30% off on all new product orders with coupon
Redeem this new Godaddy promo code when you order new products ranging from VPS servers to managed Wordpress hosting and save 30% off.
Godaddy – .com domain + private whois = $4 only
Redeem this exclusive Godaddy coupon to order a .com domain and private whois for only $4. This Godaddy coupon is valid from now through December 31, 2016.
Godaddy – $1.99 .com domain registration with coupon
This Godaddy promo code is valid for existing Godaddy customers. Redeem this coupon when you register a new .com domain name and pay only $1.99 for a limited time.
Godaddy – 35% off all new orders with promo code
If you're planning to order a new web hosting, SSL certificate, private whois or anything sitewide on Godaddy.com, redeem this exclusive coupon and take 35% off.
Godaddy – 25% off on SSL certificates with coupon
This Godaddy coupon code entitles you to 25% discount on SSL certificates. The coupon is valid from now through March 7, 2016.
GoDaddy – Order 3 months VPS and get 1 month free
If you haven't decided from where to order a virtual private server, Godaddy can help you. Redeem this exclusive VPS coupon at Godaddy and get one month free when you order 3 months.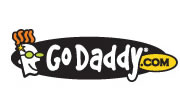 Founded in 1997, Godaddy is one of the most popular domain name registrar and web hosting service provider that hosts millions of domains and has customers all around the world. The company shares special coupon codes with webmasters that make it possible to save money on domain registrations, hosting services and many other products. By the way, Godaddy shares renewal coupons once in a while too, however those coupons are so rare that you should feel lucky if you catch them here. Anyway, let's take a look at how you can activate Godaddy coupons and get special discounts on domain registration and hosting orders.
How to Activate a Godaddy Promo Code
Redeeming a coupon is not complicated as it seems however this depends on your experience with internet. If you previously used a coupon code at an online store to activate a discount then it will be quite easy for you. Let's assume that you added everything you need to the basket and you are on Godaddy checkout page.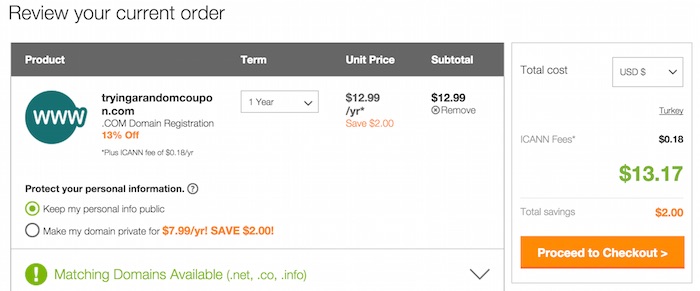 Now scroll down to the bottom of the page, because the promo code box that you need to use to active the discount is placed there. Click the link and a box will appear.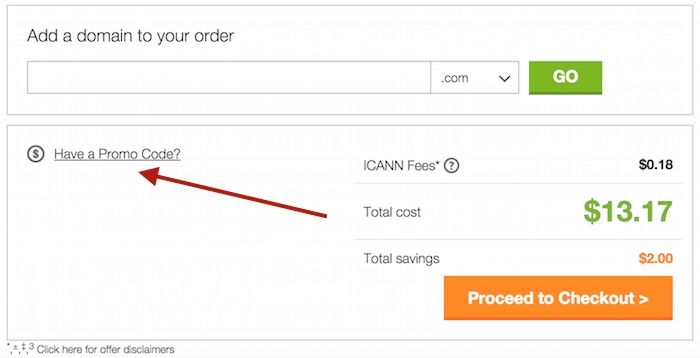 Enter one of Godaddy coupon listed here and click "Apply" button, the page will reload and a notification bar will appear above the same box. This notification bar lets you know whether the coupon code you enter is valid or not.

BINGO! Your coupon is activated and now you are good to go.


That's all! We work hard to list valid Godaddy coupons here. We subscribed to Godaddy email newsletters not to miss any discount opportunity, we work with ad networks to get exclusive coupons for our visitors and we guarantee you that you will only find valid coupons here as the list is weekly updated. Stay connected and don't miss any Godaddy coupon!
To learn more about and follow the recent updates from the company, Godaddy on Wikipedia, follow Godaddy on Twitter or like Godaddy company page on Facebook.