About GoDaddy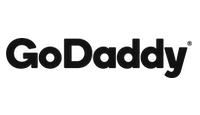 GoDaddy was founded in 1997 by a single individual, Bob Parsons. The original name was "Jomax technologies". The company developed very fast and the name was changed in 1999 to "Go Daddy" owing to the rapid growth of the company. In 2006, the name was changed from two words "Go Daddy" to one word "GoDaddy".
In 2001, Network Solutions was no longer the only business authorized to sell domain names. This development allowed GoDaddy to get into the business and not long before they became the biggest domain registrar in the world. This happened the same year when GoDaddy became cash flow positive.
Review of GoDaddy
GoDaddy powers the biggest cloud platform in the world with over 17 million customers across the world and about 77 million domain names under their management. GoDaddy helps people with ideas to build a professional website and manage their works. GoDaddy has over 6,000 employees worldwide. The company is known for its newspaper and TV advertisements. GoDaddy has been involved in many controversies related to censorship.
Value Web Hosting
GoDaddy provides economy plans at cheap prices for small businesses to build their own websites. Despite the low pricing, the packages include features that ensure that users get access to what's necessary for reliable hosting. Economy plans include unlimited bandwidth, 100 email addresses, about 100 gigabytes of storage, 10 MySQL databases, one SQL database, and a free domain with an annual plan.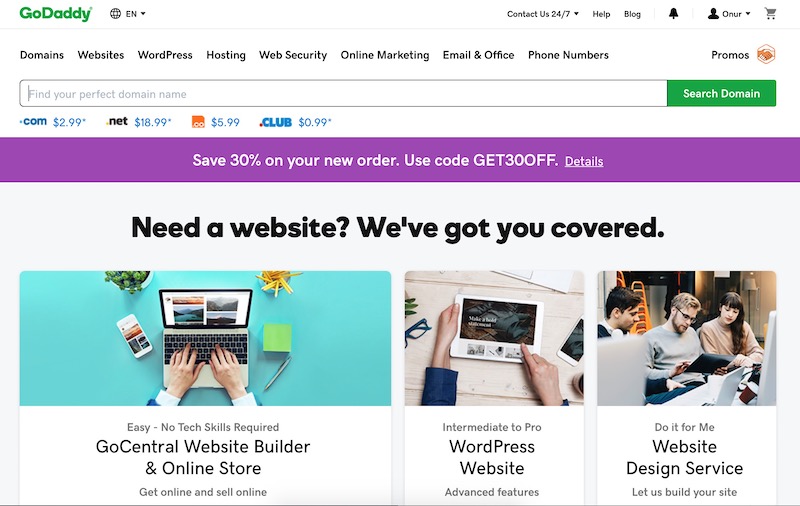 Web Hosting
In addition to the basic Economy plans, users that are looking for hosting through GoDaddy can also access the Ultimate or Deluxe plans. The Ultimate plan is perfect for websites that are designed for heavy traffic while the Deluxe plan is designed for users that are planning on putting together several websites. Both plans provide you with unlimited websites, bandwidth, storage and a free domain with an annual plan. The Ultimate and Deluxe plans provide more SQL and MySQL server databases than the basic Economy plan. They also allow more email addresses to be attached to your domain name.
Dedicated Web Hosting
GoDaddy provides your business with its own designated IP address on a dedicated web hosting plan. This IP address will not be shared with any other account on the same server. The feature is necessary for a user that is planning on acquiring a Secure Layer (SSL) certificate for more comprehensive encryption. When you want to update your domain name's DNS, a dedicated IP address is necessary which often causes your website to be inaccessible to others during the period of updates.
WordPress Managed Hosting
GoDaddy works with the WordPress platform. This feature allows users to build their websites with WordPress. GoDaddy provides access to a library of free plugins and themes for people that host their WordPress sites through GoDaddy. This allows further customization of their websites. The WordPress Ultimate plan also provides users with complete security through SiteLock Professional Malware scan.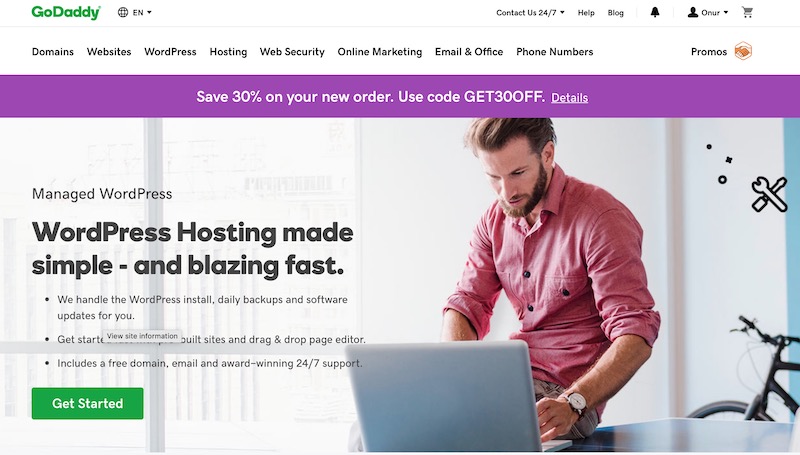 Shared Web Hosting
Developers and designers of websites benefit from the shared web hosting features available through the GoDaddy Pro plans. This feature offers an advanced experience for users that are already familiar with building and running websites. With GoDaddy Pro plans, web owners can give trusted users access to their hosting accounts without having to offer personal username and password.
GoDaddy Hosting Services
GoDaddy is one of the largest known hosting provider worldwide. They provide a variety of reliable web hosting services. GoDaddy has over 63 million domain names that are registered currently. GoDaddy is the choice of new websites owners who need to register a domain name, build website in an integrated platform and sign up quality web hosting at an affordable rate. They create a platform where advanced developers can put their professional skills to application. GoDaddy offers users the flexibility they need at any point by allowing switching from one option to another.
Easy to Access
GoDaddy website is easy to understand. It has an introductory interface for new users to start using it right out of the box without being overwhelmed. Most of their tools are drag and drop (for example contact forms, inserting images, slide shows, etc.), which implies that items can be placed anywhere on your site with ease.
Good customer support
GoDaddy hosting is known to have one of the best customer team in the industry. If you encounter any challenge at any point, you can always contact their customer service which is available 24 hours a day, 7 days a week. The response of their customer service is fast, efficient and polite. Their various customer support methods include queries via email, online chat feature, or you can simply put a call in. They respond to email in less than 24 hours.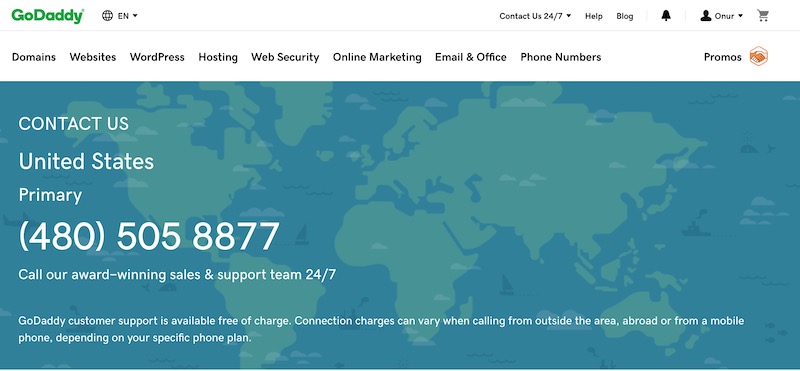 Security
It is very important to have a protection for your data and your client's data. This is why GoDaddy invest huge money to ensure an efficient online security. Sites that are hosted with GoDaddy are well secured.
GoDaddy Promo Codes
Several discounts are available on GoDaddy hosting services. It is a good thing to always search for a coupon code before buying a hosting service. GoDaddy provides promo codes to make hosting services available at cheaper prices. You will end up paying almost half of the original price for some services.
GoDaddy Pricing
GoDaddy offers two different server plans which include; Linux (ranging from $2.49-29.99/month) and windows (ranging from $2.99-16.99/month). The major differences between the server plans include the number of websites that can be hosted, DNS management, disk space memory, MySQL databases, and several subdomains.
To learn more about and follow the recent updates from the company, Godaddy on Wikipedia, follow Godaddy on Twitter or like Godaddy company page on Facebook.
GoDaddy Promo Codes – FAQ
;