About 123InkCartridges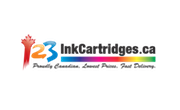 123InkCartridges.com was founded in 2007 as the flagship for the company Shoppersplus.com which is a group of websites selling various products. The company is based out of Canada and prides itself in providing toner cartridges and office supplies to customers at low prices. The principal values of 123InkCartridges.com include keeping the customer first and embracing change in the ever-changing market of online sales, and the company's primary demographics are the home consumer and small businesses.
As the name implies, 123InkCartridges.com sells Ink and Toner cartridges on their easy to use website. Simply navigate through the printer selector to find your specific model, and then take your pick of any of the compatible cartridges. The website also sells a number of printers that range from high quality All-In-One's for the small business, to inexpensive Label Makers for personal use. If you aren't sure which printer to buy you can browse through the different sections labeled "Home," "Work," and "Labelling." In addition to covering all of your printing needs the company also sells various other office supplies including pens, storage solutions and briefcases.
This website offers a number of coupons and promotions for customers, and with just a few clicks you can get high quality products at inexpensive prices.
;