About 123inkjets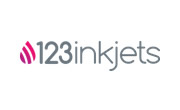 123inkjets is a consumer based provider of ink cartridges and printer toner located in Southern California. Since 1999, 123inkjets has been supplying their customers with ink cartridges and toner for nearly all brands of inkjet and laser printers available on the market today. Quality control of the products offered is maintained through the fact that 123inkjets is in control of their own inventory purchases, which ensures quality over purchases, as well as offering value to their customers. 123inkjets offers numerous other printing related products and hardware as well as environmentally friendly inkjet and toner options.

While offering customers ink cartridges for inkjet printers, and toner for laser jet printers, 123inkjets also carries other printing related products to fulfill their customers printing needs. Products ranging from paper products, with choices from copy paper, photo paper, to roll paper suitable for large format printing; Printers, cables, as well as materials for 3D printing, boasting user friendly filaments for a variety of 3D printing needs with choices of filament materials in varying finishes. Value to their customers is always in mind. Environmentally friendly options are available too. Re-manufactured ink cartridges and toner, along with ink refill kits pass along additional savings.

The 123inkjets website will usually have a coupon code that is typically for a specific product that the customer can use at checkout, but by signing up for their newsletter, you can save even more and receive additional coupon codes. You will receive new coupon codes monthly which can be used for extra added savings, free shipping as well as other offers. 123inkjets also offers a 100% satisfaction guarantee with their two year product guarantee.
;