Activate this exclusive Altushost coupon code at checkout to save 25% off on all VPS hosting plans. This Altushost coupon expires on November 31, 2021.
Altushost – 25% off on all VPS web hosting packages with coupon
Copy this code and use at checkout
| Coupon Codes | Discount / Sales | Today | Best Discount |
| --- | --- | --- | --- |
| 1 | 1 | 1 | |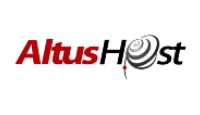 Altushost is a European web hosting provider that serves clients worldwide. Since 2008, Altushost has remained committed to providing web hosting services in a class of its own. They achieve this by committing to satisfying every need of their customers and doing it at great prices. Altushost stands out by offering an always available, high level of technical support to all customers worldwide.
Unlike a lot of Altushost's web hosting competitors, Altushost operates from multiple data centers across Europe, ensuring that each facility is at least Tier 3 and holds multiple ISO certifications. More importantly, Altushost does not rent from a larger provider, rather they use their own hardware for their servers. Thus, they are in full control of the servers and all the technology they use to deliver. Having gone through all the stages a small business goes through themselves, Altushost understands the need of small businesses and is determined to provide products and services that leave the customer satisfied.
Products & Services
Business Web Hosting: Altushost offers special cPanel web hosting for businesses. The pure SSD, DDoS Protected, and shared web hosting platform has been designed with CloudLinux and LiteSpeed to provide quality, speed, and reliability. This all comes together to ensure your business has that professional web presence.
SSL Certificates: Secure Sockets Layer Certificates are important for any website that is to be trusted by customers. SSL Certificates show that your website is protected by the standard security technology; an encrypted link between a web server and a browser.
Remote Backup: To prevent financial losses and a diminished reputation for their clients, Altushost ensures they maintain offsite backups on their powerful storage servers located in Amsterdam, Netherlands. All of this data is also encrypted to give more protection.
Cloud VPS Hosting: Altushost provides KVM-based, pure SSD-powered VPS hosting. This stands out because it is an ideal mix between traditional web hosting and more powerful dedicated servers. This provides customers with lower costs, great redundancy, and more stability.
Dedicated Servers: With Altushost, you could also get a broad line of dedicated servers, all managed from Altushost's infrastructure in multiple sites across Europe. Their dedicated servers can be 8customized to ensure all your peculiar business needs are fully met. You also have the option to have these servers unmanaged or fully managed.
Colocation: Altushost helps clients host their hardware in their (Altuhost's) own data centers. Altushost's data centers have multiple GigE connections to different Tier 1 bandwidth providers and are all world-class with different locations across Europe.
Domains Registration: With Altushost, you can find and register domains. They also offer domain transfer services and bulk domain transfers.
Outlet Dedicated Servers: Altushost offers special dedicated servers in Europe at the most affordable prices with these special outlet deals. Depending on your customizations, servers take between an hour and twelve hours to be delivered.
Advanced Spam Protection: Altushost helps customers save a lot of time by immediately identifying spam and re-mails. This helps to ensure an improved flow to your inbox and protects you from spam, virus, phishing, and malware attacks.
Another really amazing thing about Altushost is they occasionally offer amazing deals and sales to help their customers save more. What's better? We have all the information you will need on the latest deals from Altushost right here!