About Ashley Furniture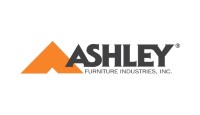 Ashley Furniture exists to inspire people's love for homes and to enrich the lives of all of its customers. In 2020, the store celebrated 75 years of being dedicated to furniture. Founded in 1945 by Carlyle Weinberger as a sales organization, the company's major ownership, and management was restructured in 1982. This restructuring allowed Arcadia Furniture to merge with Ashley Furniture Corporation.
In 2005, Ashley Furniture Industries became the world's largest manufacturer of furniture and in 2007, Ashley HomeStore passed Walmart to become the largest furniture retailer in the U.S. Today, the company has more than 800 HomeStores and is still the number one manufacturer of furniture in the world.
Furniture Design: The furniture design department at Ashley Furniture is made up of in-house designers and engineers who observe customer tastes, react to them, and work to create affordable products in line with the observed tastes and styles. This department is committed to appealing to the first impression of all Ashley Furniture customers, making sure they always achieve the highest out-of-box quality. This department works on great product design and makes sure it is more than just a sketch.
Manufacturing: The manufacturing department at Ashley Furniture consists of three major divisions: Residential Bedding, Case Goods, and Upholstered Furniture. All of these divisions make use of state-of-the-art equipment (often developed in-house, patented assembly methods, and partners with the best-in-class suppliers to produce great products.
Quality Control: To continue to maintain its status as a World-Class Furniture Manufacturer, Ashley Furniture Industries continues to maintain a top-class quality control department to continue innovation to ensure that Ashley Furniture continues to manufacture only quality furniture products. To achieve this, the quality control department continues to analyze and improve raw materials, construction methods, and finished products.
Supply Chain: Ashley Furniture's supply chain department ensures all of the foreign and domestic production efforts are optimized to the benefit of the customer. The supply chain management coordinates every variable that goes into making and moving products. The planned inventory ensures the company can maintain timely and constant delivery of the product.
Information Technology: The Information Technology department at Ashley Furniture is responsible for serving all business partners, internal and external, across the globe. The Information Technology department works with an expert staff and state-of-the-art technology. The purpose of this department is to create an integrated business environment to support all business functions including customer support.
Ashley HomeStore: The HomeStore is the customers' interaction point with the business. The HomeStore is a visual representation of everything Ashley Furniture Industries is about, a passion for furniture, and a desire to continue to share this carefully crafted furniture with its customers.
Ashley Furniture is a great business. What makes it even better is its willingness to share special deals with its customers to help them save more. Where can you find these great deals? Right here! We have all the information you need on Ashley Furniture's latest deals and coupons. Check them out!
;