About Calendars.com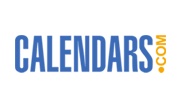 Calendars.com has been in operation since 1999 and offers a broad inventory of calendars. The company maintains a warehouse in Texas from which it ships orders throughout the world although shipping charges are lowest to destinations within the United States. Under the terms of the Calendars.com money-back guarantee, customers can ship back merchandise that they're unsatisfied with within 30 days of purchase for a full refund or exchange.
The selection of calendars contains different sizes, including wall calendars, desk calendars and daily planners. There are calendars themed around popular media sensations, like "Dilbert," "Dragon Ball Z" and comedian Jeff Foxworthy. Of course, more traditional subject matter is also present, such as products featuring cats, beautiful scenery from around the world and quotes from famous historical figures. Leading publishers of calendars, like Andrews McMeel, BrownTrout and Workman Publishing, are represented within the stock at Calendars.com. The focus at this firm is, as one would expect from its name, on calendars, but there's an assortment of miscellaneous merchandise on offer too from apparel and mugs to postcards and notepads. Every product has a zoomable photo on the website, so shoppers can see what it looks like before they buy.
Use this store page for Calendars.com to find money-saving coupon codes. There's no reason to pay full price when discounts might be available.
;