If you buy one of the new asset releases at DAZ 3D shop, you will be eligible to get up to 3 free 3D assets. All you need do is
...more
If you buy one of the new asset releases at DAZ 3D shop, you will be eligible to get up to 3 free 3D assets. All you need do is add 3 3D assets to your basket and then apply the coupon code at checkout. This DAZ 3D coupon code is valid for a limited time but the exact expiration date is unknown. kısalt
DAZ 3D – Buy one the new releases and get 3 free 3D assets
Copy this code and use at checkout
| Coupon Codes | Discount / Sales | Today | Best Discount |
| --- | --- | --- | --- |
| 1 | 1 | 1 | |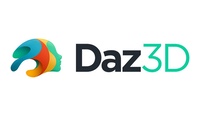 Daz 3D is a 3D software company that specialises in providing rigged 3D human models and associated content and software to both the consumer and professional markets. Their morphable and posable human models are some of the mostly widely used worldwide and their technology is regularly used in film, TV, animation, video games, web designs and print illustrations. The company houses the largest library of dynamically morphable, yet fully compatible, content for sale, and its marketplace allows 3D artists to monetize their work.
Originally part of the Zygote Media Group, the 3D arm of the company split off in 2000 to become a dedicated 3D software developer. The company expanded significantly in 2009 when they merged with Israeli 3D company Gizmoz. Today, Daz 3D's headquarters are based in Salt Lake City, Utah, and have an estimated annual revenue of $3.5 million. They are supported by investors such as Benchmark Capital, Highway 12 Ventures and Columbia Capital.
Daz 3D offers free software in the form of Hexagon, which is a powerful 3D modelling suite which is simple enough for beginners but powerful enough for professionals. Their current flagship model is Genesis 8, a character engine for creating unique characters, which draws on a library of thousands of characters created by top artists. It is backward compatible with Genesis, Genesis 2 and Genesis 3.