Planning to post a new listing on DesignCrowd? Use this DesignCrowd coupon code to post it for free.
DesignCrowd – $0 posting fee with coupon code
Copy this code and use at checkout
| Coupon Codes | Discount / Sales | Today | Best Discount |
| --- | --- | --- | --- |
| 1 | 1 | 1 | 15% |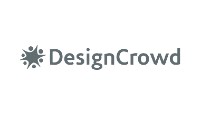 DesignCrowd is an online marketplace that connects designers from all over the world to clients who need their services. They do this while also helping start-ups, businesses, or entrepreneurs meet a global network of designers who are ready to help them achieve their goals. The company was established to help other businesses find the best designs at cheaper prices, a price that fits their budget. It also provides designers with a platform to make use of their skills to earn money.
So far, DesignCrowd has 923,000 graphic designers, has seen almost $60 million gotten by designers for their designs and through contests. The platform has also seen more than 25 million designs uploaded. The company owns and manages BrandCrowd, an online logo maker.
Products & Services
BrandCrowd: BrandCrowd is an online logo maker that helps businesses or even ordinary individuals come up with great logos within minutes. With a collection of over 22,000 premium logo designs created by some of the best designers from around the world, BrandCrowd is a really easy solution. All you have to do is enter your business name into the logo maker, let the software create some amazing designs for you, customize the fonts or colors of your preferred logo, and download it to use.
Logos & Identity: The logos & identity service is all about providing great branding for your business or project. If you need your designs to make long-lasting impressions, you would need the right combination of colors, shapes, and fonts. DesignCrowd can help with that. Provide you with business card designs, letterhead designs, signage designs, and more.
Web Design Services: If your customers are on the internet, you definitely need the best designs that will stand out, communicate your product or service clearly, and help your customers remember you. If you need new designs for a custom-built website, or even for a popular CMS platform, DesignCrowd can help with that. Here, they offer WordPress design, blogger design. iOS app design, csCart design, email marketing design, and more.
Print Design Services: For print designs such as flyers, posters, stickers, postcards, or even magazines, DesignCrowd can provide you with some of the most fabulous designs. The finality of print designs is something you should be concerned about. Make sure there are no mistakes with DesignCrowd.
Graphic Design Services: The designers on DesignCrowd are really good at coming up with creative graphics for things like a PowerPoint presentation, 3D designs, or even Photoshop designs.
Product & Merchandise Design Services: With DesignCrowd, you can get all the promotional gear for your business. Design for bags & totes, packaging, mugs, and of course, t-shirts.
Art & Illustration: For eBooks, tattoos, greeting cards, and even characters, the designers at DesignCrowd can supply everything you need.
As you can see, DesignCrowd has some great services. These services could truly make the lives of some entrepreneurs easier. However, another really interesting fact about DesignCrowd is their willingness to always help their customers save more by regularly offering deals and sales. We have all the information you would want on DesignCrowd's latest sales and deals right here. Check them out!