Domain.com Coupon Codes 2018
Domain.com – 15% off new .COM & .NET domain names
Activate this new Domain.com coupon code to take 15% off on new .com and .net domain name registrations. This Domain.com coupon is valid from now through April 7, 2017.
Domain.com – Save 25% off all new web hosting plans
Got a new project to put online? Get a web hosting service from Domain.com and get 25% discount when you activate this coupon code. Good until: September 30, 2017.
Domain.com – Spend $25+ and save 18% off with coupon
Valid through September 30, 2017, Domain.com offers 18% discount when you spend $25 or more and activate the coupon code at checkout.
Domain.com – 15% off all products and services with coupon
Domain.com offers sitewide discount, from servers to domain names and web design when you redeem this promo code at checkout page. Expires: 30 May 2016.
Domain.com – 25% off all new web hosting plans
Domain.com offers 25% discount on all new web hosting orders, including VPS plans, through March 31, 2016. Be sure to redeem the coupon at checkout page.
Domain.com – 50% off all web hosting plans with coupon
Use this Domain.com coupon code at checkout and save 50% off on all web hosting plans. This Domain.com coupon is valid through December 31, 2015.
Save 20% off new products & services when you spend $45
Domain.com offers 20% off $45+, 25% off $90 and 15% off on everything when you activate the promo code at checkout. Coupon is valid through July 30, 2015.
Domain.com – Take 15% off on domain registrations
If you're planning to register a new domain name at Domain.com, use this exclusive coupon at checkout and take 15% off. This domain coupon is an ongoing promotion.
Domain.com – 20% off domain names and hosting plans
Here's another Domain.com promo code with which you can take 20% off domain names and hosting plans. This Domain.com coupon is valid for a limited time.
Domain.com – 50% off all new web hosting plans
Domain.com offers 50% off when you order a new web hosting plan with coupon code. This Domain.com coupon is valid through 30 August 2014 and valid on all hosting plans.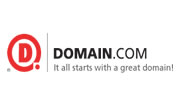 Domain.com is considered as one of the best sources to get a domain registered and obtain affordable web hosting to enable the website work properly. The company has been serving customers since 2000 and has made itself ideal in terms of the quality offered. Their aim is to provide the rarest combination of reliability and quality within affordable rates that everybody can afford. The company specializes in VPS hosting, web design, SSL certificates, domain names, email and web hosting.

The company is accredited by Better Business Bureau (BBB) as it has high quality web hosting plans with some premium discount deals and coupon codes. They assign different coupon codes to customers and allow them to minimize the cost. Domain.com has certain coupons for every event and month with some special facilities that attract users to come and claim their discount.

How to Use Domain.com Coupons?
Redeeming coupon codes at Domain.com is no different than any other hosting and domain registrar companies. All you need to do is just select the hosting plan in accordance with the needs of your web project. And at the checkout page, activate the Domain.com coupon code that you copied from this page and that's all. Below, you can read the detailed utilization of coupons.

Firstly go to Domain.com and choose the service you need. It might be email hosting, web hosting, domain registration or SSL certificates, but keep it mind that each service has its own specially customized coupon. So, if there is a coupon for SSL certificate you cannot use it for your hosting orders. Anyway, let's say that you will order a hosting plan at Domain.com: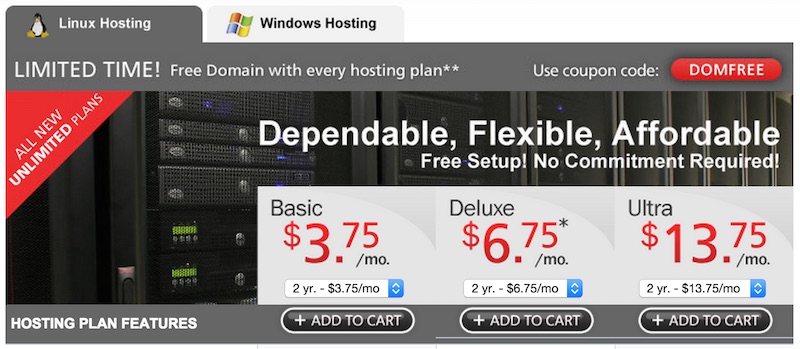 When you skip to the 3rd step, where you're asked the enter your billing info, you will also see a coupon code bar below your cart total. Just enter one of the coupon code we listed here and activate the discount.

There you! It's all done and now you can safely enter your billing information and make the payment. Don't forget to visit DomainPromo.com as we update Domain.com coupon codes weekly. Stay connected and save more!