Tested and verified by our team, this DynDNS coupon code takes 20% off on your dynamic DNS purchases. All Dyn DNS orders are packed with 30 unique hostnames and super-fast
...more
Tested and verified by our team, this DynDNS coupon code takes 20% off on your dynamic DNS purchases. All Dyn DNS orders are packed with 30 unique hostnames and super-fast IP updates. Also you can host your DNS under a premium domain name that makes it easy for you to remember the name of DNS address. This Dyn coupon code is valid for a limited time. kısalt
Dyn – Save 20% on all DNS services with new coupon code
This is an exclusive sitewide Dyn coupon code which can be applied to all products from DNS services to domain name registrations. Simply get the code and activate it at
...more
This is an exclusive sitewide Dyn coupon code which can be applied to all products from DNS services to domain name registrations. Simply get the code and activate it at the checkout page to get you 10% discount. This Dyn coupon is valid through September 14, 2019. kısalt
Dyn – Save 10% off on all products from DNS, security to domain names
Dyn offers 10% discount to DomainPromo.com visitors with this exclusive coupon code. This Dyn coupon is active through December 30, 2018.
Dyn – 10% off sitewide + web hosting with exclusive coupon
DynDNS reveals a new coupon code with which you can save 25% on all your orders. This exclusive DynDNS coupon has been tested and is still valid.
DynDNS – Take 25% off on all orders with coupon
Tested and verified, redeem this exclusive promo code at DynDNS and save 25% off on your purchases. Some exclusions may apply. Valid through April 30, 2014.
DynDNS – 25% off on purchases with promo code
Use this special coupon code at DynDNS to receive 25% discount on new account registrations. This DynDNS offer is valid for a limited time. Hurry up to redeem the coupon!
DynDNS – 25% off new account registrations
This deal is valid for a 15% savings on new customers. This deal is valid until September 30, 2013.
DynDNS – 15% savings on new customers
This DynDNS is for $15 savings when you upgrade to pro service. Promo seem to be an ongoing deal. But it can only be used once per customer.
DynDNS – Save $15 on pro upgrade
DynDNS offers up to 20% savings for new customers. This deal is valid on all orders. Promo is good for a limited time only.
DynDNS – 20% off on new orders
Use the following DynDNS coupon codes to make some 15% savings. This deal is good for new non enterprise DNS/Email services only. Promo valid for limited time only.
DynDNS – 15% off new non enterprise DNS/Email services
| Coupon Codes | Discount / Sales | Today | Best Discount |
| --- | --- | --- | --- |
| 10 | 10 | 0 | |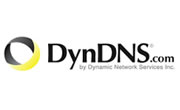 Dyn is a cloud-based Internet Performance company run out of Manchester, New Hampshire by a team of more than 400 educated technology professionals. The company originally was conceived in 2001 as an open source Worcester Polytechnic Institute student project by current CEO Jeremy Hitchcock (who was also an Ernst & Young Entrepreneur of the Year finalist) and his co-founders Tom Daly, Tim Wilde and Chris Reinhardt. Since its' founding, Dyn has had many high profile clientele relying on their expert user experience optimization service and techniques. Some of these clients include: Twitter, CNBC, D-Link, Zillow, Hershey's, thetrainline.com, and many more.
Dyn's primary focus is on creating a fantastic end-user experience, providing users with fast and safe information consistently. They ensure the user receives this by effectively monitoring and optimizing their client's online infrastructure to create this end-user experience. Dyn makes sure their customers have it as easy as possible – there is no hardware required from the customer, special custom failover rules, and a coveted 24/7 monitoring of accounts. Moreover, Dyn offers experience optimization services such as their Managed DNS Express Service which includes DNSSEC and IPv6 support, Global IP Anycast Network, and no hard limits on usernames, as well as more expansive programs for booming websites who can't afford even a minute of downtime. All of this is managed through Dyn's web-based DNS management portal that allows customers to make updates from their web browser – simplicity and efficiency at its best.
Dyn customers can sometimes use special promo codes and special voucher coupons to save on the price of their orders. Some of these codes will provide customers with a free trial of Dyn's services – one of the quickest and safest ways to experience what it is like to become one of Dyn's clientele. Try a voucher, and see what kind of service the big brand name companies are getting with Dyn's strong track record of customer satisfaction.