GetResponse offers 18% discount on annual plans for a limited time. Simply go to pricing plans page and choose annual option. You will save 18% automatically without entering a coupon
...more
GetResponse offers 18% discount on annual plans for a limited time. Simply go to pricing plans page and choose annual option. You will save 18% automatically without entering a coupon code. Check us back for new GetResponse coupon codes and deals. kısalt
GetResponse – Save 18% off on annual plans for a limited time
Deal Activated, no coupon code required!
| Coupon Codes | Discount / Sales | Today | Best Discount |
| --- | --- | --- | --- |
| 0 | 1 | 0 | 18% |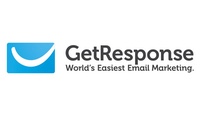 GetResponse is an email marketing platform provider based in Wilmington, Delaware, though it operates globally with offices in the United States, Canada, Poland, Malaysia and Russia. The company was founded by Simon Grabowski in 1998, and he continues to be involved in the company as CEO. GetResponse is now one of the biggest email marketing companies in the world, serving more than 350,000 customers in 183 countries, and delivering more than 12 billion emails per year. Big name clients include Hilton, UNESCO and IKEA. The company has more than 300 employees and an annual revenue of over $16 million.
GetResponse offers a full, scalable product that works for both small businesses and large enterprises. Its suite of services for email marketing include:
Drag and drop email creation
Advanced email analytics
Sophisticated mailing list data capture and segmentation
Automation that allows for complex auto-response based on user behaviour
24/7 consulting service
GetResponse has also been growing their service and they now provide additional marketing solutions such as webinar hosting, landing pages, automated sales funnels and some CRM functionality.
GetResponse is available on a subscription basis. You will find promotions that will get you the best rates here on DomainPromo.com