HostPapa Coupon Codes 2018
HostPapa – $3.95/mo unlimited web hosting + free domain name
America's #1 small business website host, HostPapa, offers unlimited web hosting with a free domain name for only $3.95 per month. The offer is valid for a limited time.
HostPapa – $1.95/mo. hosting + free domain name
HostPapa offers shared hosting plans starting from $1.95 with a free domain name included. This HostPapa promotion is valid for a limited time!
Hostpapa – Get $1/month hosting + free domain name
Hostpapa offers $1/month hosting and free domain name when you activate the promotion. You can host 2 websites and create 100 email accounts with this hosting plan.
HostPapa – $36 off any shared web hosting plan in September
HostPapa has announced new coupon codes with which you can take $36 off any shared hosting plan. This HostPapa coupon is valid from now through September 30, 2014.
HostPapa – Free domain registration
Get your hosting plan at HostPapa and get free domain registration for 1 year. This seem to be an ongoing promo. Hosting is only at $3.95 per month.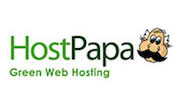 Hostpapa is an Ontario, Canada based web hosting, website building and domain name registration service provider. The company has a history of providing excellent service and support to customers all around the world. In fact, the company now has support options in 12 countries around the world that can be accessed through phone, email, fax and online chat. The company is known for its outstanding service and reliability including it's history of near 24/7 uptime. Overall, customers are extremely satisfied with Hostpapa's wide array of service and support offerings.
The company's most widely used offering is the web hosting service. This allows companies, blogs, individuals or organizations to post their website online. Hostpapa provides a low-cost service with easy administrative tools to run the website. Its top of the line website builder will make the website's administrator job easy. In addition, users can create customized emails and add certain e-commerce functions to their site. Hostpapa also provides its hosting customers with free domain name registration. That service simply means that the customer reserves the website URL that they will use to host the site (as long as nobody else currently owns that URL). Hostpapa also allows it customers to make their own profit through its unique reseller program.
Hostpapa regularly provides special coupon codes for its valuable customers. These coupons are monthly updated and can be found on this page. Stay tuned for exclusive Hostpapa coupons!