About Lands' End Business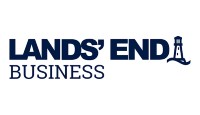 Lands' End was founded in 1963 by Gary Comer, currently based in Wisconsin and after 57 years in business, the company is one of America's foremost clothing and home furnishings retailer. However even with over sixty locations, in America, Europe, and Asia, most of the company's business is conducted via mail orders and internet sales. Hilariously, the apostrophe is actually a typographical error. The name was supposed to Land's End but it couldn't be changed eventually because promotional materials had been printed.
Land's End Business is a subsidiary of Lands' End and since 1993, they have been providing businesses with all sorts of branded clothing.
Products and Services
Land's End Business is focused on two major things:
Ensuring all of their customers get quality branded clothing (and products) for their businesses over the internet.
Providing cloth designs made to fit, and be comfortable for ordinary people.
To achieve these two, they have come up with some pretty exciting products and services. However, before we go into that, it is important to point out that Land's End Business allows you to brand your business uniforms, men and women's clothing (from fleece, polos, sweaters, blouses, down to even facemasks), promotional products (like mugs, or bags), and gifts. And you can do it all on the internet, and then have the finished work delivered to you.
Reliable Color Assortments: Selecting color assortments around your brand's signature color could be really tough and frustrating. Lands' End Business understands that, and have provided their Colors You Can Count On™ to help you out. The program provides you with colors that fit every business and every season. Consistent colors also make outfitting easier because they can be made to match across styles.
Program Management Options: To allow different business types enjoy the products of Lands' End Business, there are different programs with matching costs to help you select one within your budget.
Small: For small businesses, and with this program you can set up your e-store with just products you want, get discounts that help you save up to 12%, and create Allocation vouchers to manage employee orders.
Mid-Sized: For medium sized businesses, this program includes everything from small with some extra. On this plan, you also have an account team from Lands' End Business dedicated to assisting you, the account team manages your e-store to save you time, you get a fixed percentage of discounts which depends on your annual expenses, and you can order custom products. You also get a free logo setup in case your company re-brands.
Large: This program also includes everything from mid-sized. But in addition, you also get customer service reps trained on your program, custom communication and marketing plans designed to support your program, brand and uniform management for your program from Lands' Ends Business product managers and designers, and a partnership with your analytics team to deliver reports, among other services.
Logo, Embroidery, and Customization: With Lands' End Business, you can design or create your logos online and have them on your products as embroidery, monogramming, screen printings, Direct-To-Garment Printings, Hot Stampings, or even engravings. With the help of a computerized logo process, the company can replicate any logo, and have over 300 thread colors available at embroidery stations.
Custom Online Uniform Store: Lands' End Business also allows you to create your own online uniform store with products from them.
Lands' End Business makes life easy for a lot of business owners. You can create your uniforms online, they make it, your employees order, and they mail it to your employees. They also have legendary customer service and what's better? You can find more information on all of their discounts and coupon codes on our website.
;