About Moleskine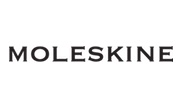 Founded in 1997, Moleskine specializes in high-end notebooks and other paper products. What started as a small company in Milan, Italy, is now a worldwide brand with two locations in Asia, locations in over thirty countries in Europe, and a presence in both the United States and Canada. Over the years, Moleskine has continued to design new luxury products to meet the needs of current customers and potential buyers.
The Moleskine online store sells a variety of notebooks and planners in all different sizes, colors, formats, layouts, and cover styles. Additionally, each notebook and planner can be embossed with a name or design. Aside from the books, Moleskine offers a plethora of high-quality bags and cases, including wallets, totes, utility bags, briefcases, and backpacks. Just like the notebooks, there are several colors and formats to choose from for most of the bag types. Other products Moleskine sells include luxury pens and pencils, gifts, books, and accessories such as travel lights and portfolios. For those who frequently purchase items from Moleskine, the website has a section dedicated to new arrivals.
Moleskine often offers coupon codes and discounts that can be applied to specific products or to an entire order. Make sure to take advantage of these offers, so you'll never have to pay full price again.
;