Netfirms Coupon Codes 2018
Netfirms – $2.49 unlimited web hosting and free domain
Netfirms offers $2.49 (normally $4.45) web hosting plan and a free domain name when you activate this secret promotion. This Netfirms coupon is valid through February 7, 2018.
Netfirms – 40% off web hosting + free domain in 2018
Here's another Netfirms coupon which takes 40% off all shared web hosting plans and also gets you a free domain name. This Netfirms coupon is valid through September 30, 2017.
Netfirms – 20% off when you spend $25 or more with coupon
This new Netfirms coupon entitles you to 20% discount when you spend $25 or more sitewide. The coupon is valid from now through October 19, 2015.
Netfirms – Offers $2.49 unlimited hosting
Netfirms is now offering a very low price deal on hosting with just $2.49 per month. No coupon needed this is an onsite deal.
Netfirms – $5 off on domain
Use this Netfirms coupon to save $5 off on new domain registration. Promo works on first year registration only.
Netfirms – Plus plan at $2.50 per month
Netfirms offers a monthly a $2.50 on plus plan for one year. This will renew at $4.95 for the net year. Promo valid for a limited time only and for new registrants only.
Netfirms.com – com, net, org domains are only $6.95
Netfirms offers a new promotion for Facebook fans. If you're going to register a new domain name at Netfirms, you'd better use this promo code to register com, net and org domains for only $6.95. This is an ongoing promotion and we are not sure about the expiration date of the code.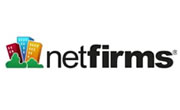 An effort to help those out-of-the-box thinkers with their enterprises was what Netfirms was meant to be.  By offering hosting solutions that stood out for their flexibility was what set apart this firm.  Since then, the enterprise has got to hosting close to 1.2 million websites and is considered one of the leading web hosting solution firms.  There is no denying the strength of the management that has managed to notch up milestones in the industry in such quick time.
Like typical hosting companies, Netfirms has a host of solutions for those needing a website hosted.  But what tends to keep this firm apart is the tailor-made solutions when it comes to hosting email accounts.  The easy to access and quick to respond mail accounts are a trade mark of this trailblazer of a firm.  With the greater emphasis on secure connections and secure modes of communication, it comes as no surprise that Netfirms stands at the forefront of innovation.  What was set out as operative standards has in time, been absorbed as industry benchmarks followed by the majority of users.