Phone.com offers 20% on first three months of any subscription when you activate this special promo code at checkout page. Expiration date is unknown.
Phone.com – Save 20% off first 3 months of any plan with promo code
Copy this code and use at checkout
| Coupon Codes | Discount / Sales | Today | Best Discount |
| --- | --- | --- | --- |
| 1 | 1 | 1 | $25 |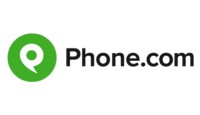 2*Founded in 2008, Phone.com is a Voice over Internet Provider (VOIP) business phone system that provides its customers with cloud-based voice, video, SMS, MMS, fax and more. So, instead of getting a phone service provider, you can get it all done on the internet, with Phone.com's cloud-based communication and collaboration solutions. The company's services are also easily customizable to fit individual needs.
Phone.com is designed specifically for businesses and entrepreneurs. The goal being to make your phone lines seem like that of a million-dollar enterprise, even if you are just a one-man business. Their VoIP service allows you connect with anyone, anywhere, and anytime. And today, they provide over 30,000 businesses with phone services.
Products and Services
Business Phone Systems: Within minutes on Phone.com, you can have a phone system very similar to that of big enterprises. This can be very helpful for entrepreneurs because you no longer need to use your personal numbers for business. As an entrepreneur, you can also get features like greetings, automated attendants and hold music, all of these give your customers the best experience while you save yourself stress. You can also use your PC, mobile device, or IP desk phone to communicate. Plus, all of these do not cost as much as with regular phone service providers.
Customizable Numbers: On Phone.com, you have the choice to select number sequences that will be easier for your customers to remember. These numbers can be local, global or even toll-free. And even if you already have a number you love and want to keep, you can!
VoIP Phones: com also allows you compare different products from top VoIP phone producers in the industry to ensure you get the best fit for you. You can also install software on your Android phone, iPhone. Windows, or Mac to allow for a fully functioning phone interface on all of these devices. You can also check if your current phone can function as a VoIP phone.
With Phone.com, you also get over 50 features which include audio conferencing, address books, analogue phones, call forwarding, call analytics, call waiting, expert support, fax-from-phone, text messaging, video conferencing, queues, voicemails, among others all with their different plans.
The Base Account: This plan gives you 300 monthly minutes, 2,000 text messages, a local or toll-free number, and 40+ standard features. It also has a 30-day money back guarantee!
The Plus account: With this, you get 500 monthly minutes, 3,000 text messages, a local or toll-free number, 40+ standard features, premium hold music, and voicemail to text.
The Unlimited Extension: Unlimited monthly minutes, unlimited text messages, a local or toll-free number, 40+ standard features, Premium Hold Music, Voicemail to Text, and 1 base video meeting host.
Phone.com also has support that is available 24 hours a day, 7 days a week, so you can always solve any problems you might encounter.
Phone.com is really amazing for entrepreneurs and all business owners. But do you know what is even better than their cheap services? When it gets cheaper! That's right, it can get cheaper. With discounts and coupon codes, you can enjoy more! And we have all of that on our website.