About Porkbun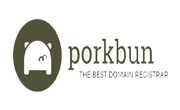 Porkbun is a company founded in 2014 by online entrepreneurs Ray King and Peter Brual. They're an ICANN accredited domain registrar, providing various services related to domains and websites to businesses, as well as individuals like artists and small-time entrepreneurs. Porkbun is currently based in downtown Portland, Oregon. The company's name is rather unique for a business in the online services industry, as it refers to the pork bun, a Cantonese treat filled with barbecue pork that the founders are particularly fond of.
Porkbun's primary service is domain registration, which is the first step that anyone who wants to launch a website needs to take. Their online registration service includes features designed to simplify the entire process. Customers can perform bulk searches of up to 100 domain names at a time to see which ones are available. The "Name Spinner" feature on their website can be very useful too, as it instantly generates domain suggestions based on a word, phrase or existing domain name. Just like other registrars, Porkbun allows customers to transfer domain names they already own over to their service. Customers who register a domain receive various services at no additional cost, including URL and email forwarding, an SSL certificate and Whois privacy. The company also provides website and email hosting as optional additional services for customers who don't want to sign up with another provider to host their site or email.
To help you save money on your purchase at Porkbun, we've put together a page showing all of their latest coupon codes. You can use them to get great discounts on domain registration and other services provided by this online store.
;