The GoGeek hosting plan from SiteGround provides you with 5 websites, 40 GB of web space, approximately 100,000 visits per month, and unmetered traffic. Instead of the regular $39.99 per
...more
The GoGeek hosting plan from SiteGround provides you with 5 websites, 40 GB of web space, approximately 100,000 visits per month, and unmetered traffic. Instead of the regular $39.99 per month price, new customers can now get their first order at just 14.99 per month. kısalt
SiteGround – Save 63% on the gogeek hosting plan
The SiteGround GrowBig hosting plan provides a perfect way to grow your business. With this plan, you get 2 websites, unmetered traffic, 20 GB of web space, and approximately 25,000
...more
The SiteGround GrowBig hosting plan provides a perfect way to grow your business. With this plan, you get 2 websites, unmetered traffic, 20 GB of web space, and approximately 25,000 visits monthly. New customers can now get their first order at just $9.99 per month instead of the regular $24.99 per month. kısalt
SiteGround – Save 60% on the growbig hosting plan
The StartUp hosting plan from SiteGround will give you one website, 10 GB of web space, about 10,000 visits monthly, and unmetered traffic. With this special sale, you can now
...more
The StartUp hosting plan from SiteGround will give you one website, 10 GB of web space, about 10,000 visits monthly, and unmetered traffic. With this special sale, you can now get your first order for just $6.99 instead of the regular $14.99. Note that this offer is only available to new customers. kısalt
SiteGround – Save 53% on the startup hosting plan
Get 60% off on StartUp web hosting package at SiteGround. Offer is valid for a limited time only.
SiteGround – 60% discount on web hosting
SiteGround offers 50% discount on GrowBig hosting plan which comes with 20GB web space, free domain name and ability to host multiple websites. Valid for a limited time.
SiteGround – 50% discount on GrowBig plan + free domain
Pay only $3.95 for SiteGround's "Startup" hosting plan instead of $9.95. This SiteGround promotion is valid for a limited time and no coupon code is needed.
SiteGround – Take 60% off Startup web hosting plan
| Coupon Codes | Discount / Sales | Today | Best Discount |
| --- | --- | --- | --- |
| 0 | 6 | 0 | |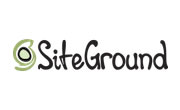 When you need high quality web hosting plans that are handcrafted to make your website the bet that it can be, you need the expert services of Site Ground! Get web hosting services that are safer, faster, and better supported than the competition. This gives you the freedom you need to concentrate on the more important aspects of your business and trust Site Ground to take care of the back site work each day, every day, even on holidays!

This highly skilled team of experts will take your websites and help you craft it into something amazing and something that works for your unique business needs and goals. Handcrafted is not a term you usually hear used to describe a web hosting company but at Site Ground, handcrafted stands for the one of a kind personalized service and higher quality product that is generated and delivered to each an every customer- with the respect, love, and appreciation that they deserve.The same philosophy is applied to every aspect of what Site Ground does: from choosing hardware, the attention given to server architecture, the innovation behind product creation, the personalized customer service approach, innovative software solutions, the inspiration that comes from special partnerships, and the friendships developed with customers and clients.

You can enjoy this one of a kind handcrafted approach to web hosting for yourself, and right now, you can enjoy it for even less! How? Simply use one of the amazing Site Ground coupon codes that are available right now. They are easy to get and even easier to use with Site Ground! Save money, get the web hosting service you need, help your website become all you want it to be, and discover the difference a hands on approach can make!