About Stamps.com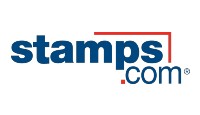 Founded in 1996 under the name StampMaster, Stamps.com was the first online postage vendor to be approved by the United States Postal Service. Traded publicly on the NASDAQ as STMP, Stamps.com is committed to enabling small businesses, online retailers, and everyone who needs to occasionally send packages accomplish this in the easiest way possible. Simply put, why go to the post office when the post office can come to you?
With Stamps.com (the leading provider of internet-based postage services), your computer, a printer, and internet connection, you can send all of your packages from the comfort of your home. And you can now manage all of your shipping more securely and conveniently than with postage metres.
Products and Services
Online Postage: Especially if you are a small office, with an account on Stamps.com, you can easily buy and print all your postage online instead of having to go to the post office. You also get all USPS mail classes and services, and get amazing discounts. With the help of Stamps.com, you can easily buy, calculate and print postage for everything from packages to post cards. Stamps.com also helps you figure out what mail class your package is, provides you with a record of all postage printed by your business, and make sure when your mail gets delivered it looks good. You can also import from existing address books and avoid delivery errors with Stamps.com
Shipping: A feature made specially for online sellers, this allows you to ship faster for less, import orders, and get updates for it all. With Stamps.com, online sellers can manage and ship all orders from different store on a single dashboard, so you get to save time and let Stamps.com do the work for you. You also get discounts from USPS and UPS, get the lowest rates and faster delivery, ship internationally, and process orders faster. Your package is also insured.
Warehouse Shipping: With Stamps.com's automation, you can make the USPS seem like a private carrier, integrate its deliveries to fit into your workhouse workflow, customize your experience, import and manage orders, and select shipping methods that suite you best.
Enterprise Postage Management: Switching to Stamps.com for your enterprise gives you very detailed reports, and lets you see and manage how every penny spent on postage is spent in all of your offices.
Supplies: On Stamps.com, you can purchase everything you need for all of your postage. From shipping labels, to postage scales or printers, and even NetStamps sheets.
Customer Service: com provides you with an award-winning customer service ready to help you at anytime of the day and any day of the week.
You would notice that we often mentioned you could get a lot of discounts with Stamps.com, that is absolutely right. If you would like to get more information on the promotions, discounts, and which coupon codes to use for what, we have all of that information on our website.
;