Yahoo Web Hosting Coupon Codes 2018
Yahoo – $2.49/mo web hosting + free domain name
Yahoo Small Business, also known as Aabaco, offers $2.49 per month web hosting, $100 ad credit and a free domain name. No coupon code is required.
Yahoo – $9.95/yr. domain name registration with promotion
Yahoo offers $9.95 .COM domain name registration for a limited time. Simply activate the promo link to get this offer.
Yahoo – Free Website Builder trial [no credit card required]
Yahoo offers free trial of the company's advanced website builder. No credit card required, so that you can quickly test it and don't pay any hidden fees.
Yahoo – Get $50 credit with coupon code for Gemini ads
Enter this Yahoo Gemini promo code when you order ads from Yahoo and get a free $50 advertising credit. This Yahoo coupon is good until October 1, 2015.
Yahoo Web Hosting – 50% off first 3 months with coupon
Yahoo's new web hosting offer entitles you to 50% off for the first 3 months discount and order shared plans for as low as $1.99/mo. with a free domain name included.
Yahoo – 50% off web hosting packages for the first 3 months
Yahoo's new coupon code gives you a chance to take 50% off web hosting packages. Once you activate the yahoo promo code, you will be eligible to pay 50% off of first 3 months.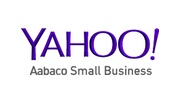 Yahoo Inc. was one of the first companies to make a major impact on the world wide web. It was founded in Sunnyvale, California, in 1994. Since then, Yahoo has become known for its popular web search engine and for a variety of other services, including social networking sites such as Tumblr, weather forecast, domain registration and web hosting. These services and websites that belong to Yahoo are visited by millions of people each month.
Yahoo Web Hosting, now it's rebranded as Aabaco, is one of Yahoo's most well known and preferred services. They have three website customization plans to offer to webmasters. The Basic Plan Features 100 gigabytes of disk space, 1,000 gigabytes for data transferring per month, 10 site pages, and 250 email addresses. The Advanced Plan, which is designed for business websites, includes 500 gigabytes of disk space, an unlimited number of site pages, 5,000 gigabytes per month for data transferring, and 500 email addresses. The most advanced option, the Premium Plan, features unlimited disk space and data transfers. It also includes 1,000 email addresses. All of the plans include free domain names and $100 ad credit coupons and are intended to make it easy to create a website that will be appealing and useful to potential customers.
Customers can save money on Aabaco services with special coupons and exclusive offers. Every week we update the list of Aabaco coupons here. Stay tuned and don't miss any Aabaco discounts and promotions!