The arrival of WooCommerce in WordPress has made it easier than ever for businesses to get selling online, without the traditional heavy overheads for setting up a bespoke online shop. WooCommerce is described as an e-commerce plugin that is pretty much install and go. But making your online shop appear attractive, enticing, and trustworthy requires a little more finesse! You basic WordPress themes simply are not designed to deal with the added complexity of WooCommerce.
Elementor is a popular drag and drop WordPress page builder that offers a number of themes that are specifically designed to deal with the extra complexity of WooCommerce. Elementor is intuitive to use with a drag and drop design process. It also seamlessly integrates with analytics, email marketing and performance optimization, all of which are essential if you want to transform your WordPress site into your online shop.
But which of Elementor's WooCommerce compatible themes are the best? This is very much down to taste, but here are 16 excellent choices. All are ideal for creating a modern, minimalist and attractive online shop fronts for your business. All or our picks are fully responsive and optimized for the best speeds.
1. Amartha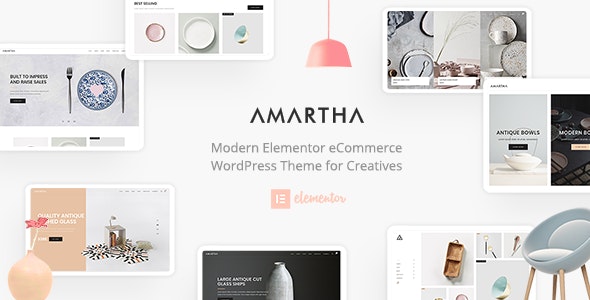 Make sure you are working with the best quality photography, as Amartha is a clean and minimalist WooCommerce theme that keeps the page free of clutter, allowing your product images to pop! The header and footer elements are powerful and flexible, – you have virtually unlimited options to customize – but they are minimal so that they do not distract from your main content. The header does include a mega menu option that allows for nuanced browsing by category.
The theme comes with a sophisticated revolution slider included, which is an attractive way to highlight your featured and new products. The adaptable grid shop layout keeps the rest of your store looking organized, accessible and trustworthy. The demos for Amartha have been built with care and attention to detail, and can be imported to your site with just one click.
2. Anon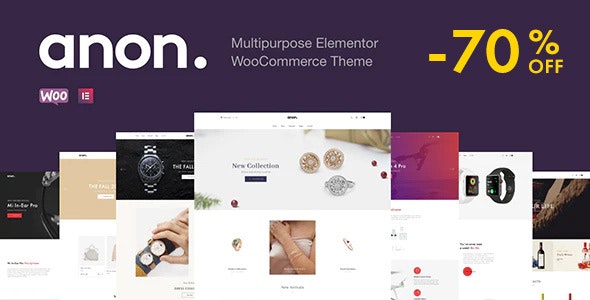 Anon is another Elementor compatible WooCommerce theme that does a lot of the hard lifting for you. The theme comes with some amazing pre-designed demos that you can import into your site with just one click. When it comes to customizing, your options are then unlimited ad easy to implement with drag and drop designer. The well-designed header and footer keep your important secondary information available but out of the way of your products.
Products are displayed using simple grid formats that use a lot of white space to keep the attention on the product photos. Choose between a load more button, infinite scrolling and pagination to keep putting new products in front of your customers' eyes. Ajax shop functionality supports sophisticated filtering, intuitive autocomplete search and pop-up cart functionality, which means you never have to navigate your customers away from their browsing. "Buy now" functionality also removes barriers for those who just want to click and go.
3. Auros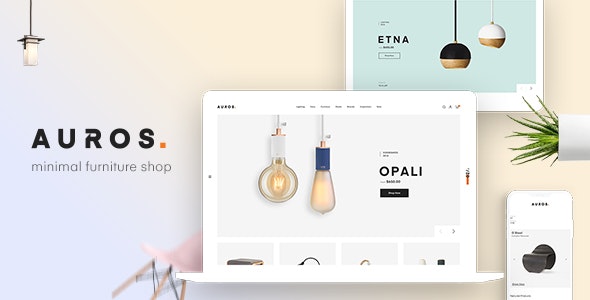 If you aren't sure where to start when it comes to creating your online shop, Auros is a good choice. It comes with more than 20 different pre-built home page options to choose from, all of which feature minimal header, footer and sidebar so that navigation is accessible, but the products remain center stage. You can then customize to your heart's content. But there is no need to dive into the detail of every feature if you just want to get going.
The shop itself uses bright colors and wide spaces to ensure that the customer's eye is drawn to the product images. There are few fussy animations and other effects to fiddle with. The designs are just simple, clean and beautiful. While this theme was primarily created with home and design stores in mind, it is adaptable for any type of business.
4. Bifrost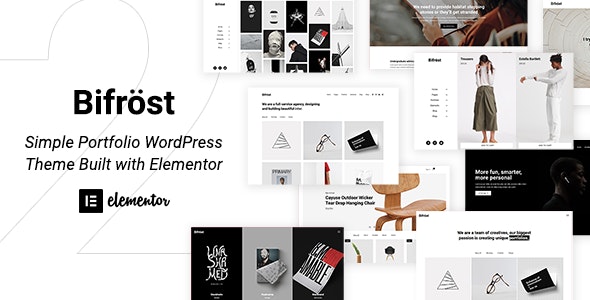 If you are looking for an Instagram or Pinterest inspired site that uses block photos and minimal text, then Bifrost should be on your theme list. The image-heavy design makes it great for both portfolios and shops, and you can switch functionality between the two with a single click. Information is revealed about products using rollovers, so there is no need for lots of text to distract from the visual quality of the page.
While the theme looks design-heavy, it is incredibly easy to get started within minutes by simply importing one of the existing demos, and customizing to your business using the intuitive drag and drop designer. There are over 500 options for customization, but you need not use them all. The slider revolution and animated header are standout design features.
5. Centaurus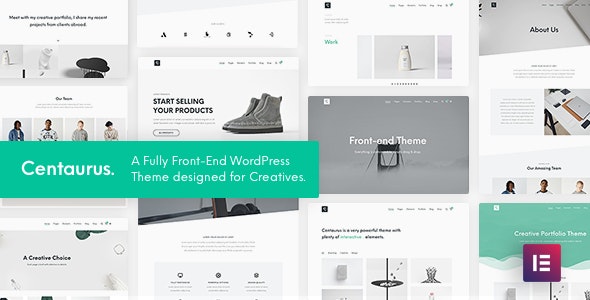 Another Pinterest inspired shop design, you can look like you have a professionally designed, bespoke shop within minutes using the Centaurus theme. Simply drag and drop your set pieces to create your own unique shop, and then tweak over 500 different options until you have the perfect mix. This theme is ideal for anyone with an eye for design who loves to focus on the details.
The shop functionality behind the stunning homepage is just as powerful. With an Ajax shop powering the site, you get sophisticated filtering, quality search, and an intuitive cart that works without your customers needing to navigate away from their browsing preferences. Grid, metro and carousel options to showcase your products means that your shop will never look like it is "off the shelf".
6. Cerato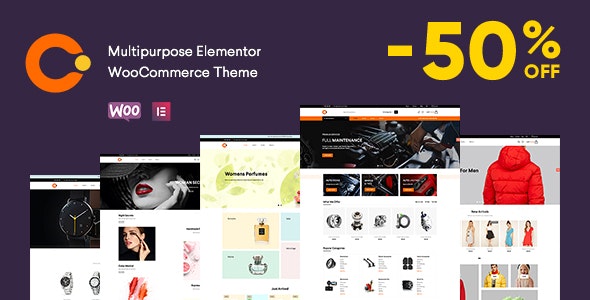 Designed with fashion lines in mind, Cerato matches an adaptable, standout header with a sophisticated grid system that allows you to sort and showcase your products the way that you want. The theme offers all the functionality that shoppers have come to expect from fashion retail websites. Use the mega menu to allow customers to browse by category. The powerful Ajax filter also supports filtering by price, size, color and much more.
The shopping cart is a standout feature. Customers can keep an eye on their selection with an at a glance pop-up, which features product images. Similar quick view pop-ups also mean that customers can check in on details without having to navigate away from their search. The basket also includes integrated shipping calculations. This can help drive sales as customers are encouraged to pop just one more thing in their cart in order to qualify for discounted delivery.
7. Ciao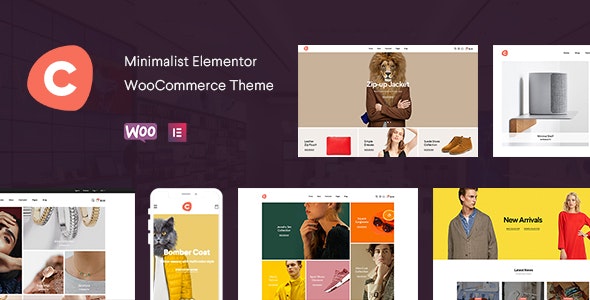 Ciao is a great, easy to use theme for anyone who wants to get their sleek online shop up and running as quickly as possible. The pre-made demos are high quality and importable to your site with just one click. Feeling stale? Check back as new demos are added on a regular basis. You can adapt the header using simple drag and drop, and while everything is customizable, there is no need to dig into the details if you don't want to.
This theme is optimized to drive sales by helping customers find what they want without any headaches. The mega menu supports browsing based on category. The instant search autocomplete makes searching fast and easy. The quick product view means that customers can view details without losing their search. Product pages feature attractive photo libraries to fully show off the product, and color swatches that allow visitors to switch between related products to see what temps them. Ciao also features the Ajax pop-up shopping cart with automatic shipping calculation that helps you encourage your shoppers to fill their basket.
8. Doma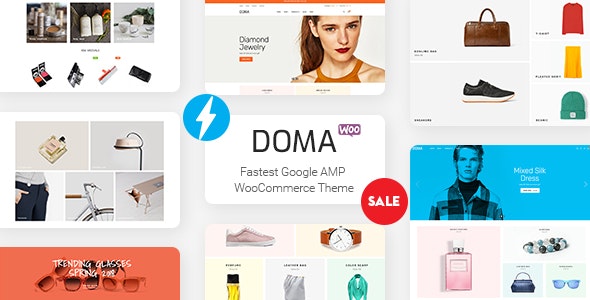 Doma is the ideal theme for anyone looking for a simple and no-fuss online store. There is not a whole lot to fiddle with, simple import one of the stylish pre-made demos and customize what matters to you. The shop layout uses a simple grid style, but you can choose between three, four or five columns.
While this theme is minimal, unlike most of the themes on this list, the sidebar is always on screen. Many shops prefer this as it encourages visitors to use the filters to find what they are looking for. Ajax-powered CleverLatered Navigation also allows for filtering and sorting without the page reloading. This is important as it supports better SEO for your URLs. The Doma theme is also fully compatible with the WooCommerce marketplace, providing you with another opportunity to get your products on screens of more potential customers. Added bonus, Photoshop Big is included with this theme, so you can make sure you are working with the best quality product imagery.
9. Frido
Aimed at and optimized for fashion retail, Frido is a product-centric designed sales theme. The homepage and store pages are all about pushing shoppers to the product pages, where they decide whether to make a purchase or not. Designed to let the photos sell the products, there are all the options that you need to allow customers to switch between the same products in different colors, and browse similar and related products. The Ajax-powered filter also helps shoppers navigate to exactly what they are looking for.
The blog functionality in this theme is also very powerful, and integrates seamlessly with the look and feel of the shop. The blog offers you a way to transform from simply a shop to a brand, which is participating in the conversation and shares the ideals of its customers.
10. Miini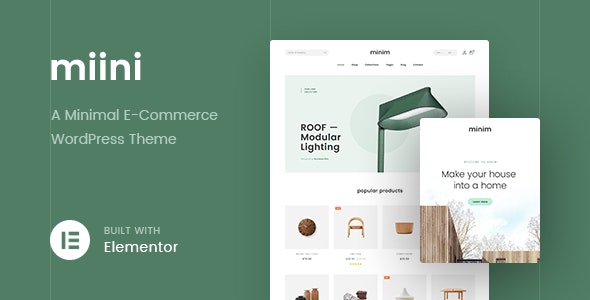 Miini WooCommerce theme is a multifunctional shop theme, ideal for any type of product, which is designed to help you get your products out of the box with eye-catching homepage pop-outs. But it is still simple to use, with eight existing demos sites already designed. Install them on your own site with just one click, and then use the front end drag and drop designer to customize for your business.
The shop design aims to be intuitive and adaptable as you choose between a full width or a minimal sidebar, and three of four columns of products. For the products themselves, you are not trapped into using the same product style for each of your items, but can use a variation depending on what is appropriate for the specific product. This is another shop powered by Ajax, so it features its sophisticated filtering and intuitive shopping cart.
11. Moza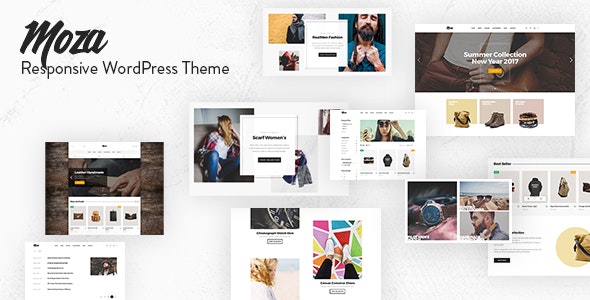 Take advantage of the skill of the designers that have developed this theme by importing one of the demos with just one click. You can then use the intuitive visual composer to adapt the design to your business. The existing homepages and shop pages are well designed, and then the options are pretty much unlimited when it comes to putting together your product pages. CleverSwatches allow you to link products of the same color, which still appear separately in the shop listings. They also let you make best use of the quality photos that you have of your products.
The shop itself is powered by Ajax, which means sophisticated mega menu, intuitive filters, quick view pop-ups, and pop-up cart so customers can view what they selected, without having to navigate away from their search options. Infinite scroll also means that your customers will never run out of product to browse. Not ready to start selling? Take advantage of the theme's catalog mode to start showcasing your products. You can then switch to selling with a single click.
12. QOS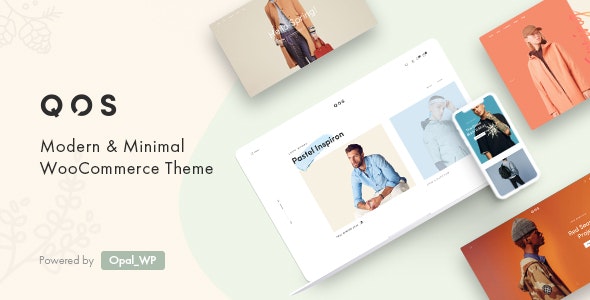 Developed primarily for fashion and accessories shops, the QOS theme provides more than 17 pre-built homepage options, five shop styles, seven product layouts and four blog styles. With these, you can easily put together a dynamic shop quickly, without much fiddling with the design. On the homepages, dynamic color-block features stand out. The shop pages use clean and minimalist listings to ensure that nothing distracts from the photos of your products. This ethos continues into the product pages which give the customer all the information that they need, without distracting from your incredible product images.
The theme's mega menu, sophisticated filtering system, and integrated search function with pop-up results means that no one should ever feel frustrated by not being able to find what they are looking for.
13. Shopz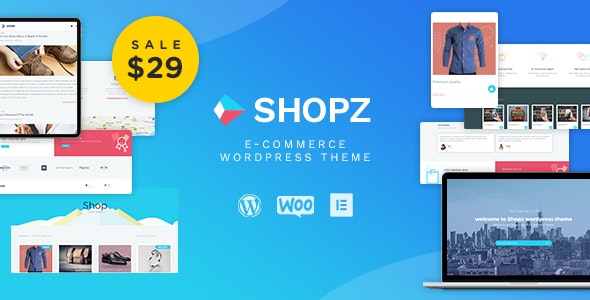 Shopz is an affordable WooCommerce theme for anyone who is just starting out and wants to get a basic shop up quickly, easily ad cheaply. The theme comes with a variety of pre-made templates that you can easily import. You can then customize almost every element, but a simple rebranding is generally enough to get you started.
When it comes to how you display your merchandise on the shop pages and product pages, the options are more limited than some of the other Elementor compatible WooCommerce themes on this list. But this will appear to some new shops that just want to go with recommended options, rather than decide between a hundred different elements. Shopz uses the same powerful shopping tools as the other themes, making browsing and checkout easy. So, the result is a high-quality shop, without the fuss.
14. Toro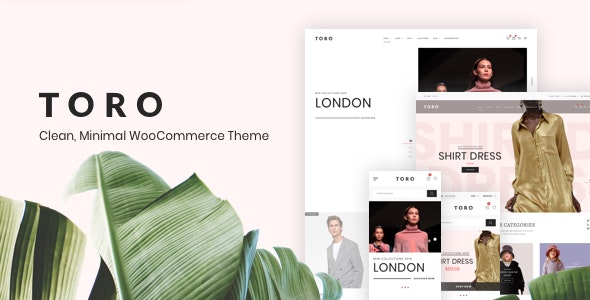 If your business is as much about selling brand and style as it is about selling products, then Toro may be the stylish theme that you are looking for. The theme deliberately comes with limited demo designs, with a focus on quality over quantity. Your customization options are also more limited than on some other themes, but that is because elements have already been matched to result in the perfect design.
What you do not sacrifice on is the power of the underlying shop, which features all the search and filtering functionality that shoppers expect, and an intuitive checkout that won't see your customers abandoning before following through with the all-important sale.
15. Zoa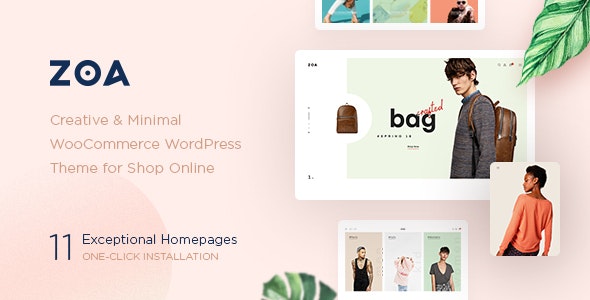 A multifaceted Elementor compatible WooCommerce theme designed to work for any type of product sales business, it is adaptable enough to work for any brand with unlimited color schemes, multiple column themes, and both custom and advanced widgets. Start from one of the more than ten existing homepage designs, and then adapt everything you need to make the store your own.
This theme features all the online shop features that customers have come to expect, including images swatches to show to link related products, quick view so customers can see product details without navigating away from their search, and a full Ajax filter so that they can quickly get to exactly what they want. It also supports building return customers and customer loyalty through additional features such as a wish list plugin.
16. Zoli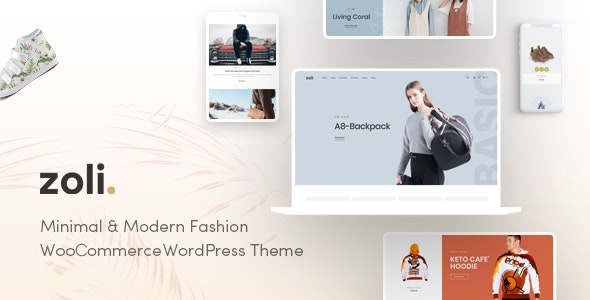 Another modern fashion-oriented WooCommerce theme, start by choosing from nine pre-built homepages that can be imported into your site with a single click. Designs are simple but creative and help you make something that is clean and useable, but also stands out from the crowd. Go for a traditional design, or choose block colors that eliminate white space, but still keep your shop pages free of clutter.
Sophisticated filters making navigating the site easy for customers, and you have a lot of options to customize individual product pages to suit your products. Another important feature is one-page checkout, for delay-free purchases. As well as product pages, the theme has Lookbook functionality, so you can create marketing for your latest season's designs of share capsule wardrobe ideas with your customers. With this design, the inner pages are just as well designed as the main shop pages. It is all about detail.