One of the best ways to make things a lot easier for your customers as a business is by showcasing your events on your website. And not only for your customers, partners as well. It shows them what you're up to and even provides an opportunity for them to register and attend.
To effectively do this, you need a good event calendar plugin to add that functionality to your site. When looking for a good plugin, things could get really confusing. There are thousands of plugins available for WordPress sites, and probably hundreds of event calendar plugins.
To save you from that stress, I have identified and given a brief rundown of fourteen of the best event calendar plugins available for WordPress sites. Let's dive in!
The Events Calendar

The Events Calendar from Modern Tribe is one of the most functional and more popular event plugins available for WordPress. With over 800,000 making use of this plugin already, you can rest assured that it is fully compatible with WordPress. A standout feature of this plugin is how easy it is to use. Once you have it installed, you can publish your event within a few minutes.
Although there is a Pro version, the free version performs the basic function of sharing events on your website. It provides a list, month, or day view, depending on your preference. It is also fully customizable, can be linked with your Ical, Google Calendar, or Google Maps, and even has a Facebook Integration feature, Furthermore, it lets you create events with organizers and venues, so you can also save those for future use.
Download
EventON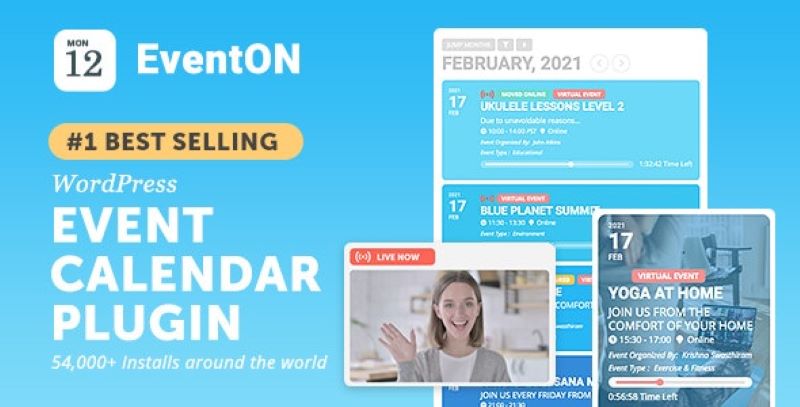 If for nothing else, EventON is amazing for its ton of features. The most notable EventON feature is its integration with Zoom to help you hold virtual meetings. With these special virtual event features, you can control access to your events, record and share your event with customers, and even use addons to monetize virtual events.
Other features include a Happening Now functions to show events currently going on, a function to color code events, the ability to add organizers, a unique shortcode generator to customize your calendar options, an option to repeat events, integration with Google Maps, and a function to add unlimited images to an event.
Download
All-in-One Event Calendar

A lot of features make the all-in-one event calendar for WordPress stand out. First of all, it is a highly effective event management tool, it easily helps you create very beautiful calendars which you can embed on your site. And most importantly, the basic calendar with all its features is free. However, there is also an advanced event-management solution from Time.ly, the creators of the All-in-One calendar, which you can pay for.
This plugin also comes with features like different theme options to customize your calendar, the ability to import other calendars into your one calendar, the ability to categorize and tag different calendar feeds, and sharing with Google Calendar, Apple iCal, MS Outlook is enabled.
Download
WP Event Manager

WP Events Manager is described as a lightweight plugin, and indeed it is. However, this does not in any way, reduce its functionality. As a lightweight plugin, it does not in any way, slow down your website and is in fact, scalable. To work, the shortcode simply lists all the events, while being able to function with any theme and it is easy to set up.
With the free version, you get a fully responsive and SEO-friendly plugin, ajax powered event listings that can be posted on your WordPress site using shortcodes, and translation into different languages providing international support. On the premium version, you get the calendar view, the ability to integrate Google maps, and the ability to sell tickets online using WooCommerce.
Download
Calendarize It!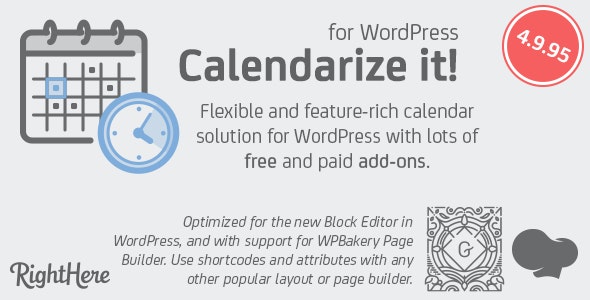 Calendarize It! Is particularly special for its different views. While having the normal day, weekly, month, and list view, it also has views like the Event Grid view for creating a grid with Masonry and navigating with 3D transforms, the Event Map view which makes it easy to actually show your venues with Google Maps, and other views.
The latest version of this plugin is compatible with the Block Editor, offers almost 40 elements to help you build different templates, a visual CSS editor which gives you the ability to customize down to every little detail, and an event countdown page. The premium version also gives you payment add-ons and the ability to sell Eventbrite tickets.
Download
Event Organiser

The Event Organiser is a plugin that gives you the ability to create events with the same functionality as posts with WordPress's in-built custom post type. But not just that, you also get extra features to help you manage events. For instance, there's a calendar widget for a calendar similar to WordPress, an event list widget to display your list of events, and an event agenda widget.
This plugin is particularly great for developers because events get the same functionality as posts, and there is an extensive function API with documentation. This plugin also gives you the option to delete expired events and to import from or export to iCal files.
Download
Sugar Calendar

The Sugar Calendar event calendar plugin is designed to provide you with just enough features to help you manage your events without any stress. With many other such plugins, they are either overloaded with so many features that eventually end up slowing you down or not enough features to get the job done. Sugar Calendar provides you with the balance, giving a simple and sweet solution.
The plugin is designed to be lightweight, so its main features include the ability to create recurring events, display in different languages, provide the start and end times for different events, assign time zones for events, and more.
Download
My Calendar

My Calendar specifically supports the uploading of different individual calendars within the WordPress multisite, a feature that some other plugins do not possess. This way, you can display calendars categorized by authors, locations, or even just a list of upcoming events. All of the displays can also be customized to suit your taste, as an individual, or to match your website.
My Calendar is also really easy to use for developers and programmers alike. It is also designed to ensure that all of your users, with different devices, can get an equal experience and access to your calendar. The plugin also has a shortcode generator for easy customization, and you can enable ticketing simply by installing the My Tickets plugin. Finally, CSS styles and JavaScript behaviors are also editable.
Download
Simple Calendar

Simple Calendar is great because you can manage all events right from your Google Calendar. When you have a public Google Calendar linked to your plugin, it is the easiest way to add events from your Google Calendar to your WordPress site and it is all very quick to setup. This plugin is also very responsive to mobile devices, providing even touch support.
All of the basic features come free; however, you can get more with premium add-ons like FullCalendar. The Simple Calendar can also be integrated with Event Calendar Newsletter to send events directly to the mail of your users. Nevertheless, you do not need to go pro to enjoy features like staff support and instant updates.
Download
Amelia

Amelia is a great WordPress Event Calendar for booking and managing appointments. It is a perfect solution for businesses like spa or beauty salons, clinics, law consultants, and even repair centers. It is a plugin specifically designed to help you accept and manage appointments, and also receive payments easily.
Among its other features include a dashboard to monitor all of your business indicators with charts and tables, a calendar view that shows appointments that have been booked at a glance, a very customizable design to fit your purposes, and an ability to integrate with other calendars like Google and the Apple iCal, Finally, to perfectly provide for easy payments, you can also connect it with other services like Stripe, PayPal, or even WooCommerce.
Download
Event Calendar WD

With Event Calendar WD, it is super easy to create events with your calendar plugin. Beyond that, you can also manage existing events on your existing WordPress website quite easily. Even with the free version, you can create single one-time events or multiple recurring events. Event Calendar WD also makes it very easy to share event invitations with very detailed descriptions by providing social sharing buttons.
With this plugin, your website users can also easily find your events by searching because the plugin is SEO optimized to provide better visibility for your events, and can customize the appearance of your calendar down to details. Finally, you get a responsive layout that can work with different devices and a great support team.
Download
Modern Events Calendar

My favorite feature with the Modern Events Calendar plugin is the ability to move from another plugin. For instance, if you find yourself growing unsatisfied with a plugin you are currently using, you can easily switch to Modern Events Calendar and take all your pre-set events with you. This plugin is particularly great for helping you create calendars that look really amazing without even having to use CSS.
With this plugin, you get access to over 50 great layouts, and with the Fluent View layouts add-on, you can get even more modern and great design concepts for free. This plugin also gives you the ability to set a recurring event for a particular day of the month, and an event-ready Schema markup which is great for SEO.
Download
Event Espresso
With over 40,000 websites powered and over $100 million generated for different websites per year, Event Espresso is definitely one of the more popular calendar event plugins on this list. The plugin's popularity is also definitely for good reason. It is one of the most effective ways to carry out group registrations and still collect individual information on each attendee. With this plugin, you can also efficiently automate every part of your event registration.
With the latest version of Event Espresso, Event Espresso 4, you can create discount and promo codes for your event, download and keep a report of those who attended your event, integrate with PayPal or Authorize.net to make payments easier, and many more functions.
Download
Stachethemes Event Calendar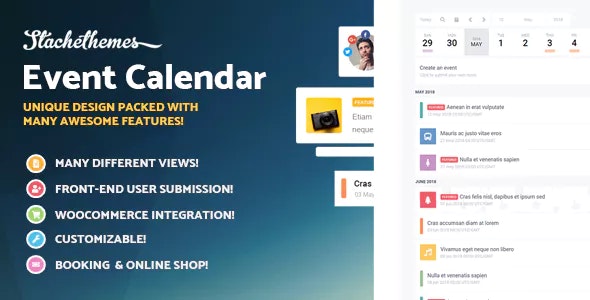 The Stachethemes Event Calendar is one of the WordPress Event Calendar plugins with the best designs available for users. Beyond that, this plugin makes creating events easy and fun. And when you are done with creating at the backend, it looks amazing on your website.
With the latest version of Stachethemes Event Calendar, there is a sidebar that helps site visitors see what events you have coming up, you can easily use the implementation in the calendar plugin to design submission pages or event forms, and you have the option to present your visitors with different calendar views.
Download