Before all the cards came, checks were America's favorite way to pay. But even with all the credit cards and debit cards now available, checks are still very useful. There are some bills you can pay only with checks, some businesses accept only checks, and most landlords would rather have a check.
You would have also noticed that getting your checks at the bank could be really expensive. This is when most check printing companies came in. These printing companies get you checks faster and cheaper, you can also customize your checks to a great deal with a lot of these companies, and design them in a way to ensure your checks showcase your personality.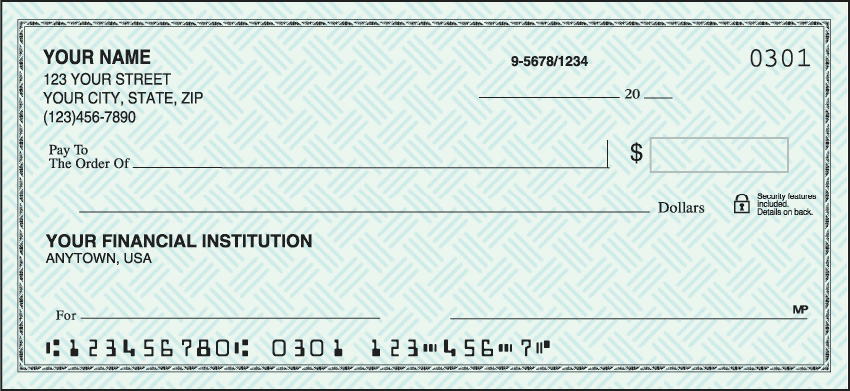 With the development of technology, a lot of checks can now be designed and ordered from the comfort of your home or office. A lot of these printing companies could let you print your checks yourself, or alternatively print and then deliver to you. However, new technology also meant it was now easier for thieves to steal your private information, we can however assure you that all of the companies on this list provide a safe and secure avenue for you to order checks online. The security is also extended to every one of their checks so you do not have to worry about anyone making and using counterfeit copies of your checks.
Vistaprint: You are probably more familiar with them as a place to get your business cards or even masks but you can also order checks online from Vistaprint! One of the best around, a very impressive aspect of ordering checks with Vistaprint is the fact that you can easily customize your checks and see how they could finally look like all on their website.
Vistaprint also allows you get wallet checks which are simple and professional, 3-to-a-page checks that allow you track your expenses, and computer checks you can print yourself. With Vistaprint, you can even customize your checks by adding your business logos, or a monogram. And you don't have to worry about security because all their checks have a number of security features which include the Secure Sockets Layer (SSL) which makes sure that all purchases are secure and the checks all meet the security requirements of the Check Payment Security Association (CPSA).
You also get really good prices and pretty good customer service with Vistaprint.
Bradford Exchange: Bradford Exchange promises you two things if you decide to get your checks from them, security and really amazing designs. All of the checks from Bradford Exchange meet all requirements set by the American National Standards Institute, and additionally you can choose to get EZShield Or EZShield PRO. All deliveries are also done with SecureShip so you do not have to worry about your checks arriving.
With Bradford Exchange, you get a wide range of designs you can use for your checks. Disney characters, religious and nature themes, your favorite dog breed, and a lot more. If you should also run into any problems, Bradford Exchange also provides a very good (perhaps the best) customer service support. And all deliveries arrive very fast.
Carousel Checks: Although one of the cheapest in the business, Carousel Checks still offers a wide range of designs for check customization. With Carousel Checks, you can access up to 1250 different designs for your checks, and although you might not get a lot of popular TV characters, you can upload pictures you would want to use to ultimately customize your check.
With Carousel Checks, you can also get amazing accessories for your personal, business, or laser checks. They also comply with guidelines from the Financial Stationers Association and offer microprint to prevent copying, so security is mostly guaranteed. However, the best design templates and higher levels of security will cost extra.
Deluxe: You may know them for a lot of other things, but did you know Deluxe is also one of the best suppliers of business checks in the country? Offering over 90 styles (which could include even university branded sports checks) for both personal and business checks, all of the checks also meet and even exceed CPSA standards.
Interestingly, although Deluxe most likely produces most business checks for banks like Chase, it would still cost a lot less if you ordered directly from Deluxe. One of the most amazing things about Deluxe is their customer support service which is available to live chat on the website, and by phone. You can also request free samples of some products. Deluxe offers laser checks (which are compatible with over 80 different accounting software), manual checks, and eChecks which you can create on your computer or phone and email to others.
Walmart Checks: The most impressive features with Walmart Checks? Re-ordering does not take a lot of time and can be done within seconds, all of the checks are either made with recyclable paper or are totally eco-friendly, and it is made by Walmart.
How much do you trust your regular Walmart products? How affordable do you think they are? Just consider the checks from Walmart in the same way. Walmart offers Manual checks and Laser Checks which you could make high security (25 security features), other check accessories, and even security deposit bags. You can also pay to have the CheckSafe fraud protection service which involves a fraud specialist working with your bank to help you retrieve your money in the case of a fraud.
Sam's Club Checks: Sam's Club checks are offered by Sam's Club which is a membership-only retail club owned by Walmart. To get business checks from Sam's Club, you would need to be a member. As a member of Sam's Club you get access to exclusive discounts, free shipping in almost all situations, and cashback on other purchases like a gas purchase.
Sam's Club offers some of the best business checks; payroll check, high-security checks, voucher checks, desk checks, and more. Plus they are all customizable and very secure with watermarks, holograms, heat sensitive ink, etc.
Checks Unlimited: Checks Unlimited has a superb reputation as one of the leading check printers and providers for check accessories in America. Established in 1986 and with more than 30 million users across the country, you can also order checks online from Checks Unlimited.
With Checks Unlimited, you can get manual or high security checks which include 3-on-a-page checks, desk sets, computer checks, and more. All of these checks can be customized by you with different fonts and themes available. You can also choose from more than 200 check designs and also add personal messages to your checks.
Another really impressive feature of checks from Checks Unlimited is that they have surpassed standards required by the American Bankers Association (the highest in the industry). Checks Unlimited also offers EZShield to which would protect you from fraud, and for an extra fee you could get Securiguard which is an image that cannot be removed or photocopied. Additionally, you can save with Checks Unlimited coupons.
Costco Checks: Costco Checks are actually printed by Harland Clarke Check Printing, but based on the partnership, are sold at Costco. Costco Checks are very cheap, especially when you purchase in bulk. Most of the sales are also pretty much bulk sales as the minimum order is 200. The savings when you purchase checks with Costco are simply mind-blowing. And you can save even more on checks purchase as a Costco Goldstar or Business member.
Costco offers manual, computer, and high-security business checks which can all come in quite a number of designs depending on your preference. And although, some other services might offer more options to customize your checks, Costco checks are still very secure with some of these checks having up to 29 different security features.
CheckAdvantage: Since 2001 CheckAdvantage has been supplying business checks, and more recently in 2010 they began taking orders for personal checks. One very impressive thing about CheckAdvantage is that since they began business, they have met delivery dates 99% of the time and all requested checks have been error free 99.9% of the time. Even more impressive is that for personal checks they offer over 2500 exclusive designs, which means that over 2500 check designs can be found only on CheckAdvantage. The only downside to this is that they do not have a lot of popular designs available.
All checks from CheckAdvantage also meet all standards for the American Banking Association security and fraud protection, the CPSA, and the microprinting logo which prevents counterfeiting. The company also takes the data of its customers very seriously, by running a McAfee secure website, and a Norton certified Secure Sockets Layer.
Checks in The Mail: With almost 100 years in business and a billion checks being sent to customers all over the country in more recent times, it is easy to understand how Checks in The Mail has become a favorite of lots of customers all over the country. With Checks In The Mail you get a very easy to use and easy to understand website, you can customize your checks with characters from popular movies like Star Wars, Frozen, or Minions, and reordering checks is very easy. Also check available Checks in the Mail coupons here.
All of their checks are also incredibly secure. You can get protection from Fraud armor service or the CheckSafe backer. All of the checks also meet the guidelines of the CPSA, and reveals microprint. Purchases on the site are also protected with SSL encryption and VeriSign.