As you may know more than a quarter of the websites on the internet are powered by WordPress. This level of coverage makes bad actors on the internet focus more on the possible vulnerabilities of WordPress installations, WordPress themes and plugins that are widely used. Because once they find a way to access and control a WordPress site through a plugin or theme, they can control any WordPress powered website that use the same plugin or theme.
So while it's essential to keep your WordPress and all its plugins updated with the latest version, you may need a second layer of protection for your website, in order to make it harder for hackers or your competitors to ruin your online existence. I listed the top plugins that you can use to enhance your website security. These plugins scan your WordPress folder in your web hosting server and find possible vulnerabilities that hackers might take advantage of. Here's the list:
But before that, most plugins I listed here do more or less the same thing. You just need to pick one that is friendly to your budget or one whose free version simply does what you need. Let's go.
1. Hide My WP

If you scroll through the best sellers of WordPress security plugins, Hide My WP will probably be the first on the list. Basically, over 10k purchases and an average of a 4.5 rating justifies its place in the pedestal. Hide My WP boasts of a system that secures your page from your common trolls and theme detectors. Apart from that, it also hides your WordPress login URL and blocks XSS, SQL Injection type of security attacks on your site. It works with Multi-site, Apache, Nginx and Windows Servers (IIS). With a price of $29, this might just be the bang for your buck. Based on the latest stats from CodeCanyon, the plugin has over 25.000 sales with 1.500 reviews most of which are positive.
2. PrivateContent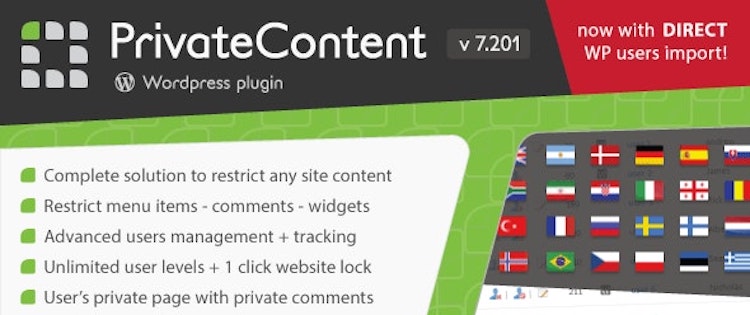 PrivateContent helps you restrict the elements on your WordPress site. From menus to widgets and comments, you can restrict anything based on user role or levels you define. The plugin has an add-on named Secure Links, which helps you define unique links for file downloads, which is quite useful if you're selling digital goodies or files that contain your sensitive information. While this plugin is not a complete security solution, it is useful to know about the existence of it.
3. WeSecur Security

WeSecur Security's goal, besides securing your site, is to do it easier and for free. With a firewall and a malware scanner specifically created for you, the goal is never out of reach. It boasts of a file integrity checker, brute force login protection, blacklist monitoring, external malware scanner, hardening configurations with other features included in its premium version such as server-side malware scanner and automatic malware removal. WeSecur offers complete security solution and you can download the free version and check it for vulnerabilities if you notice a suspicious activity and delete it, if you don't know to how to do it yourself, by purchasing the plugin for €2.99 for one-time clean up.
4. Wordfence

Let's continue with our second plugin with free plan option for the list. Wordfence includes a firewall, a security scanner, and login security. With the latest firewall rules, malware signatures and malicious IP addresses alongside their Threat Defense Feed, your website is protected. With a sweet Wordfence Central and cool additional features, Wordfence is just among the best and most popular free WordPress security solutions out there.
5. Cerber Security

Is your WordPress having frequent hacker attacks, spams and malware? Well, Cerber Security is probably the key to your problems! With free plugin Cerber Security and its unique login system, attacks will be minimal because of the limited logins courtesy of the XML-RPC / REST API addition. The plugin will update you through your email, mobile and desktop of any users were found intruding your private space. A Cerber anti-spam engine, together with Google's reCAPTCHA will address your spam problems by protecting registration, contact and comment forms. Cerber Security ensures protecting your WordPress with savvy security rules and well-oiled security algorithms.
6. ThreatPress

A diamond in the rough, as people would like to say. ThreatPress is free, simple, has a speedy security system and a monitoring plugin that scans your WordPress powered site for malware, spam, weaknesses and more. It checks your site's plugins and themes using their database of vulnerabilities. It encapsulates email alerts, site diagnosis, login protection, password expiration while being super lightweight, but does the job.
7. WP Guard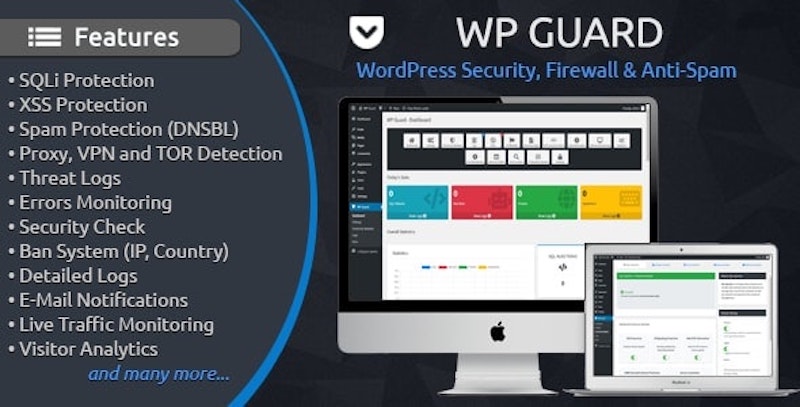 In reality, WP Guard is your modern-day bouncer. It protects you from multiple external threats including, but not limited to: SQLi Attacks, XSS Vulnerabilities, Proxy Visitors, VPN Visitors, TOR Visitors, Spam, Malicious File, etc. Equipped with an intelligent algorithm, even hackers will have a run for their money against the plugin's code recognition and patterns. WP Guard is directly integrated with WordPress, you can view all logs in the Admin Panel and it is also integrated with Ban System from which can be banned Visitors (IP Addresses), Countries, IP Ranges, Internet Service Providers (ISP), Browsers, Operating Systems (OS) and Referrers. WP Guard has many features and settings. With its help can be easily managed the security of your website. Together with that, a ban system is also applied to ban visitors, countries, IP ranges, Internet Service Providers, etc. for those pesky spammers and haters. For a price of $15, being quick, systemized and only in need of a very low system resource, WP Guard is one of the most powerful security plugins to this day.
8. WP Security Safe

Packed with free and premium features, this simple and easy security plugin boasts of a do-it-all firewall, login security, assures you of your privacy and helps you with themes and plugin file security. Several plugins affect the time of your website's load time, but WP Security Safe assures you that they do not. They test their load performance to ensure their features run the same way you started.
That's all for new. I will update this list with new and noteworthy WordPress security plugins as I discover more. If you have any suggestions, don't hesitate to tell me by leaving a comment below.