Exit-Intent Popups are windows that, for lack of better term, literally popup whenever the user displays the intent to exit the web page. This often means that the user is exposed to various different messages, which might be an offer, recommended article or product and anything, right as they are about to leave the site. For example, web masters can use these to increase the number of sales, subscribers and form leads or decrease bounce rate, the number of non-converting customers who are about to leave the website. So the usage of these plugins depends on what you website offers to visitors. Listed below are just 5 of the exit intent plugins that exists in WordPress Plugin Directory.

The first one to be reviewed here is the Pop-Up CC Exit Plugin. It is easy to install through the WordPress Plugin Directory, or a zip file if necessary, and getting the plugin to run requires a simple activation in the plugin section of the WordPress Dashboard. It was updated over eight months ago, but Pop-Up CC Exit is still compatible with the current version of WordPress. Once it is downloaded, installed, and activated, it is possible to access the plugin's settings.
The plugin itself offers six different templates to give the web designer a basic start on their popup. All of these templates are minimalist in their approach on designing a popup. Clicking on the template, however, will open up a window that allows it to be customized further. Anyone that has used WordPress previously will recognize this as the same customization process for the site themes. It also offers a few extra settings. These settings enable the web designer to choose which pages the popup should be enabled on, how often a user should have the popup displayed, and even if users that are logged in will see the popup.
Another Exit-Intent popup plugin, the Conversation Popup Builder is also available on the WordPress Plugin Directory. However, unlike the Pop-Up CC Exit, this plugin has been recently updated and is verified to be completely compatible with the current WordPress version. The Conversation Popup Builder plugin also puts emphasis on being compatible with WooCommerce, an additional plugin that adds online marketplace functionality to WordPress, and it boasts of being able to add an unlimited number of popups that have their own customer actions. Other plugins offer limited number of popup support before requiring an upgrade to a premium service.
The Conversation Popup Builder, by Social Intents, does require registration after first activating the plugin. This registration is, fortunately, free. Once done with registering, it becomes immediately clear that this plugin is not entirely based inside of the WordPress program. Instead, the plugin acts as a bridge between the SocialIntents service, which is only free for a two-week trial. It does offer a large number of tools and resources to track, create, and even integrate social media. The company behind this plugin does provide different payment plans, depending on the need of the website, but there are no reviews currently available to show if most web designers are satisfied with this product or not.

The plugin Exit-Intent Popups by Optimonk, or more accurately just Optimonk, follows in the same line of business as the Conversation Popup Builder plugin. While downloading and installing the plugin is a simple task, either through the plugin section of the dashboard or directly from the WordPress Plugin Directory, the plugin itself does not actually create the desired popups.
Upon pulling up the plugin settings the web developer is met with a page that simply asks for an account id. It does also have two links that (1) directs the developer to review the plugin, and (2) register for an account with Optimonk. The Optimonk account has a no-risk trial for 14-days, but the user will need to pay for it after that initial testing period. However, reviews for the Optimonk in the past year seem to be fairly positive, with the only downside being users are unhappy about having to pay for the service.

Installing this plugin for Exit-Intent popups was, of course, a breeze. Yet, the plugin itself looks a little more complicated after going into the settings. More similar to Pop-Up CC Exit plugin, Popup Build actually gives the web designer a few free options before blocking off other premium features. For instance, the developer can create popups with the templates of HTML, Image, Facebook, and Shortcode. The Iframe, Video, Restriction (18+), Countdown, Social, Exit-Intent, Subscription, and Contact Form popups require a premium subscription to use. Their advanced settings, like choosing if the popup should automatically close, are also features of the premium plan. On the plus side, the Popup Builder plugin has been updated to be compatible with this latest version of WordPress, and the free capabilities of the plugin have compelled many different users to leave it a positive review on the WordPress Plugin Directory.

The fifth and last, plugin to be reviewed here is the Popup Manager. As with all of the others previously mentioned, the Popup Manager is easily installed through the Plugin Directory on WordPress. The plugin developers boast of their product being the "most powerful free popup builder available" on the description page of their plugin site.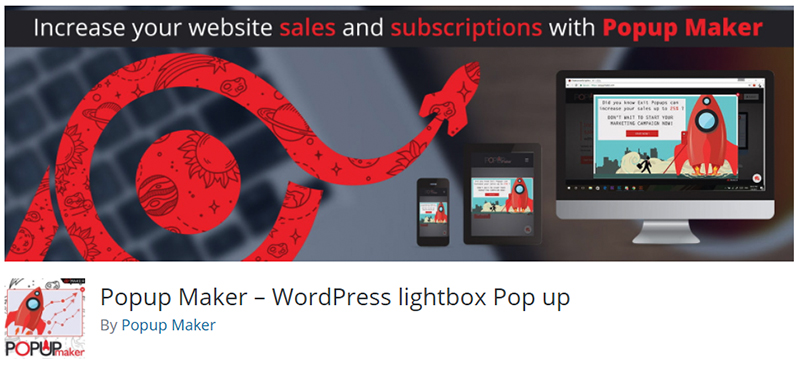 Popup Maker provides an exclusive discount coupon code, only for DomainPromo.com visitors! You can start the usage of website pop ups with Popup Maker, with lowers costs! Don't miss a chance, here's the code: DMPR10
Upon further investigation into the settings of this particular plugin, any web developer could be rendered entirely amazed. First, the plugin does appear to be free for all basic purposes. The developers of this add-on decided to offer incentives to the developer to support them through purchasing greater functionality, but many of the features are definitely not essential. For example, the company has multiple different creative templates available to use, but they also provide more in another addon if the web designer would like to purchase it. Instead, this plugin enables the web developer to create, design, and additionally tweak a popup to do exactly what they want and when they want it.
MailOptin is the ultimate WordPress lead generation plugin proven to grow and engage email list subscribers. MailOptin grows your email list by displaying targeted opt-in forms that are beautiful and conversion optimized across your
WordPress sites without writing a single line of code.
Features Overview
Different types of opt-in form such as Popup, Notification Bar, Inline, Scroll Box, Slide Ins, Sidebar Forms.
A ton of professionally designed, mobile responsive and conversion optimized opt-in forms and email templates.
Page level targeting and optin triggers to build hyper-segmented email list such as EXIT INTENT, AdBlock detection, New vs Returning visitor targeting, Referral detection targeting etc.
Analytics with actionable reporting & insights to improve your lead-generation strategy and make data-driven decisions that will increase your revenue.
Take a closer look at MailOptin.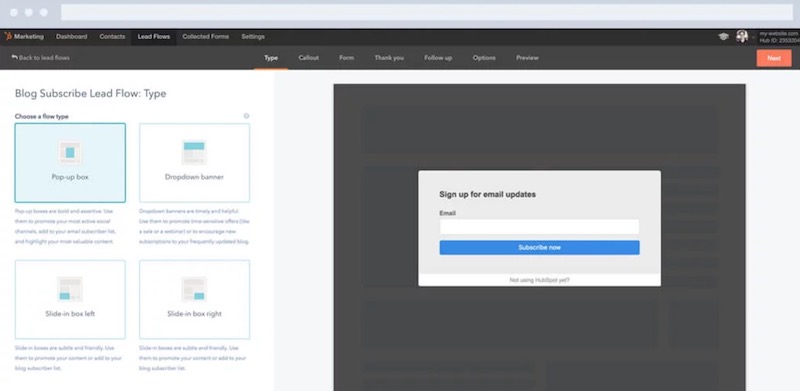 HubSpot Pop-up Forms is another great plugin that allows you to create lead forms in the form of pop-up box, dropdown banner, or slide-in box. The plugin has a dashboard that gives you a total control over the styling of pop-up forms yet it connects to MailChimp, WordPress, Weebly, Drupal, Shopify, Magento, and more with no extra dev work required.
In the end, choosing the correct plugin will take a decent amount of time in testing each one out to see which fits the needs of the website in question. All five of the above are either free, or they offer free trial periods, but there are others that provide a wider range of features if a premium plan is purchased. Of course, there are also a couple of WordPress plugins listed above that can do an excellent job at creating an Exit-Intent Popup without the need to hand over any money at all.