Do you remember the first time you needed a support from a nerd friend to solve a technical issue on your PC ad he asked you to download a remote desktop software? It was really a mind gobbling experience for me. I was asked to download a free version of TeamViewer so that he could set up Hamachi for me for our first Age of Empires 2 LAN party with other friends.
Remote desktop softwares have been enhanced in many ways since then. Now you can connect to a friend's or customer's computers through a browser extension or a tiny client. And you don't experience any delays or lags in connection thanks to the improved speed of internet. Either for your enterprise needs or personal uses, I listed best 6 free (they have paid features as well) and the most reliable remote desktop tools you can download and use for various purposes. For non-technical people, I also added a Youtube tutorial that shows how you can set up and use these tools. Here's the list:
1. TeamViewer
TeamViewer is without doubt one of the most comprehensive remote desktop software solutions on the market, packed with feature that support not only remote working and access, but also collaborative activities. This is delivered on a platform that is usable, flexible and secure. TeamViewer is coveted by IT managers, but the price tag can make it difficult to justify unless you need a system with all the bells and whistles.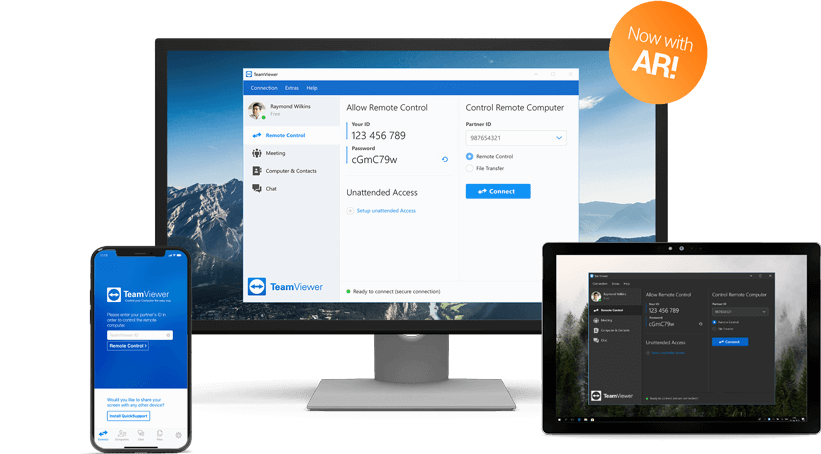 This system was launched by TeamViewer GmbH, a German enterprise, in 2005, and now has more than two million registered devices, a number that is growing daily. TeamViewer is able to dominate the market by supporting a vast number of operating systems including Windows, MacOS, Linux, Chrome OS, Android, iOS, Windows RT Phone 8 and Blackberry. For operating systems that aren't on the list, there is also a web-based control option. The solution also works cross-platform, so you can access a Windows PC from a Mac, and a Mac from an Android device.
The software has a slick design which makes it easy to use whether you are accessing your own computer remotely, or accessing another computer in order to provide support. All the controls are delivered via an intuitive single control panel. From here you can record audio, video, run remote scripts, take screenshots, transfer files and use VPN.
Those providing IT support will appreciate the usable design. It is straightforward to work with both the local computer and the remote computer simultaneously, and it is easy to switch between sessions. One thing that IT managers might moan about are the annual updates, which need to be installed on all devices, and can be time consuming.
But what really sets TeamViewer apart is that its functionality also allows for collaborative working. You can invite more than just one person to work on a device at the same time, which can be great for support, but is more powerful when it comes to remote collaborative working. Teams can collaborate on more than just documents, which makes it idea for remote meeting and brainstorming sessions.

On top of all this, TeamViewer is highly secure. Data is exchanged via a 2048-bit RSA private/public key, and all computers use AES 256-bit session encryption and https/SSL. Two factor authentication and Trusted devices are employed, and unusual activity is immediately flagged and blocked.
The big downside with TeamViewer is the cost. For a single user to be able to access and manage up to 200 devices, one device at a time, you are looking at $49 per month paid annually. While this is pretty good value for the quality of the system and number of users, it can take a big chunk out of the budget of a small business that only needs to manage 10 or 20 computers, and there are no lower-scale options. Additional features, such as additional users, concurrent sessions and mobile support, cost extra.
TeamViewer is definitely the gold-star remote desktop software on the market, and it can do more than just support remote computer access thanks to its built-in collaborative features. However, TeamViewer don't offer any small scale plans that would be suitable for small businesses.
2. LogMeIn
LogMeIn feels like it has been designed for small businesses that want an easy way to manage remote working and remote IT support. It provides great tools for IT managers, and includes a variety of collaborative working tools that end users will love. However, some small businesses may find it on the expensive side.
LogMeIn offers everything that you would expect from a remote desktop software solution including access to files and application, file transfer, remote printing, multi-monitor display and screen sharing. It works across Mac, PC and mobile, which makes it great for small teams where users are on their preferred device, rather than using company specified hardware.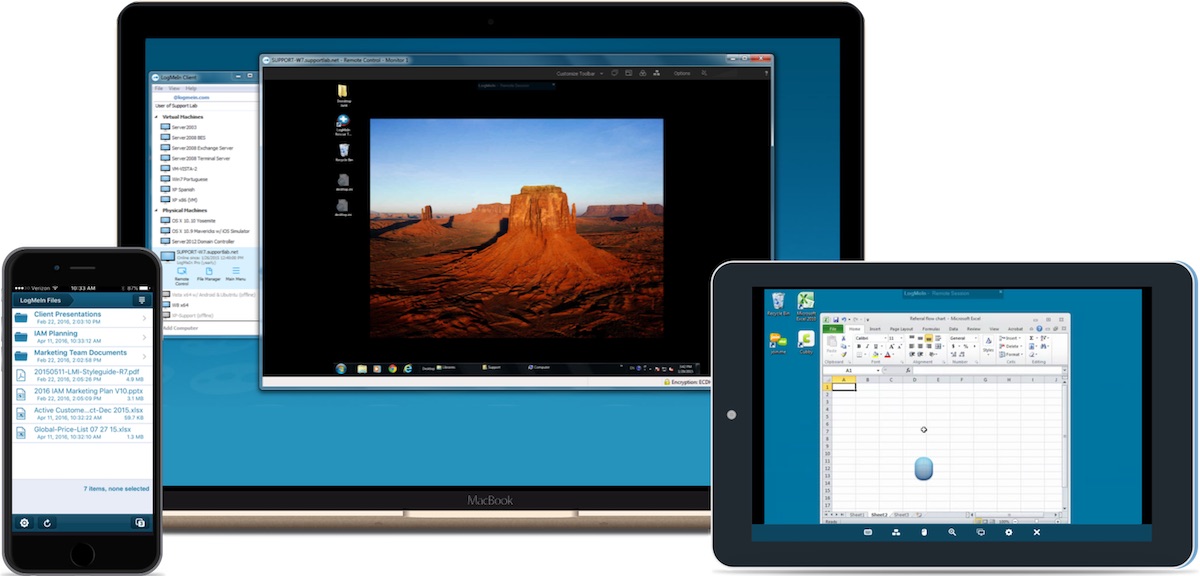 LogMeIn also includes a number of features that will appeal to end users that are working as part of a small team. Each subscription comes with access to LastPass password manager, to ease access to password protected files and sites for both the local user and IT manager. As well as providing easy file sharing between registered computer, LogMeIn supports a secure file sharing platform where users can make files available for other colleagues and clients to access securely. Users can also share their screen with anyone in order to facilitate collaboration, and LogMeIn offer an integrated Whiteboard tool where multiple users can contribute notes and files to a single configured machine.
IT managers will like this software because it also provides a variety of automated management tools that can monitor the remote user's PC without disturbing them, and alert IT managers to issues based on designated criteria. This can support IT managers to deal with issues as they arise, rather than waiting until the damage is done.
LogMeIn features bank-level security, including end-to-end 256-bit SSL encryption, as well as one-time passwords, account lockouts and IP blocking to minimize fraudulent behaviour.
On the downside, many users have stated that LogMeIn is not easy to install, and once in place, it is not overly intuitive to use. This may represent an initial barrier to access, though people who use the software regularly will quickly figure out what they are doing.
The main con with LogMeIn is the price. While it is clearly designed for small, agile businesses, it may be priced beyond their range. An individual plan that allows remote access to two computers costs $30 per month billed annually. Access to up ten computers is a pricey $129 per month. While this may be worth it, especially considering the remote monitoring tools, it does not cost much more to get access to 500 devices with TeamViewer.
3. UltraVNC
UltraVNC is an open source, free remote access software solution for Windows that is great for individual, personal users that know what they are doing with Windows, and want to be able to access their computer remotely, from any place, at any time.
UltraVNC is only available for Windows, and while you can access your Windows PC from a mobile device, there is no specific support for mobile. It currently works with Windows 10, 8, 7, Vista and XP as well as 2012, 2008 and 2003 Windows Server.
It is often described as for advanced Windows users, as it is not straightforward to set up and configure. It requires a static IP address being created for the server, and establishing port forwarding on the host PC. While UltraVNC provide good, detailed tutorials on their website, this process is not for beginners. Once it is set up, you can access your desktop remotely via the Ultra Viewer application, of connect through any browser.
The software offers all the basic features that you would expect from a remote access system such as file transfer and screen sharing, but also some additional features that are pretty sophisticated. UltraVNC provides a view only mode and a cursor tracking feature, which can be great for monitoring and assessing users that are testing software or websites. You can also save your session at any time on the VNC server, and then pick up exactly where you left off when returning.
While some companies do use UltraVNC, it is not really designed for large scale IT support activities. However, if you are using the system to support a user and troubleshoot, the chat functionality provided does work well.
UltraVNC's default security configuration uses 2048-bit RSA keys and 256-bit AES keys, and other security plug-ins are also available. However, in early 2019 Kaspersky flagged up 22, mostly critical, security vulnerabilities in the UltraVNC source code. While there do not seem to have been any major data leaks, this is a concern, and there is nothing on UltraVNC's website (which is not SSL protected) to indicate that they are dealing with this issue.
Aside from potential security issues and the fact that it is for Windows users only, the main drawback with UltraVPN is its complexity and the amount of knowledge needed by the user to get it working. If you know what you are doing, then this free software is extremely powerful and useful. For the less experienced, it may just be intimidating and overwhelming.
https://www.youtube.com/watch?v=kYijs9YdvkA
4. Google Chrome Remote Desktop
Chrome Remote Desktop is Google's free remote desktop tool that works as an extension of their Chrome web browser. What is great about this tool is how easy it is to use, and that it uses software that most computer users are familiar with and comfortable with. It is ideal if you are just managing access to your own devices, or if your need remote access only occasionally, and therefore don't want to invest in a more complex system.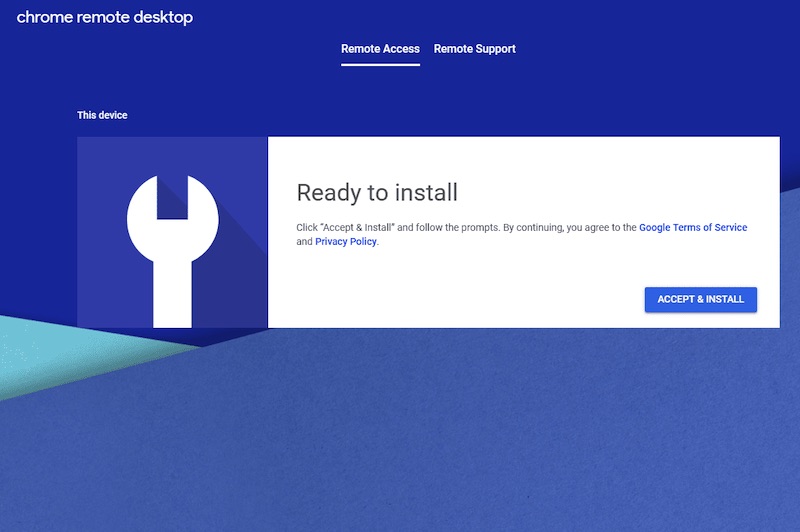 Because Chrome Remote Desktop is run entirely from the browser, it is compatible with all operating systems, and you should have no problem communicating between Windows, Mac and Linux computers. There is also both an Android and an iOS app to facilitate mobile use. It is super easy to install, and for users already using Chrome with the Google account, set up really only takes a few clicks.
For any existing Google users, Chrome is the ideal way to manage remote access between devices as it will work pretty much seamlessly within your existing set up. If you need to provide individuals with one-off technical support, it also works well, as it should be easy for them to set up on their end. It is also possible to give someone one-off access to your computer by using a temporary access code, which again is great for one-off support. Chrome will also notify you when someone has logged into your computer, so there is no anonymous monitoring, as can happen with some systems.
Where Chrome isn't great is for IT managers that need to work with a number of users. The system simply can't handle dozens of simultaneous connections with different networks. This is a major problem for IT managers. While troubleshooting issues usually only requires connecting to one computer at a time, installing new software or software updates across an entire organisation can be time consuming if each session needs to be managed individually.
Also on the negative side, many users complain that there is no chat function built into the system. To be fair, Google is probably assuming that you are using their suite of free tools, and that you will probably just use Google Hangouts for this, which of course, you can. A more serious criticism is that there is no drag and drop file transfer to move files between connected computers. Again, Google is probably assuming, or hoping, that you are using Google Drive for this purpose. But this is a less acceptable compromise.
If you are a Google user looking to manage remote access to your personal computer and devices, then Chrome Remote Desktop is easy to use and will fit right into your workflow. It is also a great tool if you need to gain or grant one-off access to others, because it is so easy to set up and use. However, when it comes to IT managers looking for tools to provide desktop support, it's just not powerful enough to do the job.
4. Microsoft Remote Desktop
Microsoft Remote Desktop is Microsoft's free tool for allowing remote access to a Windows PC. If you have a Windows PC, you probably already have the programme as it comes built in, and it is also available from the Microsoft Store. This tool works well when it comes to managing a modest number of Windows PCs set up on the same network. It also offers remote access via the internet, but this can be a bit complicated, and is not as useful for this purpose as some other products.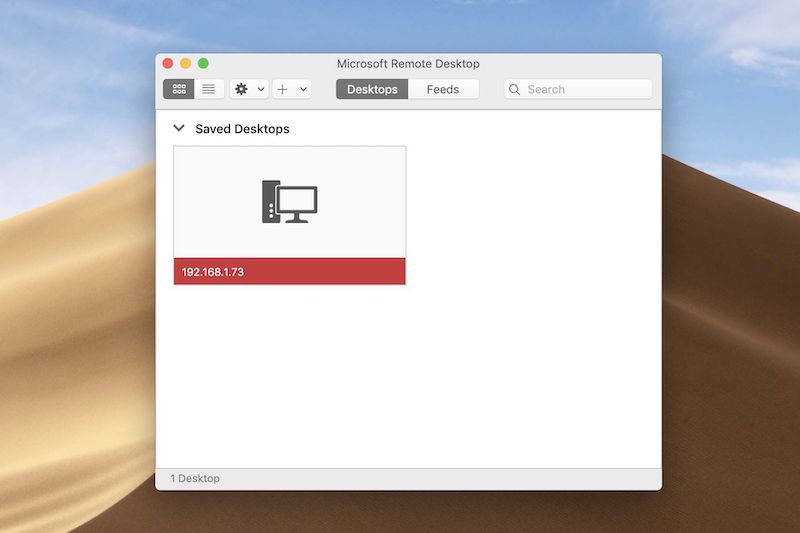 Microsoft Remote Desktop is designed to allow remote access to other computers on the same network, or access to more remote computers via the internet. While the first is easy to set up, the second can be a bit fiddly and requires you to set up an external IP address and make some chances to your modem, firewall and router to get everything working. It is in fact easier to access computers from your mobile device, with the dedicated app for iOS, Android and Windows Phone.
Once you are up and running, this system is pretty easy to use, with intuitive and discreet controls. The application also offers a lot of functionality, including easily copying files between PCs, a key function that is absent from some of the other free services.
The most obvious drawback with this service is that it is designed for allowing remote access to Windows PCs only, though the PC can then be accessed from a variety of devices, including Macs and iOS smart devices.
Microsoft Remote Desktop is a free tool native to Windows that is easy to use when it comes to remote access to PCs on the same network. This can make it an ideal solution for an IT Manager working within a small business, who needs to manage a number of Windows PCs set up on the same network. Remote access via the internet is also possible, but is complicated to get working. There are better and more flexible tools for users looking for this kind of access.
5. Zoho Assist
Assist is a web-based remote access tool from Zoho. While individual users will find this useful and easy to use for managing remote access to their own computer, it has been designed with IT support teams in mind. It offers everything those teams might need, and all at a very reasonable price.
When it comes to set up, Zoho is both straightforward and flexible. IT teams will have an account that they can access via the Zoho Assist website. Here they can generate links that can be emailed to clients, allowing them to download a client app that will allow access. This app can either be for single use, and will then be deleted from the computer after the session is finished, or for multiple access. It depends on what the client wants, and what the situation warrants.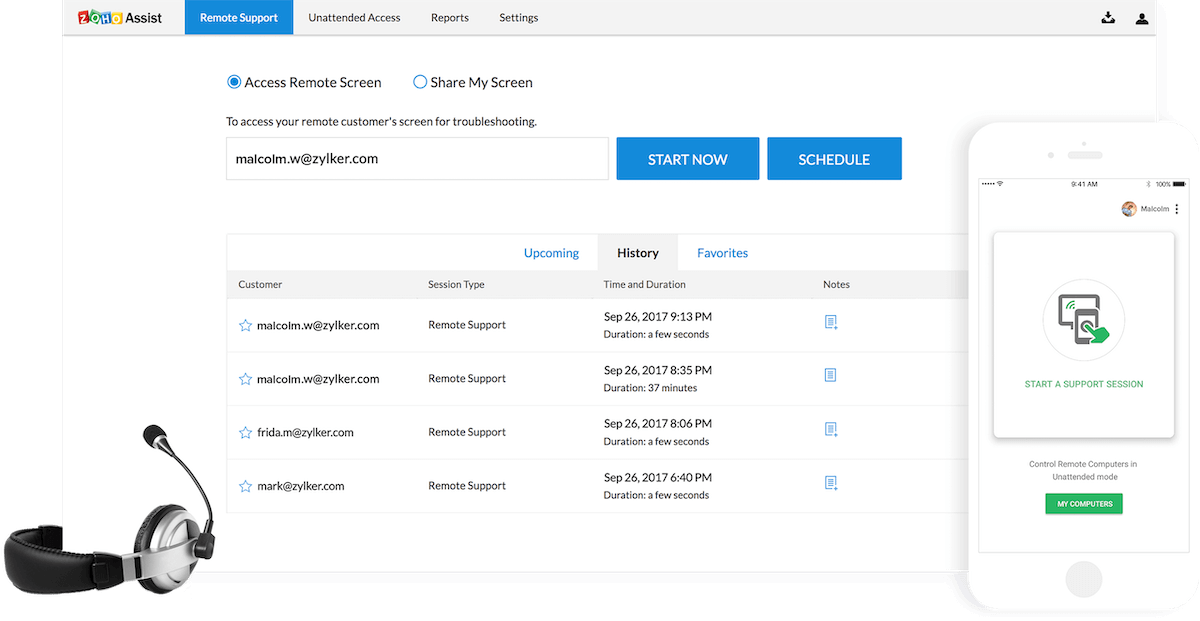 The multiple access client app is currently available for Windows, Mac, Linux, iOS, Android and Raspberry Pi, while temporary access is available for Windows, iOS and Android. On the other end, IT managers have a swathe of options open to them. They can access client computers via web browser, or using specialised apps for Windows, Mac, Linux, iOS, Android and Chrome. There is no problem of compatibility between different systems.
The interface itself has a clean design that is easy to use and does not obstruct the screen, as well as built in chat functionality to enable easy interaction between client and support. The system supports file transfer, rebooting, bulk deployment of software, session recording and screen sharing.
While Zoho probably isn't quite as secure as TeamViewer, it's not far behind. Zoho uses industry standard SSL and 256-bit AES protocols. Multi-factor authentication is also available, requiring SMS verification or time-based OTP.
Individual users and very small businesses can get Zoho for free with a Lifetime Free Plan. This allows one technician to access to up to five PCs. On top of this it has two strands of paid package, one designed for "one-man-band" IT managers, and the other for teams. A Remote Support Enterprise licence will cost only around $20 per month and allows a single IT Manager to run up to six concurrent sessions, and work with an unlimited number of clients. The Unattended Access plan is only $10 per month and allows an unlimited number of technicians to access up to 25 computer clients.
Overall Zoho is a usable and affordable solutions for individuals and small businesses of various sizes to manage their PCs remotely.
6. RemotePC
RemotePC offers an affordable remote access system for individuals and small businesses looking for the basics. It is great when it comes to IT support and file sharing, but doesn't have much else in terms of bells and whistles.
A major plus of RemotePC is that it works with both Windows and Mac, and that you can easily communicate between the two. Though bear in mind that RemotePC will not automatically translate your keystrokes, so if you are using a Mac to control a PC you need to remember to use Control-C rather than Command-C. There is also an Android and iOS app to take control of your computer via your mobile device when needed.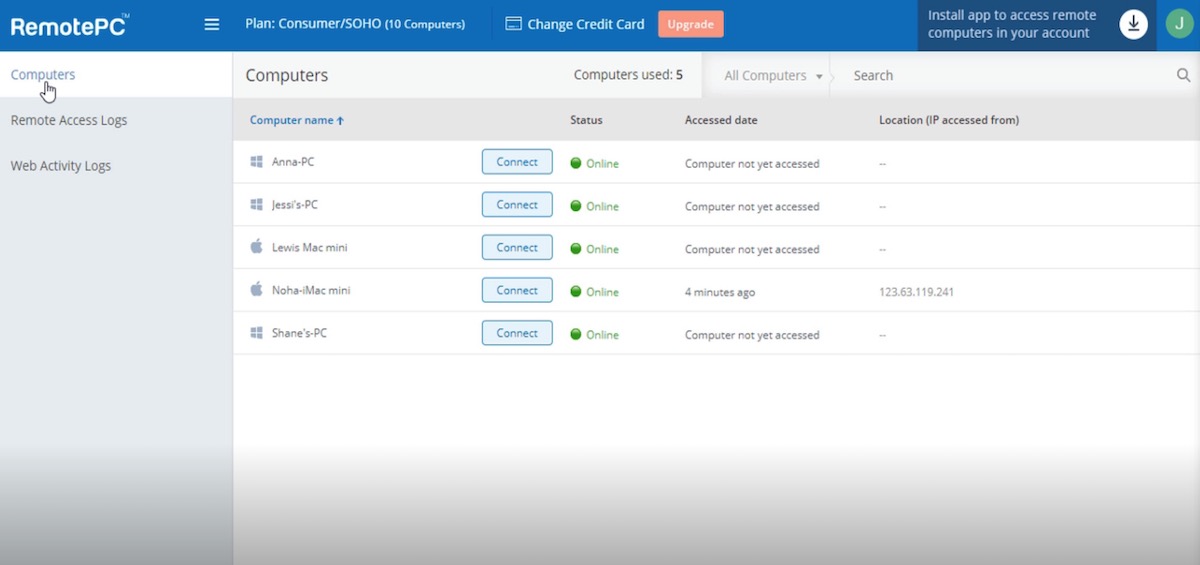 Access to the remote computer is password protected for regular access, and it is also possible to create one-time access links for single time use. RemotePC's file transfer functionality is a simple case of dragging and dropping files between the computers, and it is also possible to turn on file sharing only, without the need to allow full access to the PC.
While you are in the PC, there are a lot of options to enable collaboration or instruction if needed. There is a good chat window, though voice messaging is not enabled, and you can also treat the screen as a whiteboard, writing notes and circling important icons. You can also make the remote screen dark while you are accessing it. You might want to do this if you need to enter passwords that you don't want the client to see.
RemotePC offers the standard level of security for remote access systems including a 128-bit SSL and AES 256-bit encryption.
RemotePC is one of the more affordable systems available. There is a free option for users just looking to manage their main PC. For only about $50 a year, you can control up to 10 computers, and for around $375 a year that number increases to 100. There is also an enterprise model available for larger businesses looking for a bespoke solution.
For small businesses looking for an effective tool on a budget, RemotePC offers an easy to use and workable solution. It may not come with all the bells and whistles of some of the bigger platforms, but it has more than enough power to do what most users need.
Final Notes
That's all. I hope you find this list and reviews informative and helpful. If you have feedbacks regarding these tools and have some experience that you think our readers would benefit, don't forget to share it as a comment below.
Thanks.