With Instagram becoming one of the most engaging social media platforms, it is a good tool to always have as a website owner who's looking to keep site visitors engaged. Even when it comes to making sales, an Instagram account could greatly help. The Instagram marketplace is an obvious testimony.
When you have an Instagram feed connected to your website, there is a higher chance you can keep your visitors there and eventually get them to make a purchase. Sometimes, you may have a product for sale, but simply because visitors can't find it on the homepage, they wouldn't know that. However, with an Instagram feed on your website, visitors cold discover new products while scrolling through.
While looking for a good plugin to link your Instagram to your website, there are a few factors you have to consider. A plugin with additional features would be really nice, and of course, they must provide a really nice display, functionality and reliability are also very important, Here, I have compiled some of the best Instagram plugins for WordPress sites. Let's dive in!
Spotlight Definitely one of the best out there, Spotlight is great for so many reasons. My favorite is the ability to embed your Instagram feed anywhere on your website for a single, or different Instagram accounts. This makes Spotlight very easy to use. As a matter of fact, it is one of the easiest plugins to use. You could use a shortcode to embed anywhere on your site, a Gutenberg block, a WordPress widget, and an Elementor widget. This plugin also gives you promotion options to create pages that let customers shop directly from your Instagram or follow the link in your bio.
With Spotlight's level of customization available, you can select specific Instagram posts to display on your website, customize different displays for different devices, and the live preview customizer ensures you can see your design before going live. As a bonus, displaying your feed on your website with Spotlight will not affect loading times.
Download

Feed Them Social Feed Them Social is slightly different in that it is not tailored specifically for just Instagram, but almost all social media. With Feed Them social, you can display your Facebook, Instagram, Twitter, Pinterest, and even YouTube (for the premium version only).
With Feed Them Social, you get access to a shortcode generator that helps you generate as many as you want to place anywhere on your website, a fully responsive feed that is also mobile-friendly, and the option to combine all of your feeds into one to save space. Additionally, the plugin is fully customizable and easy to set up.
Download

Smash Balloon Instagram Feed With the Smash Balloon Instagram Feed, one of the most impressive features is the user's control over how all the posts are displayed. This plugin lets you set the number of pictures that can be displayed at a time, as well as their height or width. Also, pretty amazing is Smash Balloon's backup and smart feed cache. This ensures that loading times are not affected for your site.
With this plugin, you can also decide to have separate feeds for your Instagram stories and IGTV posts, ensuring that your website is always frequently updated. This plugin also lets you generate unique and custom shortcodes for different feeds to embed on your website.
Download

10Web Social Photo Feed The 10Web Social Photo Feed is an Instagram plugin designed to give users the ability to display interesting Instagram galleries and giving their feeds even more interesting effects. Naturally, this plugin will go along best with blogs for travel, food and, photography. This plugin is bound to help you boost visitor engagement on your website.
Apart from just improving the display of your Instagram feed, the effects that come with this plugin also make your website more appealing. It also helps you control what you want to have displayed, it is easy to set up, and the support team is one of the best.
Download The WPZOOM Social Feed Widget was formerly known as the Instagram Widget by WPZOOM and one of the very attractive features of this plugin is that it is absolutely free. With this plugin coming as a widget to place in widget areas, you can display up to 12 photos from any feed, including your own account.
You can adjust your display to either appear as a single column, 2 columns, or even 3 columns. This plugin is also very easy to set up and can be customized with CSS. However, without CSS customization you can easily determine the spacing between your pictures, the size of the picture, and whether a button should be there.
Download

Enjoy Plugin for Instagram The Enjoy Plugin makes use of hashtags to display your Instagram feed on your website. With this plugin, you can embed using either a website widget sidebar or use a shortcode to embed anywhere in your website. An impressive feature of the Enjoy plugin is its customizable view. As a user of this plugin, you'll be able to select if you want your feed displayed with either a carousel or grid view.
The Enjoy plugin also gives users special effects on their feeds like the lightbox effect to attract and impress visitors. Furthermore, with this plugin, you need not worry about how your feed is going to show on mobile devices because it is specifically optimized for mobile views.
Download

Instagram Journal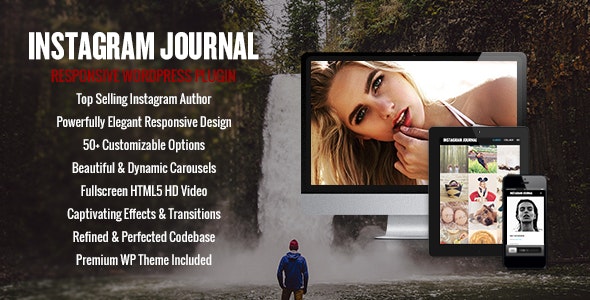 Although Instagram Journal is not a free plugin, neither does it have any free versions, its functionality makes it worth the price paid for it. This plugin is designed to help you use WordPress to take advantage of Instagram's API. With this plugin, you can display posts based on hashtags, locations, pictures from different accounts, and even the pictures where an account is tagged or pictures an account likes.
With Instagram Journal, you have the option t use multiple viewing styles when displaying your feed. There's the college carousel view, the section carousel view, the large photo carousel view, ad the infinity slider view.
Download

InstaShow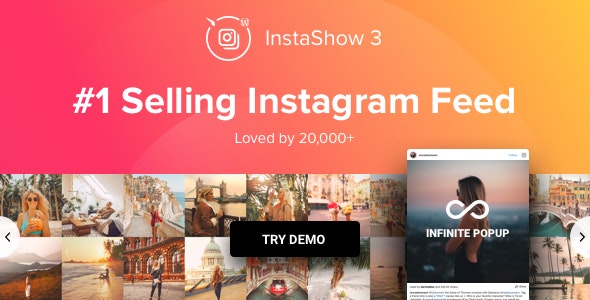 InstaShow is the best-selling Instagram plugin on CodeCanyon, and honestly, it is not difficult to understand why. With its various customization options, features, and possibilities, InstaShow has the potential to provide everything you could possibly want from a WordPress Instagram Plugin.
With this plugin, you can choose to have a grid or slider layout for your feed, be able to choose exactly what post template you want for your posts, and it offers an infinite popup social media pattern to give your site visitors that exact Instagram feel. Most impressively, this plugin also provides call-to-action buttons while customers are scrolling through your Instagram feed on your website. This means while your customers are scrolling through that feed, they can add items to their cart without having to leave. As a bonus, there are more than 60 customizable parameters and 10 different color schemes.
Download

Soliloquy Soliloquy is an easy-to-use and easy-to-set-up slider plugin you can use to display pictures from Instagram. As with most of the other plugins, you can also use it to display specific posts, like posts with a particular hashtag. Additionally, the dynamic slider can help you display pictures with things like testimonials.
With the default settings, you can adjust the slider speed, prevent site visitors from downloading pictures of your slideshow, use a lightbox slider, and even integrate with WooCommerce sites.
Download The Social Slider Widget helps you display Instagram feeds on your WordPress site using shortcodes. This plugin is one of the easiest to use. It requires no API, all you need to do is create a widget and add the plugin using a shortcode, then enter an Instagram username, and you're good to go.
This plugin also gives a fully responsive display, flexible layout, and most importantly, gives you the ability to link displayed images which can greatly boost visitor engagement. With the pro version, videos and pictures can be viewed in a pop-up lightbox that also displays your description and comments under the post.
Download

Grace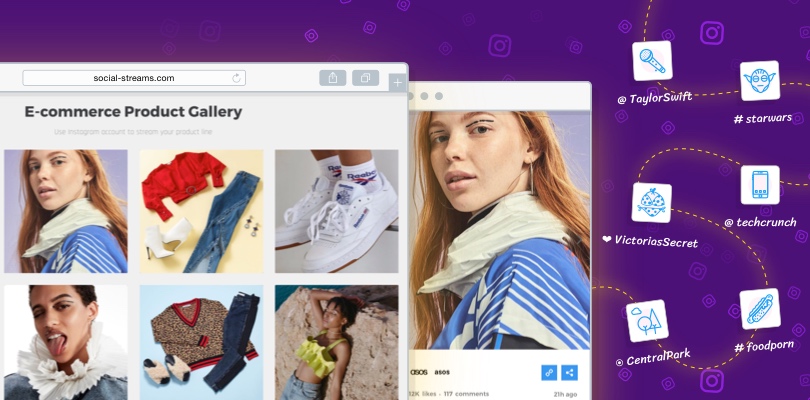 The Grace Instagram WordPress plugin is also one of the best out there. With its pre-publishing moderation feature, it effectively differentiates itself from the others. When you link the display on your site to certain hashtags, locations, or other accounts, as you can do with the Grace plugin, there are some posts you might not actually want on your website, this feature helps you moderate.
Grace also has different feed layouts like the classic grid, the justified grid, the masonry grid, and the slider. Finally, the plugin has a drag-and-drop builder to help you do whatever you need to do easier and social share buttons.
Download

Envira Gallery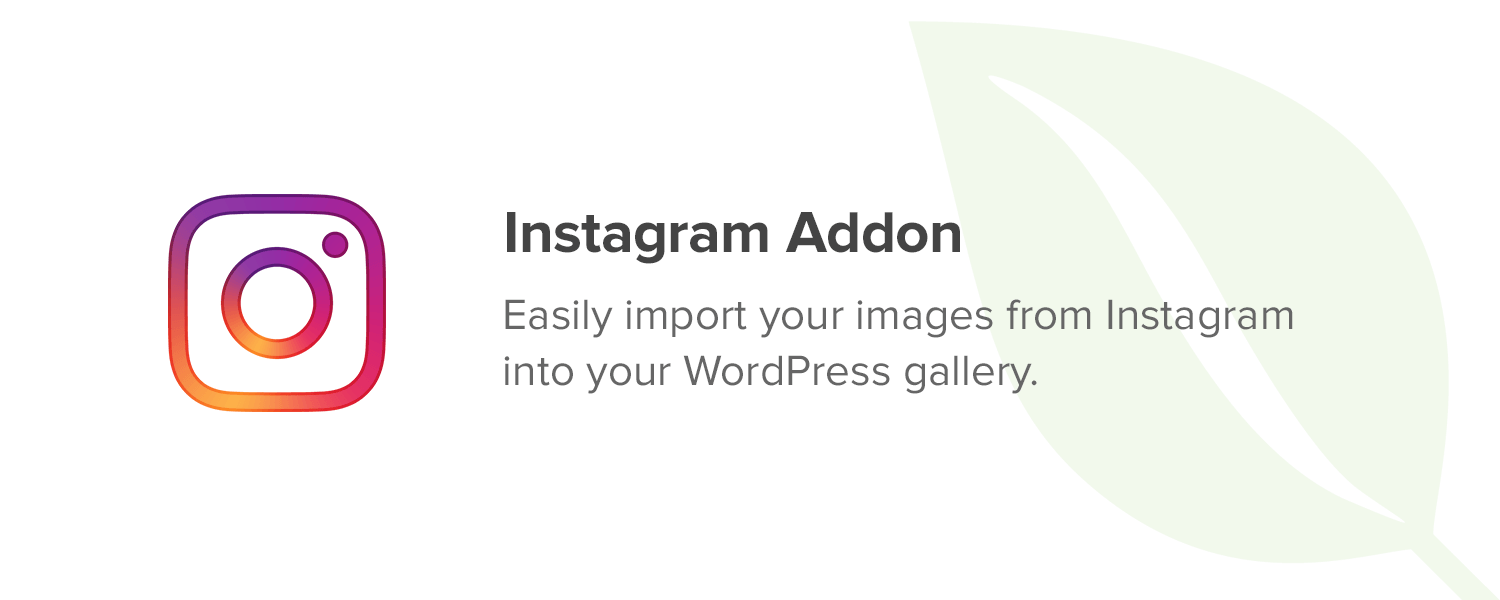 Envira Gallery is another pretty unique and effective WordPress Instagram Plugin. The plugin gives users various addons which are features that help increase functionality. Some addons can help you add your Pinterest to your website, there is also a WooCommerce addon that could be very useful for eCommerce users.
Envira Gallery is also compatible with most popular plugins, fully responsive, and comes with a very helpful drag-and-drop builder which makes it very easy to set up. With the images on your website, you could choose to have them open in a lightbox or link them back to your Instagram posts.
Download