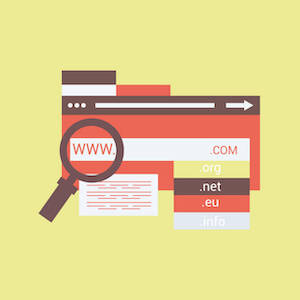 Creating your own domain is rewarding and a great feeling. Having your own website can give your business endless possibilities and although it may seem hard, registering your own domain name is easy.
With the help of the internet there are a lot of companies you can use to help register your domain name and get the process moving a little faster. We compiled a list of some of the best companies to use when you are registering your domain name. Look at these nine great companies to consider when registering your domain name.
1. Google Domains
Google Domains is new to the domain game, but they are already great at what they do. They offer privacy, easy integration with top website builders, customer email with G Suite, new domain name endings, and more. The website has a "learn" feature that helps answer questions when you may run into an issue, like your domain name already being taken. The company launched in 2015 and is still going through its beta stages at this time. As of June 2017, Google Domains offered over 60 top-level domains and have been linked to massive companies like Shopify, Wix.com, Weebly, and Blogger. As of 2016 Google Domains had at least 16,938 domains.
2. GoDaddy
Everyone knows who GoDaddy is. We see their commercials on television and they even have a NASCAR car that races around a track. GoDaddy is a great option when it comes to registering your own domain. Their customer service is outstanding, they're up and running 24/7, and their pricing isn't bad. GoDaddy currently has 18 million customers and it keeps growing. When you register your domain with GoDaddy you get simple tools to help create your domain, 100 subdomain custom web addresses, 400 professional email aliases, real-time monitoring, and web pros that are ready to help.
3. Network Solutions
Network Solutions has been up and running for over 25 years. They have over 3 million customers and love helping small businesses succeed on the web. If you're not sure where to start, you can call them at any time for a consultation to try and make your life a little easier. When you register your domain with Network Solutions you get a free month of Starter Hosting, a drag and drop builder with several tools, and help converting over from an existing website. You can also choose options like professional hosting which add more space and gives you an email address.

4. Name.com
With Name.com you can create your own domain and the benefits are nice. With your domain you get a free URL and email forwarding, free two-step verification, free forwarding to social media, and free DNS management. Name.com was founded in 2003 in Denver and they're so relaxed they let their workers pets into the office. They are known for their annual Hackathons called Hack the Dot that their employees get to do on the regular.
5. Domain.com
Seems simple to create your own domain with a website called domain.com. This website is a little pricer then the others, but they do offer email addressed through Microsoft Outlook and Gmail. The company has been up and going since 2000 and they strive to provide innovative products and services at a great value. Their website setup is easy to use, and they have great security features and customer service.
6. Register.com
Register.com is another great option to investigate when you are trying to decide what company to go with when registering your domain. They have been in business for 15 years and have over 50 products and over two million domain names under their management. Their customer support team are available 24/7 and if you already own your own website, they can help move it over to their servers. Their online web builder tools are perfect to help create your domain even if you aren't tech savvy.
7. Hover
Hover is a great site to use and they are clear and straightforward. You can check registration cost before you register your domain and they offer a search box that you can use to see if your preferred domain is available. Hover has worked with the likes of She ++ and Ladies Learning to Code, and they began business in 2008. The company decided to merge with three domain registration services they had previously own, NetIdentity, Its Your Domain, and Domain Direct. They also include Whois Privacy that comes free if your domain is managed by Hover.
8. Dynadot
Dynadot is like most other domain registering companies. Their prices are on the low side and they usually offer specials on extensions and renewals. There is a lot of free extras that come with Dynadot though. They have free domain forwarding, DNS support that creates 50 subdomain records, 10 email addressed, and 5 of MX and TXT records. There is even a Grace Deletion list which allows you to return a domain if you change your mind. The company was founded in 2002 and it was established in California, but they also have offices in China and Canada. The company is great to use since it integrates well with WordPress.
9. NameCheap
NameCheap was founded in 2000 and has over five million domains. Their website allows you to search for individual domains or in batches up to 50. If your domain of choice is taken, they have a tool where you can search the current user and see if you can buy the domain from them. Their prices are good and about the same as other leading companies. They are great about offering specials and discounts on renewals, plus their WhoisGuard domain privacy is thrown in for free. Their website is easy to use and user-friendly, so if you're worried about not being a tech guru, their customer service team will be there to help you along the way.
These are just a few of the great companies that are out there to help your register your domain. Each company has their pros and cons, and each offer their own special touch and service. Just make sure to do your research and see what company works best for you before you jump feet first into creating your own domain.