In theory, it has never been easier to create your own website to sell your products, promote your work, or even just share your thoughts. These days, the main challenge is choosing which of the many "simple website builders" is right for you.
Carrd.co is a relatively new product on the market (it launched in 2016), that is specializing in building attractive, long-scroll, single page websites.
Single page websites are ideal for clean, attractive sites that contain hub information, but not much else. They are ideal when you need an online base, but you prefer to push your content out via your social media accounts or email lists.
If you want an attractive, affordable, and easy to create single page website, Carrd.co is one of the best options on the market. It has sleek and modern design option that mean that, with good photos, you can look like you have a professional website, even though you can make it yourself in just a few hours.
However, if you are looking for e-commerce functionality, a place to blog, or think that you may eventually need to grow your web presence, Carrd.co is not the choice for you.
Let's take a look at the site in more detail.
Price
Let's start with pricing, as you do get different functionality depending on what package you go with.
You can used Carrd.co for free, and get access to almost all of the 75 available templates and most of the page elements and functionality. However, you are limited to three sites, 100 elements (total), and Carrd.co subdomains.
If you upgrade to a Pro Plan, you can create up to 10 sites, with unlimited elements, and custom domain names. And it cost just $19 a year. That is unbelievable value. You can expect to pay around $100 a year for comparable product.
If you aren't sure if you need to upgrade, there is a seven-day free trial that you can use to have a look around the Pro features. The full list of Pro features include:
Publish to custom domains with full SSL support
Build and publish ten sites
Forms plug-in
Embed customer widgets from third party services such as PayPal
Google Analytics integration
No Carrd branding (free sites will stat "Made with Carrd" in the footer)
There are also Pro Standard and Pro Max packages which allow you to create more websites, and include additional features such as password protection and site download.
Set Up
Carrd.co is 100 percent web hosted, which means that there is no need to install anything on your machine or you don't need to order a web hosting service. You can do everything through your browser. It is optimized to work with all major browsers, but you should make sure that you are using the most up to date version of the browser to get the best functionality.
I created this simple landing page as an example: https://ooznstack.carrd.co/
This is how the backend looks with all elements and functionality.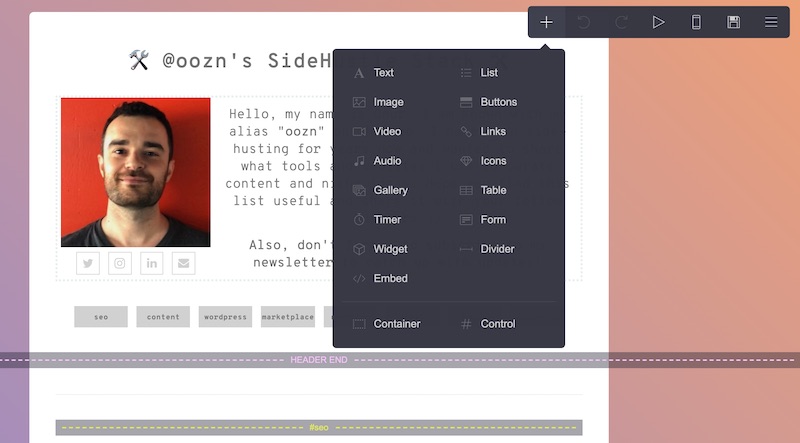 I also use Carrd.co for my agency business website. Very simple landing page, split into sections with a contact form and more.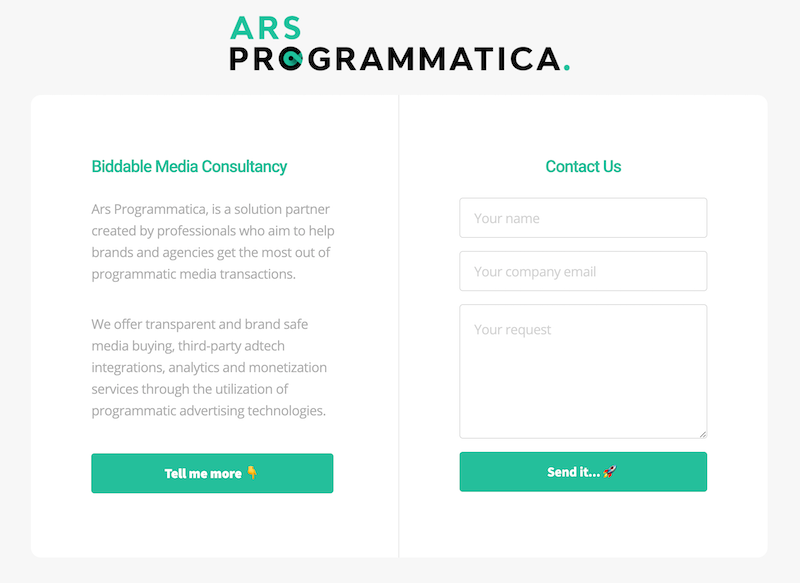 Templates
Like a lot of simple websites builders, it is template based. You choose a template and then rearrange, add, and customize elements to make the site your very own. Carrd.co currently has 75 templates to choose from.
All templates are produced by Carrd.co and its designers, rather than some more open platforms like WordPress where others can give away or sell their templates. This does mean that there is less selection, but also more quality control.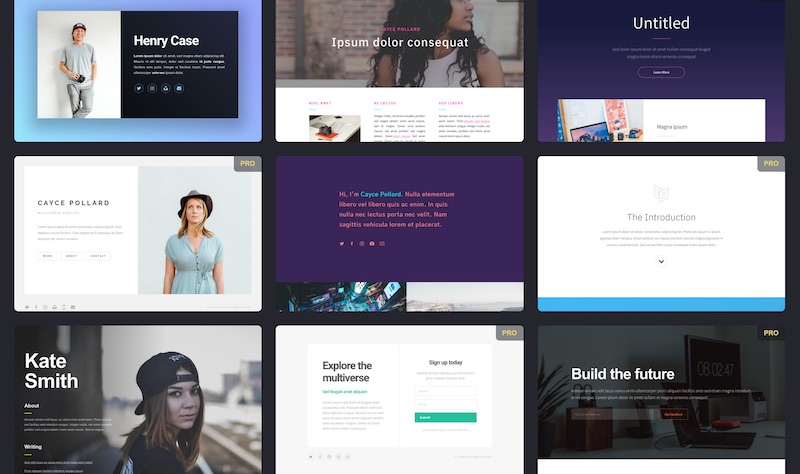 There are five types of templates:
Profile
Landing
Form (only available with Pro, designed for collecting email sign ups through MailChimp, GetRevue, ConvertKit, GetResponse, MailerLite, EmailOctopus and more to come)
Portfolio
Sectioned (where you have several distinct sections that you can link to from a top menu, which will automatically push the reader down the page).
We like that you can browse by functionality. Many similar website builders ask for your line of business (e.g. fashion, law, etc.) and push you to popular templates for similar sites. But who wants to look like their competition?
Elements
Once you have selected a template, it is time to customize. You can start this process by moving around elements that are on the template, and adding additional elements that you might like. This is done using simple drag and drop.
On the Pro Plan, the available elements include:
Text
Image (you can upload larger images on the Pro version than the free version)
Gallery
Audio
Video
Buttons
Forms (including MailChimp support)
Links
Widgets
Timer
Icons
Table
Control (to set up section breaks and anchor links)
Embed (for inserting embed codes like you get from YouTube)
Container (to place other elements side by side)
Unbranded (accreditation to Carrd removed)
Each element is then customizable, simply click on the element and all the editing options will appear. In most cases it is just a case of replacing the dummy content with your own by clicking on it. A menu will come up with other options such as font and colour.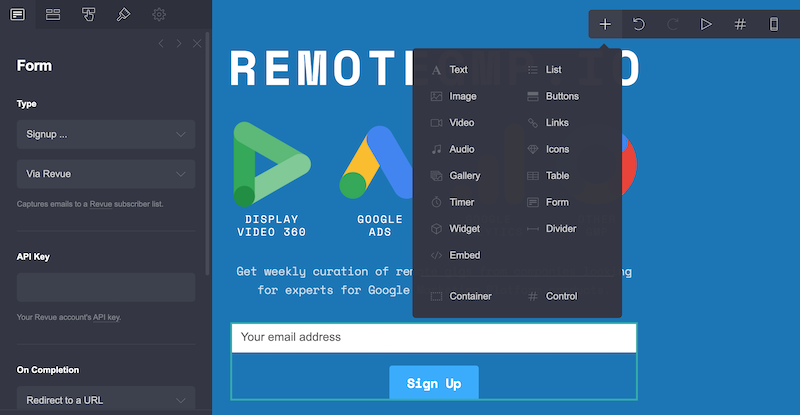 Anyone with a working knowledge of using Word and Google should be able to figure out what to do without help.
You might think that being so easy would mean that your design options are restricted. And yes, while you are certainly more restricted that you would be with a full website builder, there are more than enough options to change all the substantive features, without causing confusion.
Undo and redo buttons make it easy to experiment without worrying, and flick between two different options to decide which might be best for you.
Responsiveness
The program will automatically adapt your design for mobile responsiveness, but there are options to take control of this as well if you wish. You can edit how wide you want elements to be on mobile, the order that elements will stack on mobile, and so forth.
It is simple to switch between desktop and mobile view while you are adjusting your design.
Preview and Publication
It is just one click to publish or save your site.
As a nod to the way that Carrd.co have optimized their onboarding process, it is only at the saving/publishing stage, when you know that you want to use the product that Carrd.co demands that you share some personal information. You will need to provide your email, create a username and password, and provide some SEO information for your site.
What's Missing?
Since Carrd is specifically for designing single page sites, it is missing quite a bit of functionality. Most notable is any e-commerce options or blogging functionality. If you are looking for these kinds of sites, you will need to find a different tool. However you should also note that you can embed Gumroad or Paypal buttons to Carrd.co pages if you're planning to sell a single product. Also, Carrd's minimalist designs make it easy to collect emails, if you're running a newsletter.
Support
As Carrd.co is a small company, support is very limited. Direct contact with the company is by email only, and response times can be variable. But don't expect there to be anyone on the other end to provide you with assistance in real time.
The documentation available on the website is also pretty sparse. It is unlikely to satisfy the novice looking for quick help or the expert looking for deeper content.
But the whole point of Carrd.co is that it has been designed to be incredibly easy and intuitive to use, so in reality, you shouldn't need to access the documentation.
Ownership
The creator and owner of card, AJ has an immense following on Twitter where he actively engages with the community. The mysterious AJ is also a well-known template contributor and creator of HTML5 UP.
The Verdict
If you are looking for a basic single page website to stylize your online presence or collect email sign ups or sell a product using a third party payment gateaway, then Carrd.co has been designed with you in mind.
Highly affordable and incredibly easy to use, if you have the images and know what you want to say, you can create a professional looking websites in no time at all.
Carrd.co is one of the most intuitive website builders that I have every used. Almost anyone should be able to create a site without much help (which is a good thing since support for the platform is limited).
But in order to be so easy to use, Carrd.co is restricted. Its purpose is for building simple online profiles or forms. You cannot use Carrd.co to create more sophisticated sites that require blogs, ecommerce journeys, or other features. For this, you will need to upgrade to a more powerful (and no doubt more expensive) builder.
Carrd.co is specific and limited in what it does – but what it does, it does well.